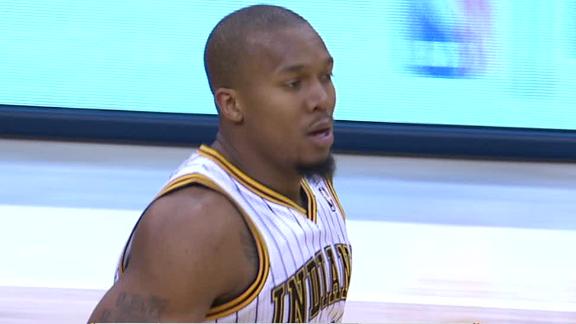 Bob Kravitz: Frank Vogel wins No. 100 as Pacers coach

indystar.com

Mar 3, 2013

Admittedly, 100 is a humble number. For a solid NBA coach, it's two, maybe two and a half years of good work.

Share Tweet

Kirk Hinrich, Taj Gibson and Richard Hamilton missed the Chicago Bulls' game at Indiana on Sunday.

Share Tweet

Rose sits with team for first time since ACL tear

ESPN.com

Mar 3, 2013

Chicago Bulls guard Derrick Rose sat on the bench with his teammates Sunday night during their game against the Indiana Pacers, marking the first time Rose has done that since tearing the ACL in his left knee.

Share Tweet

profootballtalk.com

Mar 3, 2013

Before Friday, no players had been given the franchise tag.  On Friday, five found themselves on the receiving end of the designation that keeps them off the open market. Tagged are Bills safety Jairus Byrd, Bengals defensive end Michael Johnson, Colts …

Share Tweet

Peyton Manning visits troops in Afghanistan

profootballtalk.com

Mar 3, 2013

A year ago at this time, quarterback Peyton Manning was getting ready to be set free by the Colts.  This year, he was visiting the men and women who help secure our collective freedom. (Hey, it's late and that's the best I could come up with.) Mannin

Share Tweet

West, Pacers Put Away Bulls

Mar 3

David West scores 31 points to lift Pacers past Bulls and to their seventh win in eight games.