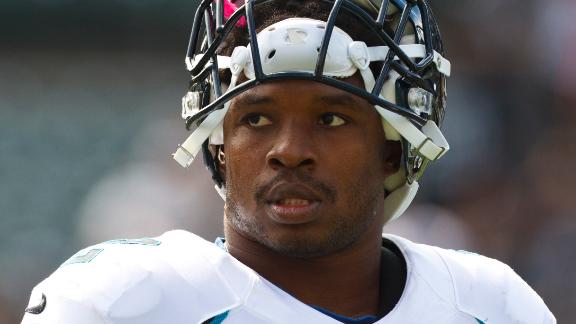 jacksonville.com
ESPN.com
Updated Dec 28, 2012
Two days before the season finale and more than two months after he was injured, Jaguars running back Maurice Jones-Drew finally took a big step toward recovery Friday, undergoing left foot surgery in Charlotte, N.C. Injured on the first play of the Jag…
Share
Tweet
Woes up front mean Jaguars lag behind

Their best pass rusher began the year with Philadelphia. Among the four left guards who have started a game are two undrafted rookie free agents. They didn't have three sacks in a game until last week. And benchings and role changes because of poor perf

Share Tweet

Jaguars Notebook: Uche Nwaneri's consecutive game streak about to end

Jaguars right guard Uche Nwaneri failed his concussion test Friday, meaning his 60-game starting streak will end in Sunday's season finale at Tennessee. Nwaneri was injured in the first half of last week's game against New England and did not return.

Share Tweet

Follow our sportswriters and others covering the Jaguars' game as they tweet from Tennessee.Tweets from @FrancineTU/jaguars-at-titans

Share Tweet

Maurice Jones-Drew is one of the most reliable running backs in the NFL, but more than two months after suffering a foot sprain in a game against the Raiders, the Jaguars have finally put MJD on the injured reserve list. While only a week remains in the…

Share Tweet

Gene Frenette: Jaguars fans deserve applause, not criticism

For all past criticism the Jaguars have received over attendance issues, especially from national media, it's time to acknowledge that the passion for pro football in Jacksonville is actually as good as or superior to most NFL cities.

Share Tweet

A lot of things have changed for the Jaguars since the beat the Titans, 24-19, on Nov. 25. In that game, Rashad Jennings and Jalen Parmele combined for 24 carries and Cecil Shorts had four catches. All three players are on the injured reserve list so th…

Share Tweet

Wilfork fined $30,000, but Chung escapes without one

profootballtalk.com

Dec 28, 2012

Patriots defensive tackle Vince Wilfork was fined $30,000 for unnecessary roughness, after hitting Jaguars offensive lineman Steve Vallos in the head last week. The play resulted in a penalty during the game, occurring after a Patrick Chung interception…

Share Tweet

Shad Khan's Tebow decision could impact the future of Gene Smith and Mike Mularkey

Jaguars owner Shad Khan has some major decisions to make after the team's season ends Sunday. The major ones are whether to keep general manager Gene Smith and/or coach Mike Mularkey and whether to sign Tim Tebow if he's cut by the Jets. Khan has given …

Share Tweet

Top rookie WRs to square off in finale

ESPN.com

Dec 28, 2012

John Glennon of The Tennesean wisely points out one thing that's at stake in Sunday's mostly meaningless Jaguars-Titans game: The rookie receptions title. The lines of the NFL's most productive receiving rookies: Writes Glennon: "The Jaguars have ut

Share Tweet

Jones-Drew Out Until At Least May After Surgery

Dec 28

AFC South blogger Paul Kuharsky shares the latest on Maurice-Jones Drew's left foot surgery, which will keep him out until at least May.