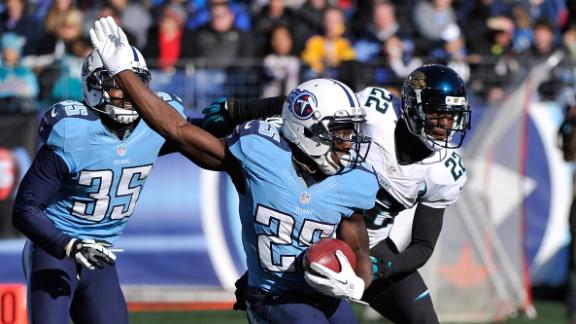 jacksonville.com
ESPN.com
Updated Dec 30, 2012
NASHVILLE - Jaguars coach Mike Mularkey had a short explanation for why the punt coverage team imploded against the Tennessee Titans Sunday. "We had a new bunch of players out there and we got exposed,'' he said. The number of injuries the Jaguars
Share
Tweet
Still no answer to Jaguars' quarterback quandary

NASHVILLE - The Jaguars showed Sunday they still have an unresolved quarterback situation. They hoped at the start of the season that Blaine Gabbert would develop into their quarterback of the future in his second year, but he struggled in his first 10

Share Tweet

Gene Frenette: Jaguars' GM not the only one who deserves pink slip

NASHVILLE - The biggest scapegoat for everything that went wrong with the Jaguars' 2012 season sat quietly in the LP Field press box Sunday, never wavering from his typical gameday ritual. He watched his team implode again in a 38-20, season-ending loss

Share Tweet

Jaguars Notebook: Center Brad Meester hopes it's not the end

NASHVILLE - Brad Meester started his 192nd game Sunday against Tennessee, which capped his team-record 14th year with the Jaguars. Following the 38-20 loss to the Titans, Meester was one of the last players to walk into the locker room after taking some

Share Tweet

Jaguars Report Card: Bad finish for Chad Henne, Mike Mularkey

Sports columnist Gene Frenette grades the Jaguars' performance in their season finale loss to Tennessee. RUSHING OFFENSE

Share Tweet

NASHVILLE - The future of the Jaguars' front office could begin to crystalize as soon as Monday, when owner Shad Khan meets for the second time in five days with general manager Gene Smith. Moments after the Jaguars finished the worst year in franchis

Share Tweet

Dancing, Yawning, And Picking Our Noses Into The Sunset: Your Sunday NFL GIF Roundup

deadspin.com

Dec 30, 2012

We'll be putting all our GIFs for the day here, from every last person in the league-coaches, players, mascots-breaking out that one dance move they've been saving up all year, to a referee in New Orleans thinking he could pick his nose because no one

Share Tweet

NASHVILLE — Jaguar running back Montell Owens is inactive for today's finale at Tennessee after experiencing knee discomfort during pre-game warm-ups. Richard Murphy will start, becoming the team's fifth different starting running back. Right guard

Share Tweet

profootballtalk.com ESPN.com

Dec 30, 2012

Much remains uncertain about the future of the Jacksonville Jaguars, but owner Shad Khan appears to have already made one major decision: General Manager Gene Smith is out. ESPN's Adam Schefter reports that Jacksonville will fire Smith. After that, the

Share Tweet

Sunday Blitz: Jaguars-Titans Recap

Dec 30

Cary Chow and Cris Carter break down the Titans' 38-20 win over the Jaguars

Jaguars postgame press conference

Dec 30

Jaguars react following game with Titans

Jaguars postgame press conference

Dec 30

Jaguars react following game with Titans

Titans Overwhelm Jaguars

Dec 30

Darius Reynaud returned two punts for touchdowns to lead the Titans past the Jaguars 38-20.