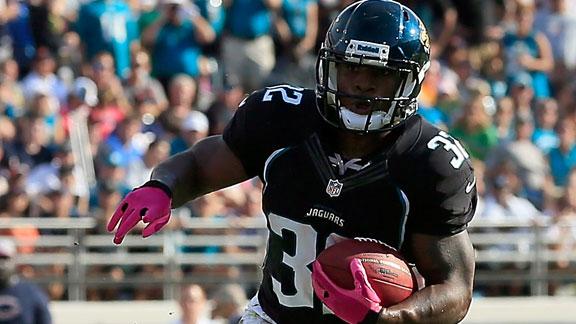 ESPN.com
Updated Jun 3, 2013
Jacksonville Jaguars general manager Dave Caldwell and coach Gus Bradley spoke with running back Maurice Jones-Drew late last week regarding allegations he assaulted a security guard at the Conch House, according to league sources.
Share
Tweet
Things to watch at Jaguars practice

jacksonville.com

Jun 3, 2013

2 cents Four observations as the Jaguars return to the practice field after a week-and-a-half break that was newsy to say the least:

Share Tweet

SUV driven by former Jaguars player slams into fire truck

jacksonville.com

Jun 3, 2013

HOUSTON | KPRC reports a Houston firefighter was hurt after a Range Rover driven by former Jaguars player Brian Iwuh slammed into the back of a firetruck. The NBC station said it happened early Monday morning while the firefighter was helping a disabled…

Share Tweet

Jaguars already scheming to get ball to Sanders, Robinson

profootballtalk.com

Jun 3, 2013

The Jaguars didn't force the issue at quarterback, knowing they can't fix every problem with their roster in one offseason. And it appears they're going to try to gimmick their way through a year of Blaine Gabbert-Chad Henne competition. Peter King

Share Tweet

Sports Columnists

Peter King: Kaepernick a Raider? A look into the fateful trade that wasn't

Jun 3

TURLOCK, Calif. -- Colin Kaepernick a Raider. Imagine the change in history.

Sports Guy's Vault: Game 7th Heaven

Jun 3

This column originally ran on June 24, 2005. Outside the Boston Garden before Game 7 of the '84 NBA Finals, scalpers were getting upwards of $2,000 p...