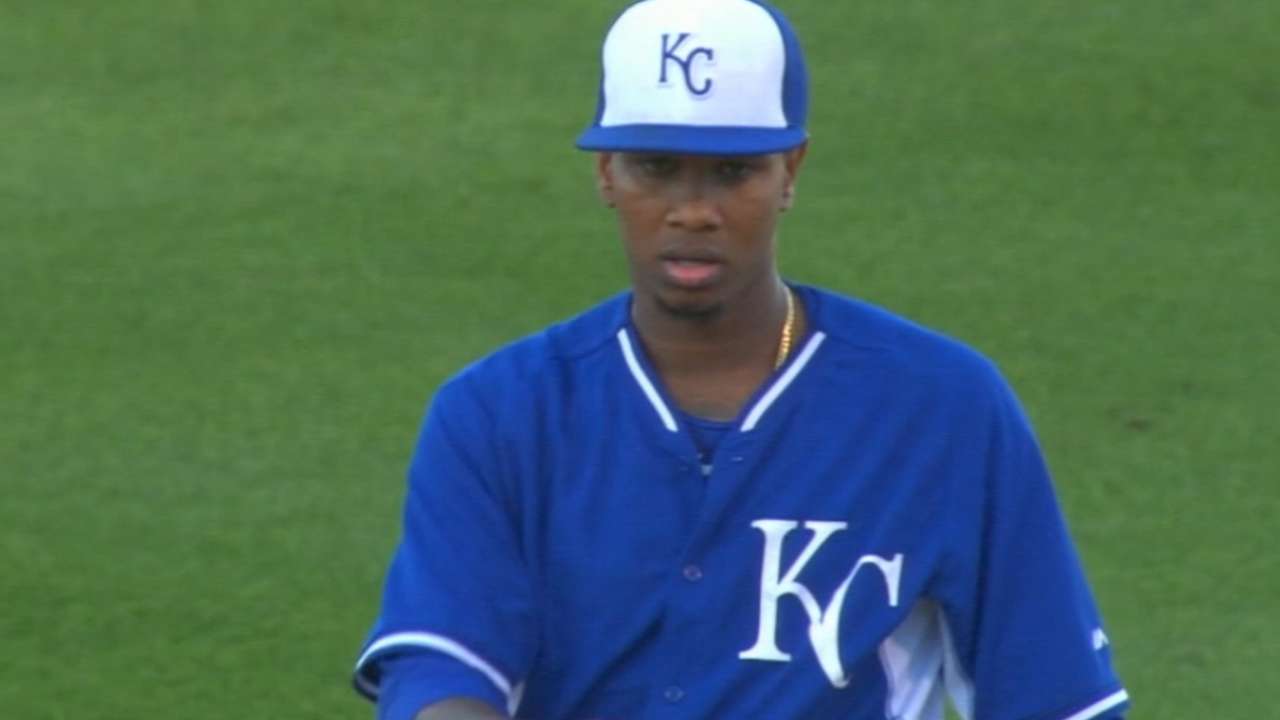 MLB.com
nytimes.com
Updated 1 hour ago
Royals ace Yordano Ventura figured out he had a no-hitter going on Friday night somewhere around the fifth inning. The right-hander made it look easy with seven hitless frames in a 5-1 win over the Mariners.
Share
Tweet
Ventura to scale back pitches in spring finale

MLB.com

5 hours ago

Royals manager Ned Yost said Yordano Ventura, who was slated to throw 90-95 pitches against the Mariners on Friday, will be backed down to about 60-65 pitches on Wednesday against the Dodgers in the final Cactus League game in Arizona.

Share Tweet

Royals send well wishes to recovering superfan

MLB.com

Mar 26 (yesterday)

Jimmy Faseler, the Royals superfan who was shot recently in a home invasion, thanked fans and friends on Twitter for their support as he recovers in a Kansas City area hospital.

Share Tweet

Hernandez's strong start 'very pleasing' to Mariners

MLB.com

Mar 26 (yesterday)

The Mariners lost to the Royals, 3-0, on Thursday at Peoria Stadium. But really only one thing mattered in this one. Felix Hernandez looked King-ly and thus all was well.

Share Tweet

nytimes.com MLB.com

Mar 26 (yesterday)

Felix Hernandez pitched two-hit ball for six innings in his longest outing of the spring Thursday as a split squad of Seattle Mariners lost to the Kansas City Royals 3-0.

Share Tweet

ESPN.com

Mar 26 (yesterday)

The food safety manager at Kansas City's Kauffman and Arrowhead stadiums, home to the Royals and the Chiefs, was fired after sharing details of health concerns with ESPN.

Share Tweet

nytimes.com

Mar 26 (2 days ago)

Carlos Rodon struck out nine in four dazzling innings Wednesday night, making his latest impressive bid to join the White Sox rotation, and Chicago cruised to a 6-0 victory over the Kansas City Royals.

Share Tweet

Yordano Ventura has been picked to pitch on opening day for the AL champion Kansas City Royals against the Chicago White Sox.

Share Tweet

Young extends pitch count in Minor League game

MLB.com

Mar 25 (2 days ago)

Royals right-hander Chris Young threw four innings in a Minor League game on Wednesday, reaching 64 pitches. He also threw 10 more pitches in the bullpen afterward.

Share Tweet

Collins hopes to follow Hochevar's lead

MLB.com

Mar 25 (2 days ago)

Luke Hochevar had Tommy John surgery a year ago but stayed with the Royals all season during his rehab. And Hochevar was there in Chicago in late September when the Royals clinched a playoff spot, and he joined in on the celebration. Tim Collins just ha…

Share Tweet

Garnett to throw first pitch at Twins' opener

MLB.com

Mar 24 (4 days ago)

The Twins announced details Tuesday for their home opener at Target Field against the Royals on April 13, and NBA star Kevin Garnett will throw out the ceremonial first pitch.

Share Tweet

MLB.com nytimes.com

Mar 23 (4 days ago)

Giants pitcher Jake Peavy used the modest setting of Monday's Royals-Giants exhibition at Scottsdale Stadium as a personal classroom. At catcher Buster Posey's urging, Peavy tried throwing a four-seam changeup for the first time in his life.

Share Tweet

Finnegan among nine players Royals send to Minors

MLB.com

Mar 22 (5 days ago)

The Royals made a round of nine roster cuts after Sunday's 4-2 victory over a Giants split-squad at Surprise Stadium, and the biggest name was left-hander Brandon Finnegan, who was optioned to Double-A Northwest Arkansas.

Share Tweet

Hosmer, Moustakas, Rios Lead Royals Past Giants 4-2

nytimes.com

Mar 22 (5 days ago)

Eric Hosmer, Mike Moustakas and Alex Rios each had two hits as the Kansas City Royals defeated a San Francisco Giants split squad 4-2 Sunday.

Share Tweet

Hawkins' hot spring reaches new high with two homers

MLB.com

Mar 21 (6 days ago)

Courtney Hawkins had a full day's worth of Cactus League action in just three innings during the White Sox 6-4 victory over the Royals Saturday at Camelback Ranch.

Share Tweet

White Sox Spoil Gordon's Return to Royals, 6-4

nytimes.com

Mar 21 (6 days ago)

The White Sox expected big things of Courtney Hawkins when they chose him as the 13th overall selection in the 2012 draft out of high school in Corpus Christi, Texas.

Share Tweet

Young Sharp in 1st Start for Royals, Who Beat Padres 6-1

nytimes.com

Mar 21

Chris Young pitched three effective innings in his first start with Kansas City since signing two weeks ago, helping the Royals to a 6-1 victory over the San Diego Padres on Friday night.

Share Tweet

nytimes.com MLB.com

Mar 19

Rockies reliever Rafael Betancourt was struck in the jaw by a line drive and walked off with a bruise Thursday in Colorado's 13-2 win over the Kansas City Royals.

Share Tweet

Lind feels good after testing balky back at first base

In his defensive debut for the Brewers, Lind played three innings at first base against the Royals and went 1-for-2 at the plate, singling and scoring from first on a first-inning double.

Share Tweet

Parra, Davis Combine for 7 RBIs, Brewers Top Royals

nytimes.com

Mar 18

Gerardo Parra and Khris Davis combined to drive in seven runs as the Milwaukee Brewers beat the Kansas City Royals 8-4 Wednesday.

Share Tweet

Affable Cain found success in '14 when he 'played angry'

Royals center fielder Lorenzo Cain is known for his smile, so you might be surprised to hear that his turning point in 2014 came when he started playing angry.

Share Tweet

After rough start, Starling has 'great experience' in first camp

Former Royals first-round pick Bubba Starling said his first Spring Training invite certainly met all his expectations: "It has been a great experience."

Share Tweet

nytimes.com MLB.com

Mar 17

Jason Hammel threw four scoreless innings and Anthony Rizzo reached base three times on Tuesday as the Chicago Cubs beat the Kansas City Royals 4-3.

Share Tweet

Ventura Hit Hard in Royals' 6-5 Win Over Indians

nytimes.com

Mar 16

Yordano Ventura gave up four runs in the first two innings, but the Kansas City Royals rallied to beat the Cleveland Indians 6-5 Monday.

Share Tweet

Royals Injury Update

Mar 4

ESPN injury analyst Stephania Bell discusses Royals outfielder Alex Gordon's recovery from offseason wrist surgery and pitcher Luke Hochevar's recovery from Tommy John surgery.

Ned Yost Joins Olbermann

Mar 2

Kansas City Royals manager Ned Yost joins Keith Olbermann to discuss his team's outlook heading into the 2015 season, and an app he developed in the offseason.

Weather-Based Promotion Nets Fans Cheap Tickets

Feb 17

Wilmington Blue Rocks general manager Chris Kemple discusses the weather-based promotion that resulted in his team selling tickets for 4 cents each.

Olney: Market For James Shields

Feb 3

Buster Olney explains how James Shields went from one of the hottest names this winter to a man still on the free-agent market, and how next offseason is a big reason for that.