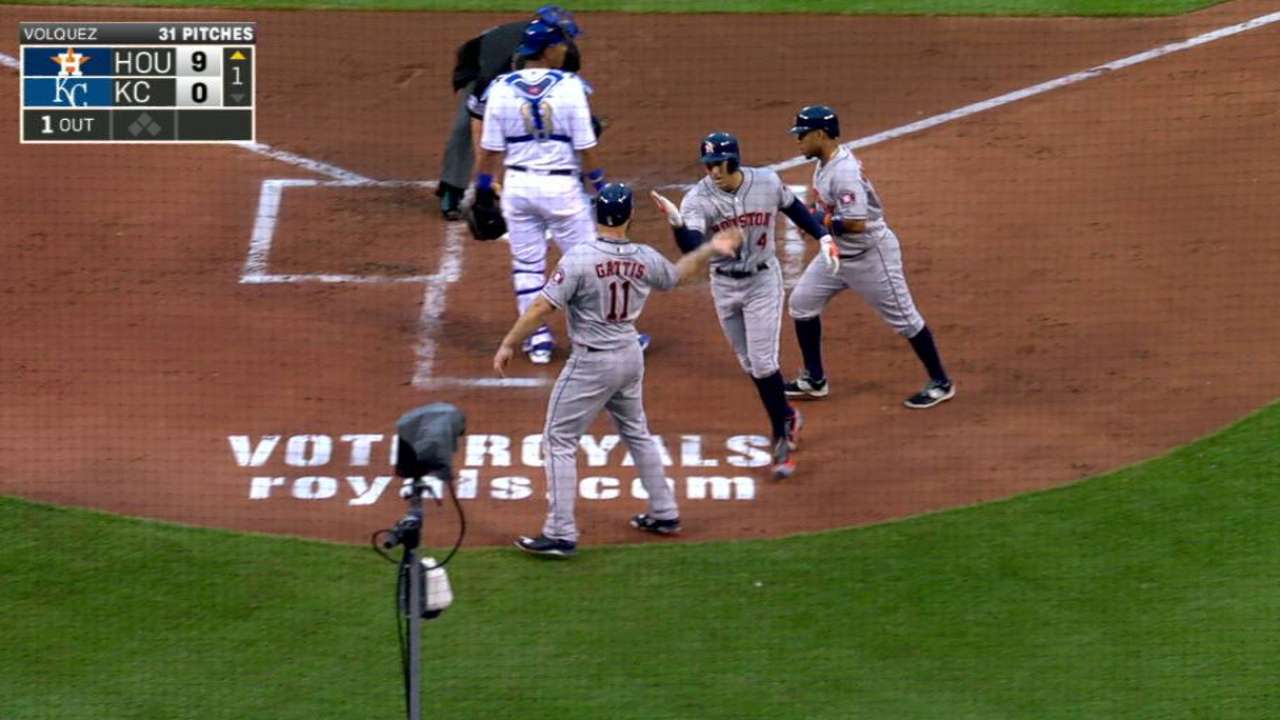 Springer logs triple, grand slam in 9-run 1st
MLB.com
Updated 52 minutes ago
After getting hit by a pitch on his wrist last year and missing two months of the season, Astros outfielder George Springer exacted some revenge on Royals pitcher Edinson Volquez on Friday night at Kauffman Stadium.
Share
Tweet
deadspin.com yahoo.com

Jun 23 (yesterday)

The Mets had a stressful afternoon yesterday. In one inning against the Kansas City Royals, Noah Syndergaard and Yoenis Cespedes left the game with elbow discomfort and a wrist sprain, respectively. Things were looking pretty ominous for a bit:Read more…

Share Tweet

MLB.com nytimes.com

Jun 23 (yesterday)

Seemingly losing a player to the training room every day, the Mets suffered a troubling injury when outfielder Yoenis Cespedes left Wednesday's 4-3 win over the Royals in the sixth inning due to left wrist discomfort. Cespedes did not fly with his teamm…

Share Tweet

yahoo.com

Jun 22 (2 days ago)

New York Mets pitcher Noah Syndergaard was scheduled to pitch Wednesday afternoon against the Kansas City Royals and that provided the perfect opportunity to invite a 5-year-old boy named Ashtin Gerberg. who bears a striking resemblance to Syndergaard, …

Share Tweet

Homers, bullpen's 8 2/3 help Mets edge Royals

With Bartolo Colon forced to leave after Whit Merrifield led off Tuesday night's game by ripping a liner off the pitcher's right thumb, Hansel Robles jogged to the mound. Robles and the rest of the Mets' bullpen held strong for 8 2/3 innings, holding Ka…

Share Tweet

Mets 2, Royals 1: As Lineup Sags, Mets Look for Help from Vegas and Their Own Past

nytimes.com

Jun 21 (3 days ago)

General Manager Sandy Alderson sent catcher Kevin Plawecki to AAA Las Vegas for Travis d'Arnaud while the team considered free agents Yulieski Gourriel and Jose Reyes.

Share Tweet

nytimes.com MLB.com

Jun 21 (3 days ago)

Bartolo Colon's early injury put the New York Mets in a major bind, but they won a battle of bullpens against the best relief corps in baseball and defeated the Kansas City Royals 2-1 on Tuesday night in a World Series rematch.

Share Tweet

Hansel Robles and Mets pen pals step up in win vs. Royals

ESPN.com

Jun 21 (3 days ago)

Hansel Robles and Mets pen pals step up in win vs. Royals

Share Tweet

d'Arnaud returns; Mets option Plawecki

As expected, the Mets activated catcher Travis d'Arnaud from the disabled list in time for Tuesday's game against the Royals. D'Arnaud had not played since April 25 due to a partially torn right rotator cuff. To clear roster space, the Mets optioned bac…

Share Tweet

Mets opt to line up Thor for start vs. Nationals

Seeking to line up their best pitchers against the Nationals next week, the Mets made a late switch to their rotation on Tuesday. Noah Syndergaard, who was originally scheduled to start the opener of a two-game set against the Royals at Citi Field, will…

Share Tweet

Thor, Kennedy star in World Series rematch on MLB.TV

A World Series rematch is on tap today as the Royals make their first trip back to Citi Field, the ballpark in which they were crowned champions last fall.

Share Tweet

MLB.com

Jun 20 (4 days ago)

Francisco Lindor and Juan Uribe homered in a three-run eighth inning to lead the Indians to a 7-4 win over the Rays in Monday night's series opener at Progressive Field. Cleveland has won four in a row and extended its lead in the American League Centra…

Share Tweet

After Eric Hosmer's Dash, Things Aren't Much Better for Mets Fielders Involved

nytimes.com

Jun 20 (4 days ago)

The Kansas City Royals return to Citi Field on Tuesday, but the three Mets fielders who handled the ball on that famous World Series play have struggled mightily with injuries this year.

Share Tweet

MLB.com nytimes.com

Jun 19 (5 days ago)

Cheslor Cuthbert singled in the winning run with the bases loaded and one out in the bottom of the 13th inning off Tigers left-hander Kyle Ryan to lead the Royals to a 2-1 win on Sunday afternoon at Kauffman Stadium.

Share Tweet

Manny Machado dropped his appeal of his four-game suspension for punching Royals right-hander Yordano Ventura, manager Buck Showalter announced after Saturday's 4-2 win over the Blue Jays, and he began serving his suspension Sunday.

Share Tweet

Royals use 21-hit onslaught to rout Tigers

Rookie Whit Merrifield had three hits and drove in four runs, and Kendrys Morales had four hits and five RBIs in the Royals' 16-5 rout of the Tigers on Saturday night at Kauffman Stadium.

Share Tweet

Tigers utility man Romine pitches against KC

The Tigers can't keep relying on Justin Wilson and Shane Greene to pitch every tight game in the late innings, manager Brad Ausmus said on Friday. One night later, Ausmus called on utility man Andrew Romine to finish off a 16-5 loss to the Royals.

Share Tweet

Royals Injury Update

Mar 4

ESPN injury analyst Stephania Bell discusses Royals outfielder Alex Gordon's recovery from offseason wrist surgery and pitcher Luke Hochevar's recovery from Tommy John surgery.

Ned Yost Joins Olbermann

Mar 2

Kansas City Royals manager Ned Yost joins Keith Olbermann to discuss his team's outlook heading into the 2015 season, and an app he developed in the offseason.

Weather-Based Promotion Nets Fans Cheap Tickets

Feb 17

Wilmington Blue Rocks general manager Chris Kemple discusses the weather-based promotion that resulted in his team selling tickets for 4 cents each.

Olney: Market For James Shields

Feb 3

Buster Olney explains how James Shields went from one of the hottest names this winter to a man still on the free-agent market, and how next offseason is a big reason for that.