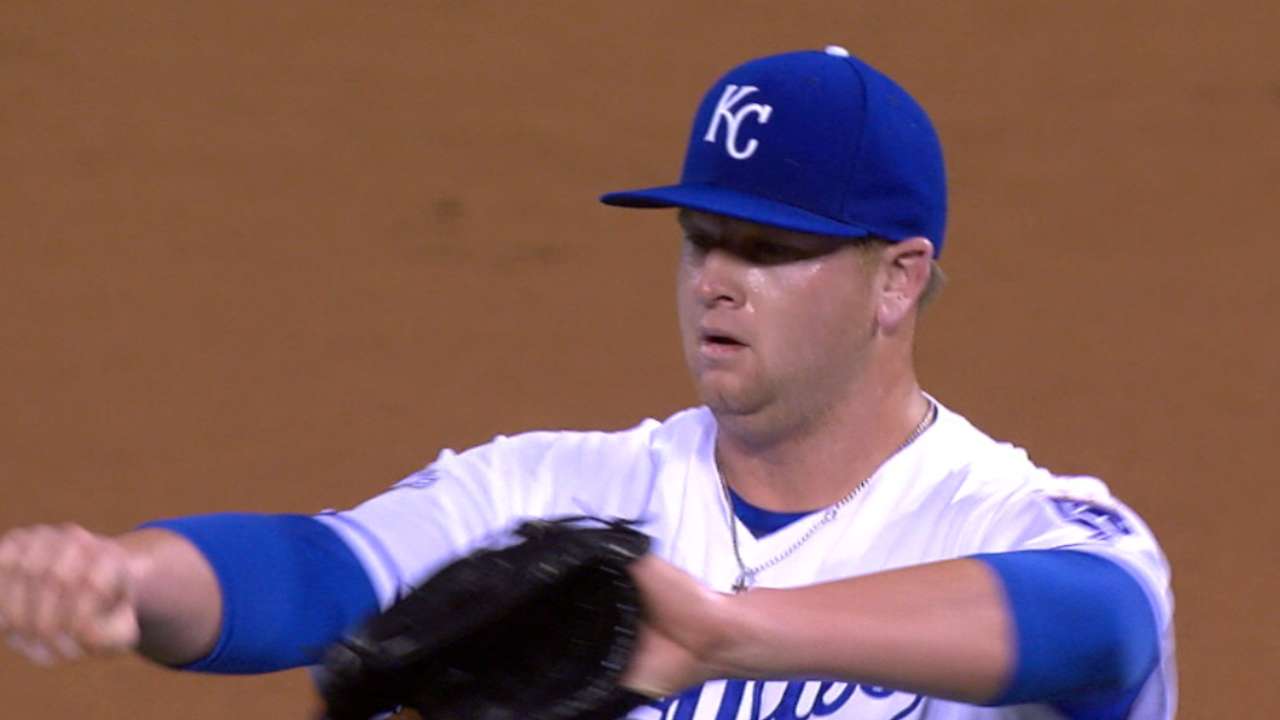 As window closes on K.C.'s core, uncertainty reigns over Royals

ESPN.com

2 hours ago

As window closes on K.C.'s core, uncertainty reigns over Royals

Share Tweet

yahoo.com

Nov 26

The Schwab family and the Kansas City Royals come together. Left to right: Mike Moustakas, Michelle Schwab, Danny Duffy, Alex and Nathan Schwab, Jarrod Dyson, Scott Schwab and Eric Hosmer. (Kansas City Star) Sometimes the most simple gestures can make t…

Share Tweet

Junis among 4 Royals added to 40-man roster

MLB.com

Nov 18

The Royals made a flurry of roster moves ahead of Friday's deadline for protecting Rule 5 Draft candidates, first designating for assignment catcher Tony Cruz, then adding pitchers Jake Junis and Andrew Edwards, catcher Cameron Gallagher and first basem…

Share Tweet

Royals ink Butera to 2-year, $3.8 million deal

MLB.com

Nov 18

The Royals and catcher Drew Butera have agreed to a two-year, $3.8 million deal. Butera will earn $1.5 million in 2017 and $2.3 million in '18.

Share Tweet

Cuthbert may be Royals' backup plan at DH

MLB.com

Nov 14

Just a few days after general manager Dayton Moore said the Royals "had interest" in re-signing designated hitter Kendrys Morales, Morales reportedly has a deal with the Blue Jays.

Share Tweet

KC will listen to offers, unlikely to add payroll

MLB.com

Nov 9

If there's one thing Royals general manager Dayton Moore is fairly certain of, it's that his players will be smack in the middle of numerous trade rumors this offseason.

Share Tweet

Royals decline 2017 club option on Hochevar

MLB.com

Nov 5

The Royals announced on Saturday they've declined the $7 million mutual option with right-handed reliever Luke Hochevar, making him a free agent eligible to sign with any team as early as Tuesday.

Share Tweet

yahoo.com deadspin.com

Nov 4

It's been quite an amazing two years for Ben Zobrist. He won the World Series in 2015 with the Kansas City Royals, which on its own is pretty great. But this year, he played an instrumental role in getting the Chicago Cubs their first World Series champ…

Share Tweet

MLB.com

Oct 28

Sports on Earth's bracket for the best World Series winner is down to two teams: the 1972 A's and 2015 Royals.

Share Tweet

Staumont shows verve with swing-and-miss curve

MLB.com

Oct 22

While Josh Staumont's chances of posting an ERA of 0.00 in the Arizona Fall League came to an end on Saturday, the Royals' No. 10 prospect still was plenty good for Surprise in a 10-8 win over Glendale

Share Tweet

Q&A: Saberhagen on early career, '85 World Series

MLB.com

Oct 22

Bret Saberhagen enjoyed a career in which he was a three-time All-Star and two-time winner of the American League Cy Young Award. He pitched in the postseason with the Royals (1984, '85), Rockies ('95) and Red Sox ('98, '99). He is the subject of this w…

Share Tweet

Royals' Toups records three hits in first Fall League action

MLB.com

Oct 12

Corey Toups, the Royals' No. 30 prospect, picked up three hits for the Saguaros as Surprise and Peoria played to a 7-7 tie in 11 innings on Wednesday afternoon at the Peoria Sports Complex.

Share Tweet

Royals' Young undergoes abdominal area surgery

MLB.com

Oct 11

Royals right-hander Chris Young underwent successful surgery to repair his bilateral core and right-sided adductor, the club announced Tuesday.

Share Tweet

nytimes.com

Oct 10

Toronto completed a sweep over the Texas Rangers after Rougned Odor made a wild throw while trying to turn a double play in the bottom of the 10th inning.

Share Tweet

yahoo.com

Oct 9

Champs no more. Thanks for the memories, Royals. (Yahoo Sports) Sorry, Kansas City Royals, your World Series trophy is in another castle. Probably the same one you left it in last year before losing the key. After ending a 30-year World Series champions…

Share Tweet

MLB.com

Oct 4

The Tribe featured a versatile offense, dynamic defense and a pitching staff that had its depth tested by a wave of injuries late in the season. When the smoke cleared, Cleveland unseated the Royals as the AL Central champions, winning the division for …

Share Tweet

After 2 World Series Trips, Royals Begin Offseason Early

nytimes.com

Oct 3

For two decades, finishing at .500 would have given the Royals reason to celebrate.

Share Tweet

nytimes.com yahoo.com

Oct 2

Indians manager Terry Francona sat in the visiting clubhouse at Kauffman Stadium, moments after a 3-2 victory over the Kansas City Royals, and knew only that Boston awaited his club in the postseason.

Share Tweet

Tribe wins in KC, gains ALDS home-field edge

MLB.com

Oct 2

Following a 3-2 win over the Royals on Sunday afternoon at Kauffman Stadium, the Indians had to sit and wait for the results of the Blue Jays-Red Sox game in Boston before knowing whether they'd clinched home-field advantage in the American League Divis…

Share Tweet

MLB.com

Oct 1

Trevor Bauer will start Game 1 of the American League Division Series against the Red Sox on Thursday. Terry Francona announced the decision after Cleveland's 6-3 win over the Royals on Saturday.

Share Tweet

Merritt's 1st win helps Indians' bid for 2 seed

MLB.com

Sep 30

In a game with postseason implications, and ace Corey Kluber temporarily out of the rotation, the Indians handed the ball to a rookie. Lefty Ryan Merritt was up for the challenge, turning in a strong effort that fueled a 7-2 win over the Royals on Frida…

Share Tweet

Royals Injury Update

Mar 4

ESPN injury analyst Stephania Bell discusses Royals outfielder Alex Gordon's recovery from offseason wrist surgery and pitcher Luke Hochevar's recovery from Tommy John surgery.

Ned Yost Joins Olbermann

Mar 2

Kansas City Royals manager Ned Yost joins Keith Olbermann to discuss his team's outlook heading into the 2015 season, and an app he developed in the offseason.

Weather-Based Promotion Nets Fans Cheap Tickets

Feb 17

Wilmington Blue Rocks general manager Chris Kemple discusses the weather-based promotion that resulted in his team selling tickets for 4 cents each.

Olney: Market For James Shields

Feb 3

Buster Olney explains how James Shields went from one of the hottest names this winter to a man still on the free-agent market, and how next offseason is a big reason for that.