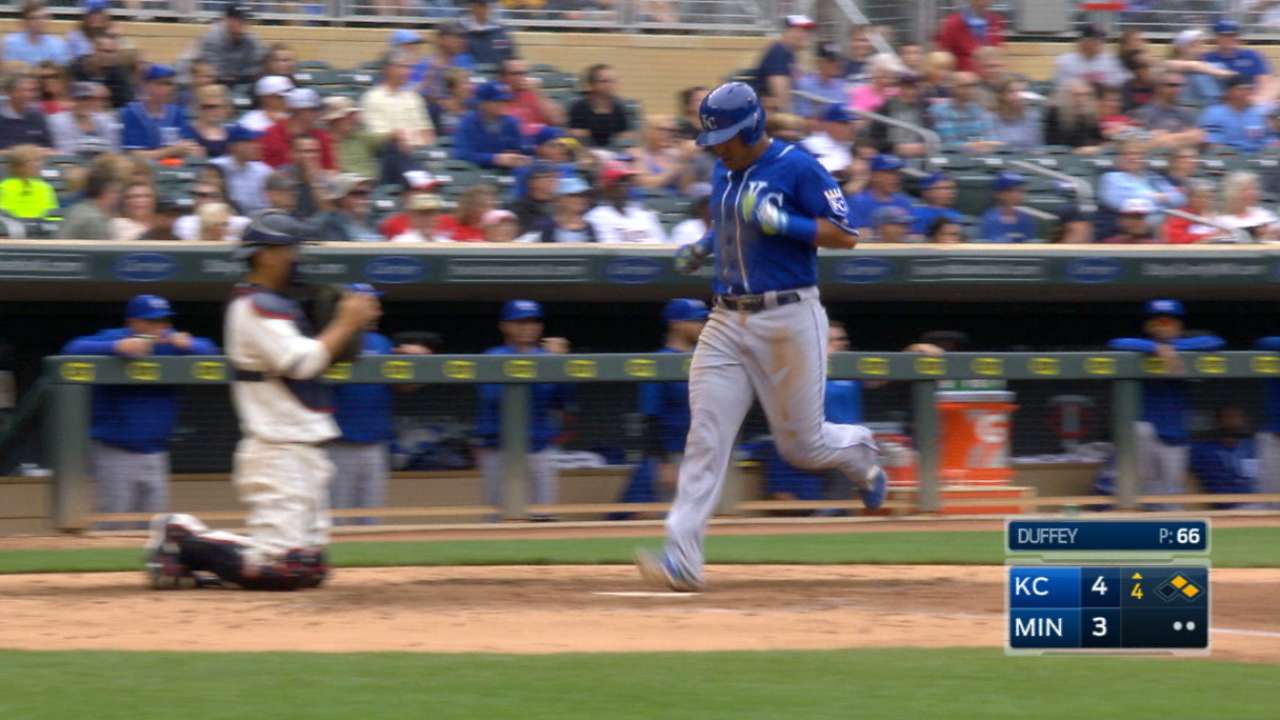 MLB.com nytimes.com

19 hours ago

Eduardo Nunez, Brian Dozier and Miguel Sano homered to help the Twins avoid a sweep at the hands of the Royals with a 7-5 victory in the series finale on Wednesday afternoon at Target Field.

Share Tweet

Cards get OF Martinez from KC for cash considerations

MLB.com

May 25 (yesterday)

The Cardinals added to their outfield depth on Wednesday by acquiring Jose Martinez from the Royals for cash considerations. Martinez, 27, has been assigned him to the Cardinals' Triple-A Memphis roster.

Share Tweet

Giants' free agent pitchers turn into their greatest strength

yahoo.com

May 25 (yesterday)

This past offseason, the San Francisco Giants made two big free agent signings to replenish their starting rotation. They snatched up Johnny Cueto, who had spent 2015 with the Kansas City Royals and the Cincinnati Reds, and Jeff Samardzija, who pitched …

Share Tweet

For starters, Royals' deep 'pen is quite a relief

MLB.com

May 25 (yesterday)

Can the Royals succeed while being last in the American League in innings pitched by starters?

Share Tweet

Gordon aims to get healthy, help Royals win

MLB.com

May 24 (yesterday)

Royals left fielder Alex Gordon seemed to almost sense the question coming. So when asked on Tuesday if his stint on the disabled list for a fractured bone in his right wrist might actually give him a needed mental break, Gordon cut in and said, "B…

Share Tweet

Orlando proving to be offensive force for KC

MLB.com

May 24 (yesterday)

The Royals had a .400 hitter entering play on May 24. Meet Paulo Orlando, the right fielder who started playing regularly a little over a week ago. And suddenly, opposing pitchers can't seem to get him out.

Share Tweet

MLB.com nytimes.com

May 24 (2 days ago)

Salvador Perez was a homer short of the cycle, going a career-best 5-for-5 with a double and a triple, to help lead the Royals to a 10-4 win over the Twins on Monday night at Target Field.

Share Tweet

nytimes.com MLB.com

May 23 (3 days ago)

Kansas City outfielder Alex Gordon has been placed on the 15-day disabled list with a broken bone in his right wrist, the Royals said on Monday.

Share Tweet

White Sox Beat Royals 3-2 to Avoid Sweep

nytimes.com

May 22 (4 days ago)

The White Sox didn't completely break out of their offensive funk. But they scored just enough runs to win for the third time in 11 games.

Share Tweet

yahoo.com MLB.com nytimes.com

May 22 (4 days ago)

Welcome to The Walk Off, the nightly MLB recap from Big League Stew. Here we'll look at the top performers of the night, show you a must-see highlight and rundown the scoreboard. First, we start with a game you need to know about. The American League Ce…

Share Tweet

MLB.com nytimes.com

May 21 (5 days ago)

Lorenzo Cain homered and five Royals pitchers combined to limit the White Sox to seven hits during a 2-1 Kansas City victory on Saturday afternoon before 27,631 at U.S. Cellular Field.

Share Tweet

Royals reinstate Moustakas, option Cuthbert

MLB.com

May 21 (5 days ago)

The Royals reinstated third baseman Mike Moustakas from the disabled list on Saturday and optioned infielder Cheslor Cuthbert to Triple-A Omaha.

Share Tweet

Price has complete command of arsenal

MLB.com

May 19

David Price has had more spectacular starts for the Red Sox than his 5-2 win over the Royals on Wednesday night, but this one was probably the most gratifying.

Share Tweet

Merrifield notches hit in big league debut

MLB.com

May 18

After being called up earlier in the day, Royals left fielder Whit Merrifield recorded the first hit of his Major League career in the second game of Wednesday's doubleheader against the Red Sox.

Share Tweet

Red Sox Beat Royals 5-2 for Split of Day-Night Doubleheader

nytimes.com

May 18

Jackie Bradley Jr. and Mookie Betts homered to back a strong start by David Price, and the Boston Red Sox beat the Kansas City Royals 5-2 on Wednesday night to salvage a split of their day-night doubleheader.

Share Tweet

Mariners-Orioles clash leads MLB.TV slate

MLB.com

May 18

Following disappointing 2015 seasons, the Mariners and Orioles both are fighting for first place in their respective divisions this year. That makes the teams' matchup at Camden Yards today one of the most intriguing on an MLB.TV slate packed with 16 ga…

Share Tweet

MLB.com nytimes.com

May 18

Paulo Orlando tripled, homered and drove in four runs, and Eric Hosmer homered as well as the Royals topped the Red Sox, 8-4, on Tuesday night at Kauffman Stadium and moved to 19-19 on the season.

Share Tweet

Royals Injury Update

Mar 4

ESPN injury analyst Stephania Bell discusses Royals outfielder Alex Gordon's recovery from offseason wrist surgery and pitcher Luke Hochevar's recovery from Tommy John surgery.

Ned Yost Joins Olbermann

Mar 2

Kansas City Royals manager Ned Yost joins Keith Olbermann to discuss his team's outlook heading into the 2015 season, and an app he developed in the offseason.

Weather-Based Promotion Nets Fans Cheap Tickets

Feb 17

Wilmington Blue Rocks general manager Chris Kemple discusses the weather-based promotion that resulted in his team selling tickets for 4 cents each.

Olney: Market For James Shields

Feb 3

Buster Olney explains how James Shields went from one of the hottest names this winter to a man still on the free-agent market, and how next offseason is a big reason for that.