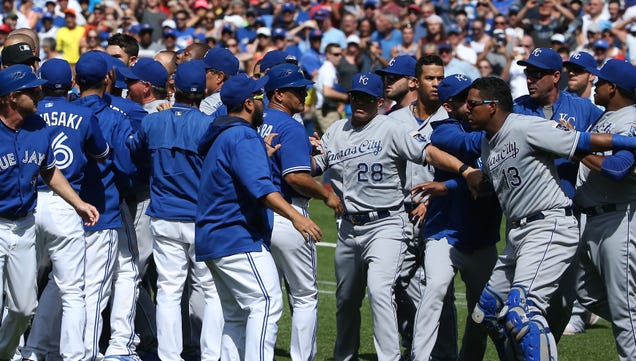 nytimes.com
deadspin.com
yahoo.com
MLB.com
Updated 14 hours ago
The Royals and Blue Jays have moved on: After an exchange of hit batters, they're now trading barbs on Twitter.
Share
Tweet
Contending Teams Can Never Have Too Many Relievers

nytimes.com

Aug 3 (yesterday)

The Kansas City Royals made it look all so easy in 2014. With their bullpen trio of Kelvin Herrera, Wade Davis and Greg Holland, the Royals were almost unbeatable when they had the lead in the seventh inning or later.

Share Tweet

yahoo.com

Aug 1 (2 days ago)

We do our best to remain unbiased around the Big League Stew offices, but if you'd don't mind us saying we would not be opposed to a Royals-Blue Jays postseason series this October. The defending American League champions from Kansas City and quickly em…

Share Tweet

nytimes.com

Aug 1 (2 days ago)

Dodgers pitcher Clayton Kershaw threw eight innings of two-hit ball, retiring his final 15 batters, as the Dodgers knocked off the Angels, 3-1.

Share Tweet

Zobrist Hits 2 HRs, Royals Beat Jays 7-6

nytimes.com

Aug 1 (3 days ago)

After a big win over the Blue Jays, it was slow jam time in the Kansas City Royals clubhouse. Seated around a table in the middle of the room, Kendrys Morales and Danny Duffy gave a spirited sing-along to Whitney Houston's 'I Will Always Love You."

Share Tweet

Kansas City Royals designated hitter Kendrys Morales is rarely among the most athletic players on the field, hence the reason he's paid almost exclusively to hit. However, during Friday night's game in Toronto, he managed to shock everyone watching by p…

Share Tweet

MLB.com nytimes.com

Jul 31 (3 days ago)

Josh Donaldson hit a walk-off single in the 11th inning to send the Blue Jays to a 7-6 victory over the Royals on Friday night at Rogers Centre.

Share Tweet

MLB.com

Jul 31 (3 days ago)

Aaron Brooks, who arrived in Oakland on Friday after being dealt from the Royals on Tuesday, will start for the A's on Saturday against the Indians.

Share Tweet

Royals' additions bolster rotation, versatility

MLB.com

Jul 31 (3 days ago)

GM Dayton Moore and his staff acquired right-hander Johnny Cueto, one of the biggest names on the trading block, as well as super-utility player Ben Zobrist, whom the Royals have admired for some time. Those moves have made for a happy manager in Ned Yo…

Share Tweet

yahoo.com

Jul 31 (3 days ago)

Overall, the 2015 trade deadline was completely bonkers. Troy Tulowitzki and Jose Reyes were traded for each other, Johnny Cueto turned the Royals into an unstoppable force and Carlos Gomez was shipped to Houston after some initial confusion. The Cole H…

Share Tweet

MLB.com nytimes.com

Jul 31 (4 days ago)

Johnny Cueto, acquired by Kansas City earlier in the week, will be jumping into a pennant race and trying to learn the American League hitters simultaneously. Cueto jumped more than 15 games in the standings by leaving Cincinnati and joining the Royals,…

Share Tweet

Dioner Navarro, Russell Martin and Josh Donaldson each homered while right-hander Marco Estrada tossed 5 2/3 strong innings in the Blue Jays' 5-2 victory over the Royals on Thursday night at Rogers Centre.

Share Tweet

Gordon takes first swings off tee since injury

Royals left fielder Alex Gordon, on the disabled list because of a Grade 2-plus left groin strain, swung a bat on Thursday for the first time since the injury on July 8.

Share Tweet

Price may toe rubber against Royals in finale

The Blue Jays haven't announced who will take the mound when they wrap their four-game series against the Royals on Sunday at Rogers Centre. The decision hinges on when newly acquired ace David Price joins the team, and whether or not he'll be ready to …

Share Tweet

Comparing the Price-Cueto prospect hauls

MLB.com

Jul 30 (5 days ago)

At first glance, it would appear that the Tigers received more for David Price than the Royals did for Johnny Cueto, although not by much.

Share Tweet

MLB.com

Jul 30 (5 days ago)

The Royals may have the best record in the American League, but they'll have to go through Toronto and the Majors' highest-scoring offense this weekend. In Thursday's 7:07 p.m. ET opener, Kansas City will start Danny Duffy, who has logged a 2.15 ERA in …

Share Tweet

Royals Injury Update

Mar 4

ESPN injury analyst Stephania Bell discusses Royals outfielder Alex Gordon's recovery from offseason wrist surgery and pitcher Luke Hochevar's recovery from Tommy John surgery.

Ned Yost Joins Olbermann

Mar 2

Kansas City Royals manager Ned Yost joins Keith Olbermann to discuss his team's outlook heading into the 2015 season, and an app he developed in the offseason.

Weather-Based Promotion Nets Fans Cheap Tickets

Feb 17

Wilmington Blue Rocks general manager Chris Kemple discusses the weather-based promotion that resulted in his team selling tickets for 4 cents each.

Olney: Market For James Shields

Feb 3

Buster Olney explains how James Shields went from one of the hottest names this winter to a man still on the free-agent market, and how next offseason is a big reason for that.