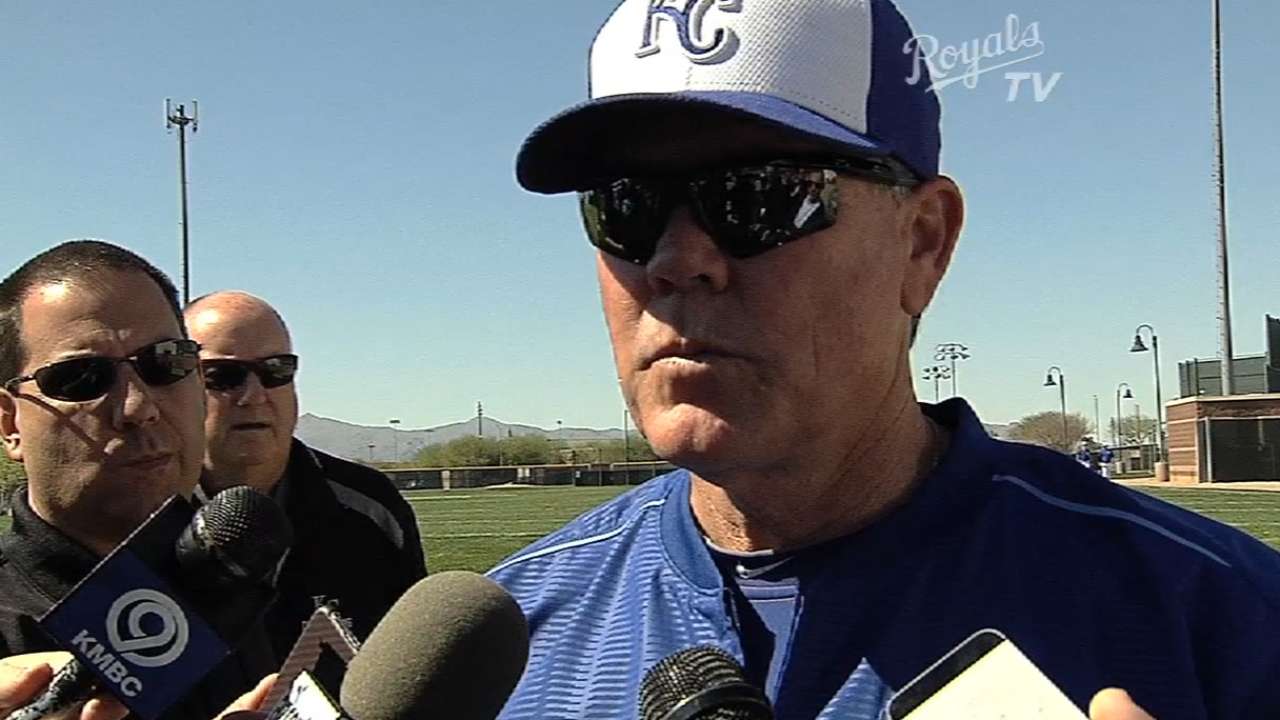 Royals staying hungry for World Series title
MLB.com
Updated Feb 26 (2 days ago)
How devoted are the Royals to getting back to the World Series? They won't even eat cheeseburgers. Manager Ned Yost brought up the example in response to yet another question about whether this year's club will enter the season simply satisfied it got t…
Upvote
Share
Tweet
Sure-handed infielder Ellis retires at 37

MLB.com

Feb 25 (3 days ago)

Second baseman Mark Ellis is retiring from baseball, according to a report by the San Francisco Chronicle. The 37-year-old Ellis, a ninth-round selection of the Royals in the 1999 First-Year Player Draft, played 12 years in the Majors with the A's, Rock…

Upvote Share Tweet

Gordon swings for first time since surgery without issue

MLB.com

Feb 24 (4 days ago)

After playing long toss on Monday -- Alex Gordon's first attempt at throwing since his wrist surgery in December -- the Royals' outfielder says he awoke Tuesday morning with no discomfort whatsoever.

Upvote Share Tweet

Starling sharpening offensive, mental parts of game

MLB.com

Feb 23 (5 days ago)

Royals' prospect Bubba Starling seeks to improve his game by learning from his struggles in the Minors.

Upvote Share Tweet

Volquez aiming to help bolster Royals' rotation

MLB.com

Feb 22 (6 days ago)

Right-hander Edinson Volquez was signed by the Royals essentially to replace James Shields. But Volquez doesn't want to put that kind of pressure on himself, saying he likes to keep it simple.

Upvote Share Tweet

MLB.com

Feb 21

Clearly on the bubble to make the Royals' bullpen, Louis Coleman is out of options, meaning if he doesn't make the team, he cannot be sent to Triple-A, thus making him a candidate to be designated for assignment.

Upvote Share Tweet

Collins trying to build on last season's positive finish

MLB.com

Feb 21

There were a lot of reasons to just forget about 2014 for Tim Collins, but the Royals left-hander is ready to build on his strong finish.

Upvote Share Tweet

Duffy wears new look, raises expectations

The new-look Danny Duffy, sporting a heavy beard and a curly hairdo, arrived for the first official workout for Royals pitchers and catchers on Friday.

Upvote Share Tweet

Hosmer: Two-year deal a no-brainer

Eric Hosmer admitted he was fretting somewhat about possibly having to sit through an arbitration hearing, but those nerves were quickly settled with the Royals' offer of a two-year deal.

Upvote Share Tweet

Finnegan's role up for debate at start of camp

Brandon Finnegan surprised many observers last season when, just months after being drafted in the first round out of TCU, he was called up in September and pressed into fairly high-leverage situations with the Royals. Entering camp, a question remains …

Upvote Share Tweet

Royals sign Morales to Minors deal

MLB.com

Feb 19

The Royals added to their pitching depth on Thursday, signing Franklin Morales to a Minor League deal with an invite to Major League Spring Training.

Upvote Share Tweet

Royals, all six 2014 division winners report to camp today

MLB.com

Feb 19

It's getting more and more real by the day. Today brings 13 more teams to their Spring Training complexes as pitchers and catchers continue to report, which means there will be 18 clubs in business and only 12 more to arrive through the weekend.

Upvote Share Tweet

With the first batch of pitchers and catchers officially reporting on Wednesday, we can officially declare that baseball is back. And now that we've declared baseball is back, it's time for players to officially declare their optimism for the upcoming s…

Upvote Share Tweet

First baseman Eric Hosmer and the Kansas City Royals avoided arbitration Wednesday by agreeing to a $13.9 million, two-year contract less than 24 hours before their hearing.

Upvote Share Tweet

ESPN.com nytimes.com

Feb 18

That old, familiar baseball refrain made famous by fans of the Brooklyn Dodgers took on an entirely different meaning for the Kansas City Royals this offseason.

Upvote Share Tweet

The AL Central figures to be one of the most interesting divisions in baseball for 2015: The Chicago White Sox made a number of top-flight additions this offseason, the Kansas City Royals are coming off a World Series trip, the Cleveland Indians are a p…

Upvote Share Tweet

Sure, the start of spring training is just days away, but there are still questions that need to be answered about how last season ended. The San Francisco Giants won Game 7 of the World Series after Madison Bumgarner got Kansas City Royals catcher Salv…

Upvote Share Tweet

The Kansas City Royals and closer Greg Holland avoided salary arbitration when they agreed to an $8.25 million, one-year contract before their hearing.

Upvote Share Tweet

Blanton comes out of retirement, signs Minors deal with KC

MLB.com

Feb 13

The Royals have signed veteran right-hander Joe Blanton to a Minor League deal with an invite to Major League Spring Training

Upvote Share Tweet

Royals sign Gordon's brother to Minor League deal

MLB.com

Feb 12

The Royals on Thursday purchased the contract of Alex Gordon's younger brother, Derek, from the Kansas City T-Bones, an independent Minor League team.

Upvote Share Tweet

Royals, Herrera avoid arbitration with two-year deal

MLB.com

Feb 12

The Royals signed reliever Kelvin Herrera to a two-year deal on Thursday allowing the two sides to avoid an arbitration hearing.

Upvote Share Tweet

MLB.com

Feb 11

With right-hander James Shields on his way to the San Diego Padres, the Royals will take comfort in that they got exactly what they wanted from Shields during his two seasons in Kansas City.

Upvote Share Tweet

Weather-Based Promotion Nets Fans Cheap Tickets

Feb 17

Wilmington Blue Rocks general manager Chris Kemple discusses the weather-based promotion that resulted in his team selling tickets for 4 cents each.

Olney: Market For James Shields

Feb 3

Buster Olney explains how James Shields went from one of the hottest names this winter to a man still on the free-agent market, and how next offseason is a big reason for that.

Royals Sign Rios To One-Year Deal

Dec 15

ESPN.com senior writer Jerry Crasnick breaks down the Royals' signing of outfielder Alex Rios to a one-year, $11 million contract, and the impact he will have in Kansas City.

Giants Out Of Lester Bidding

Dec 9

"Baseball Tonight" analysts Karl Ravech, Jim Bowden, Jerry Crasnick and Tim Kurkjian report from the winter meetings, including the latest on Jon Lester's free-agent decision and other pitchers available to the teams that don't sign Lester.