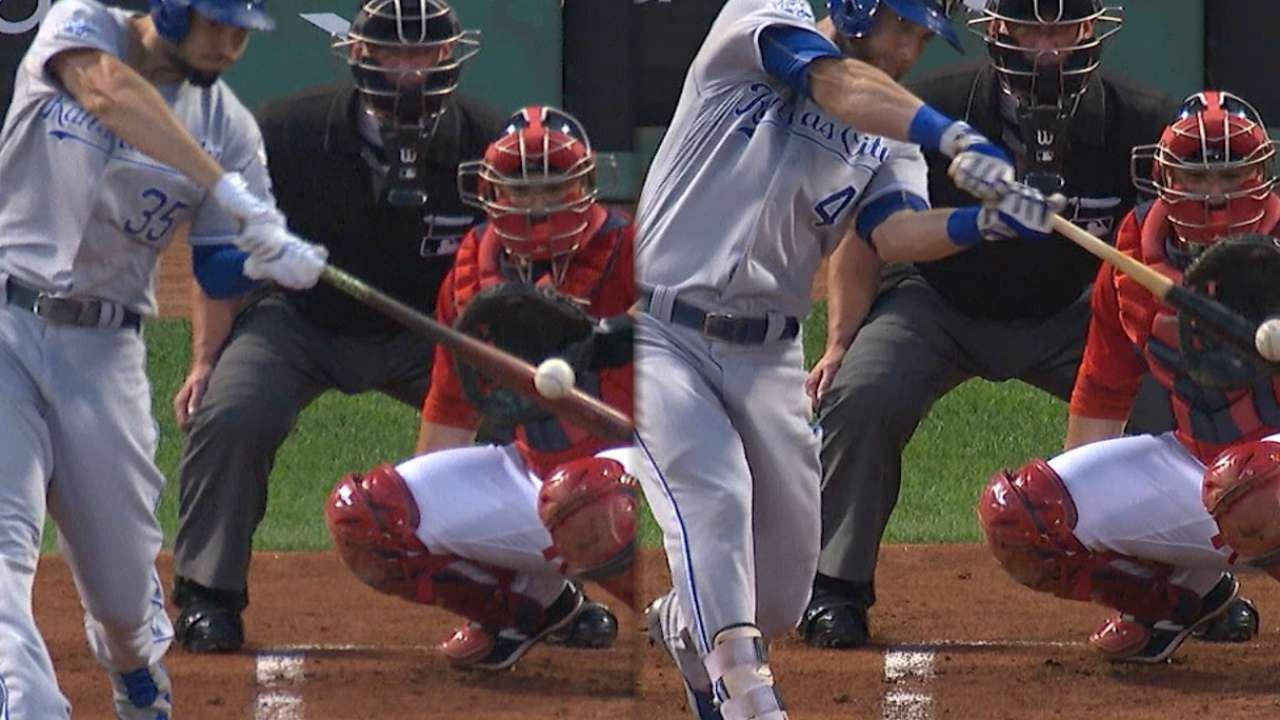 MLB.com
Updated 5 hours ago
The defending World Series-champion Royals look like a team that doesn't want to miss the thrill of another October. Inconsistent for much of the season, Kansas City has played terrific baseball of late, continuing with Friday night's 6-3 victory over t…
Share
Tweet
Trio of Homers Lift Royals to 6-3 Win Over Red Sox

nytimes.com

5 hours ago

Eric Hosmer and Alex Gordon homered, and Ian Kennedy allowed one run through five innings as the Kansas City Royals continued their monthlong hot streak with a 6-3 victory over the Boston Red Sox on Friday night.

Share Tweet

Royals' mighty 'pen putting them back in postseason race

MLB.com

18 hours ago

When the Kansas City Royals announced last month that they were placing, Wade Davis, baseball's best reliever, on the disabled list, virtually everyone in thought the same thing.

Share Tweet

MLB.com deadspin.com ESPN.com

Aug 25 (yesterday)

The blazing speed of Jarrod Dyson is obvious, but it was the center fielder's leaping ability that took a home run away from Christian Yelich in the first inning on Thursday that served as a reminder the Royals can beat you in so many ways.

Share Tweet

Escobar Homers for Surging Royals in 5-2 Win Over

nytimes.com

Aug 25 (yesterday)

Alcides Escobar is the latest player to make an impact at the plate for the Kansas City Royals.

Share Tweet

yahoo.com

Aug 25 (yesterday)

Not even the red-hot Kansas City Royals could beat strikeout machine Jose Fernandez on Wednesday night, and thus Kansas City's nine-game winning streak ended with a 3-0 loss to the Miami Marlins. While there are surely some people in K.C. bummed that th…

Share Tweet

Davis nearing return to Royals' red-hot bullpen

MLB.com

Aug 25 (2 days ago)

Royals closer Wade Davis, who saved 21 games in 23 opportunities this season before going on the disabled list a second time with a right flexor strain, tested his arm on Wednesday at the team's Spring Training facility in Surprise, Ariz. Davis logged o…

Share Tweet

ESPN.com nytimes.com MLB.com

Aug 25 (2 days ago)

What we learned Wednesday: Rich Hill pads Dodgers' lead, Jose Fernandez stops Royals

Share Tweet

ESPN.com MLB.com nytimes.com

Aug 24 (3 days ago)

These Kansas City Royals seem to be all about the pitching

Share Tweet

Ozuna exits Marlins game due to family emergency

MLB.com

Aug 23 (3 days ago)

Marlins center fielder Marcell Ozuna left Tuesday night's game against the Royals because of a family emergency, the club announced during the eighth inning.

Share Tweet

Hosmer happy to return to South Florida roots

MLB.com

Aug 23 (3 days ago)

Royals first baseman Eric Hosmer's roots run deep in South Florida. The No. 3 overall pick in the 2008 Draft out of American Heritage High School in Plantation, Fla., Hosmer developed his skills in the Miami area, where his father, Mike, was a firefight…

Share Tweet

Bullpen of the Week: Relievers stoke red-hot Royals

MLB.com

Aug 22 (5 days ago)

Forget about the defending World Series champion Royals? Do so at your own peril.

Share Tweet

yahoo.com ESPN.com nytimes.com

Aug 21 (5 days ago)

Welcome to The Walk Off, the nightly MLB recap from Big League Stew. Here we'll look at the top performers of the night, show you a must-see highlight and rundown the scoreboard. First, we start with a game you need to know about. Don't look now, but th…

Share Tweet

Starter kit: KC rides rotation back into contention

MLB.com

Aug 21 (5 days ago)

It's not just that the Kansas City bullpen may again be the best in baseball, or that the Royals are playing the kind of take-your-breath-away defense that helped get them to the World Series the last two seasons. Been there, done that.

Share Tweet

nytimes.com

Aug 21 (6 days ago)

A look at what's happening all around the majors Sunday:

Share Tweet

Gonzalez to throw off a mound on Sunday

MLB.com

Aug 20 (6 days ago)

Miguel Gonzalez, who suffered a strained right groin while pitching against the Royals at Kauffman Stadium on Aug. 11, said Saturday that he's feeling better and is looking to throw off a mound on Sunday.

Share Tweet

Gordon Hits 2 HRs, Royals Win 7th Straight, Rout Twins

nytimes.com

Aug 20

Alex Gordon hit two home runs and a double, Ian Kennedy pitched eight sharp innings and the Kansas City Royals extended their winning streak to seven games, beating the Minnesota Twins 10-0 Saturday night.

Share Tweet

Royals Injury Update

Mar 4

ESPN injury analyst Stephania Bell discusses Royals outfielder Alex Gordon's recovery from offseason wrist surgery and pitcher Luke Hochevar's recovery from Tommy John surgery.

Ned Yost Joins Olbermann

Mar 2

Kansas City Royals manager Ned Yost joins Keith Olbermann to discuss his team's outlook heading into the 2015 season, and an app he developed in the offseason.

Weather-Based Promotion Nets Fans Cheap Tickets

Feb 17

Wilmington Blue Rocks general manager Chris Kemple discusses the weather-based promotion that resulted in his team selling tickets for 4 cents each.

Olney: Market For James Shields

Feb 3

Buster Olney explains how James Shields went from one of the hottest names this winter to a man still on the free-agent market, and how next offseason is a big reason for that.