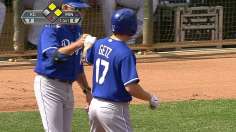 Chen, three relievers lead KC to fifth straight win
MLB.com
Updated Aug 29, 2013
Once the Royals get going, in one direction or another, it's hard to get them to stop. They rolled to their fifth straight victory behind lefty Bruce Chen on Thursday, completing a three-game sweep of the Twins with a 3-1 victory in front of 28,012 fans…
Share
Tweet
Ramirez leaves game with shin contusion

MLB.com

Aug 29, 2013

Right fielder Wilkin Ramirez left Thursday's game against the Royals in the fifth inning after fouling a pitch off his left leg. He remained on the ground for several minutes until he was helped off the field by Twins trainer Tony Leo and first-base coa…

Share Tweet

Triple Play: Make Your Picks for Week 23

nytimes.com

Aug 29, 2013

Put your predictive skills to the test each week of the baseball season.

Share Tweet

MLB.com

Aug 29, 2013

Danny Duffy pitched 6 2/3 scoreless innings, and Salvador Perez blasted a pair of two-run homers as the Royals defeated the Minnesota Twins, 8-1, on Wednesday night at Target Field for their fourth straight victory.

Share Tweet

Royals Win Fifth Straight

Aug 29

The Kansas City Royals scored three runs in the second inning to beat the Twins for their fifth win in a row and a three-game sweep.

Sports Columnists

Don Banks: Former players: Devil is in the details with NFL concussion set…

Aug 29

Don't try telling former NFL players union president Kevin Mawae that Thursday's concussion litigation settlement was an even-handed resolution to the most contentious and significant issue facing the sport as the NFL's 2013 regular season looms.