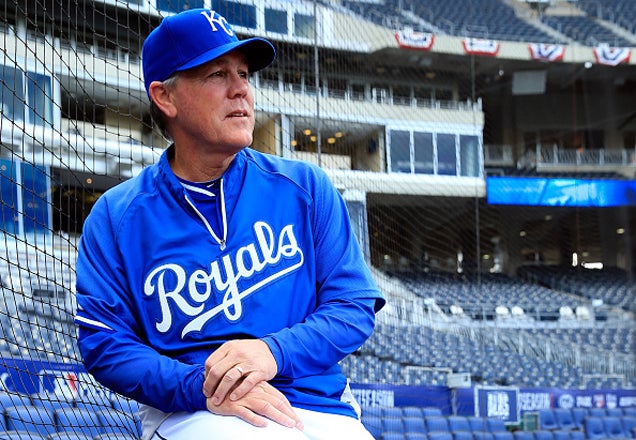 Unraveling The Confounding Reputation Of Royals Manager Ned Yost
deadspin.com
Updated 3 hours ago
Ned Yost has led the Royals to their best two-season stretch in a quarter century and put the 19th highest paid major league team in the World Series. But rather than garnering manager-of-the-year consideration, Yost gets shat on. Why is that?Read more.…
Upvote
Share
Tweet
No future Hall of Famers on list of upcoming opposing QBs

ESPN.com

53 minutes ago

KANSAS CITY, Mo. -- Remember the incredible run of backups, developmental players and journeymen quarterbacks the Kansas City Chiefs played against last year in their 9-0 start? It's been a distant memory this year. The Chiefs have instead gone up again…

Upvote Share Tweet

yahoo.com ESPN.com nytimes.com

9 hours ago

SAN FRANCISCO — Billy Butler stood in front of his locker Thursday afternoon, smiling and talking about his very abrupt role change in the World Series. His two singles and two RBIs keyed the Kansas City Royals' Game 2 victory, but now he'll wait his tu…

Upvote Share Tweet

nytimes.com MLB.com yahoo.com

10 hours ago

Playing under American League rules with few reliable options on the bench this season, no manager had as little use for pinch hitters as Kansas City's Ned Yost.

Upvote Share Tweet

Path to World Series ultimate test of best teams

MLB.com

15 hours ago

Neither the Royals nor Giants won 90 games in the regular season, but that shouldn't matter in determining a World Series champion.

Upvote Share Tweet

Benches clearing between Royals and SF Giants enough to spark ratings in World Series

nydailynews.com

16 hours ago

The Super-Slocomotion replay on Fox of Hunter Strickland's mug was tailor-made for amateur lip-readers figuring he had bad intentions. "C'mon, let's go," the Giants reliever yelled from the mound at Salvador Perez.

Upvote Share Tweet

Royals Outfield Defenders Cram for Quirky AT&T Test

nytimes.com

16 hours ago

The irresistible talents of the Kansas City Royals' outfielders may be tested by the inscrutable elements of San Francisco's quirky right field when the World Series resumes on Friday.

Upvote Share Tweet

Sports of The Times: The Royals' Terrance Gore Excels as a Pinch-Runner

nytimes.com

17 hours ago

The Royals' potent running attack is amplified by the speed of Terrance Gore, a recently acquired player who often pinch-runs for the team.

Upvote Share Tweet

O'Neil's legacy carrying on through Royals

MLB.com

20 hours ago

Throughout the Royals' frenetic playoff run, one that was void of a loss until Game 1 of the World Series, one comment kept coming up in conversation among those familiar with Kansas City baseball: Buck woulda loved this.

Upvote Share Tweet

Salvy providing spark for hard-charging Royals

MLB.com

20 hours ago

Yilda Diaz has seen her son, Royals catcher Salvador Perez, take on a leadership role since his days on youth baseball teams at Club Firestone in Valencia, Venezuela. Perez homered in Game 1 and stroked a clutch two-run double that helped the Royals ear…

Upvote Share Tweet

Chiefs need the help return game is capable of providing

ESPN.com

23 hours ago

KANSAS CITY, Mo. – The Kansas City Chiefs last year set an NFL record for kickoff return average and scored two touchdowns on kickoff returns. This year, they're near the bottom of the league in return average and their longest return is a feeble 37 yar…

Upvote Share Tweet

Buccaneers sign linebacker Orie Lemon away from Chiefs

profootballtalk.com

Oct 23 (yesterday)

The Bucs filled an unexpected roster spot Thursday, finding another defensive player to take the spot created by Da'Quan Bowers' two-week PED suspension. The team announced they had signed linebacker Orie Lemon off the Chiefs practice squad. Lemon has b…

Upvote Share Tweet

World Series Game 2 draws 49.6 TV rating in Kansas City

yahoo.com

Oct 23 (yesterday)

The Kansas City Royals not only evened up the World Series against the San Francisco Giants in Game 2 on Wednesday night, they also scored an impressive victory of sorts against the NFL's Kansas City Chiefs in the local TV ratings. TV ratings for the Wo…

Upvote Share Tweet

nytimes.com

Oct 23 (yesterday)

In the middle of a champagne-and-beer-soaked clubhouse after the San Francisco Giants won the NL Championship Series, Tim Hudson was given the chance to speak to his team.

Upvote Share Tweet

ESPN.com

Oct 23 (yesterday)

The 3-3 Kansas City Chiefs and 2-4 St. Louis Rams, both coming off big divisional victories, meet for the Governor's Cup this Sunday at Arrowhead Stadium. The Chiefs won in San Diego for the first time in seven years last week when they beat the Charger…

Upvote Share Tweet

The Write Way: KC Coach's Lineup Cards Are Artful

nytimes.com

Oct 23 (yesterday)

Take a look around the Kansas City Royals' dugout and it's pretty evident: The handwriting is on the wall in this World Series.

Upvote Share Tweet

KANSAS CITY, Mo. — Many pundits figured Kansas City Royals manager Ned Yost would find himself at a tactical disadvantage throughout the Major League Baseball playoffs. And yet, when pitted against the likes of Bob Melvin, Mike Scioscia, Buck Showalter …

Upvote Share Tweet

The service Royals manager Ned Yost required of Wade Davis and Greg Holland in Game 2 of the World Series differed a bit from what he usually asks of baseball's best eighth-ninth inning combination. But their performances were no different.

Upvote Share Tweet

Panda extends streak, but he'd rather have a win

When Pablo Sandoval doubled to lead off the fourth inning of Wednesday night's 7-2 loss to the Royals in Game 2 of the World Series, he extended his postseason streak of reaching base safely to 25 games, which ties him with Boog Powell for the third lon…

Upvote Share Tweet

Infante makes presence known for Royals

Omar Infante's first season with the Royals did not produce the desired results, but he delivered a spark in their Game 2 victory Wednesday night.

Upvote Share Tweet

Strickland-Perez spat chalked up to misunderstanding

Omar Infante hit a homer, Hunter Strickland started yelling in English, Salvador Perez yelled back in Spanish and both dugouts momentarily braced for a skirmish that never occurred. After the Royals' 7-2 win over the Giants in Game 2 of the World Series…

Upvote Share Tweet

ESPN.com

Oct 23 (yesterday)

Tim Lincecum returned to the mound for the San Francisco Giants on Wednesday and threw 1T scoreless innings of relief. However, he left the game with tightness in his lower back and is day-to-day.

Upvote Share Tweet

Inside Edge: Rams-Chiefs

Oct 23

ESPN NFL Insider Mike Sando delivers stats to help you make a pick for St. Louis at Kansas City.

A Royal Catch In KC

Oct 23

Salvador Perez is the Royals' charismatic leader behind the plate. His journey began with a humble upbringing in Venezuela.

Cousin Sal's NFL Week 8 Picks

Oct 23

Cousin Sal makes his picks for week 8 in the NFL.

World Series Game 1 Highlight-ary

Oct 22

The Giants beat the Royals 7 to 1 in Game 1 of the MLB Finals. Keith Olbermann explains.