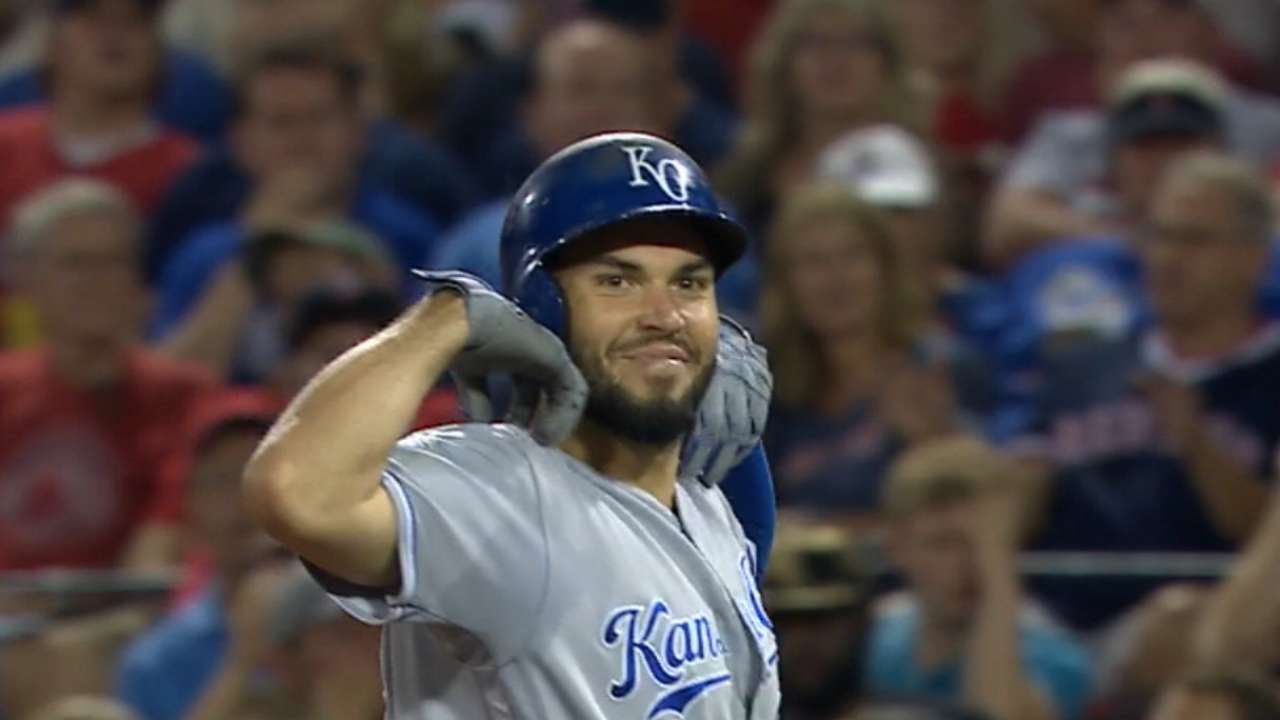 Strahm impressing out of KC 'pen with ease

MLB.com

3 hours ago

It is not supposed to be this easy. Royals rookie left-hander Matt Strahm burst onto the scene last month and has been nothing short of phenomenal.

Share Tweet

nytimes.com MLB.com

3 hours ago

The Kansas City Royals keep finding different sources for timely hits during a red-hot August.

Share Tweet

nytimes.com ESPN.com

5 hours ago

The deal will pay Berry $10.8 million this season. He recorded 55 tackles and two interceptions last season, less than a year after he was diagnosed with cancer.

Share Tweet

Chiefs announce eight roster cuts

profootballtalk.com

7 hours ago

The Chiefs made eight roster cuts Sunday as they move towards Tuesday's deadline to trim their roster to 75 players. Waived by the team Sunday were wide receivers Seantavius Jones and Kashif Moore; defensive backs Bryce Cheek and Malcolm Jackson; defens…

Share Tweet

MLB.com

8 hours ago

The Red Sox will be without red-hot leadoff man Dustin Pedroia for Sunday night's rubber match against the Royals at Fenway Park. He will take a temporary leave from the team to tend to a family matter.

Share Tweet

ESPN.com

11 hours ago

Packers' Nelson doesn't expect to play vs. Chiefs

Share Tweet

49ers cut Erik Pears, reportedly trade for Jeremy Kerley

profootballtalk.com

12 hours ago

The 49ers made a trade on Saturday when they sent cornerback Kenneth Acker to the Chiefs and they've reportedly made another one on Sunday. According to multiple reports, the Niners have traded guard Brandon Thomas to the Lions for wide receiver Jeremy …

Share Tweet

Connor Shaw says hit that injured him was "cheap BS"

profootballtalk.com

18 hours ago

Bears quarterback Connor Shaw suffered a broken leg in Saturday's preseason game, and he wasn't happy about the hit that injured him. Shaw took to Twitter and scolded Chiefs defensive lineman Rakeem Nunez-Roches, writing, "Injuries are a part of the gam…

Share Tweet

Price turning it on for crunch time

MLB.com

Aug 28 (yesterday)

For just a moment, David Price interrupted Kansas City's hot streak. The left-hander plowed through the Royals' lineup for his fourth straight win and an 8-3 Red Sox victory on Saturday night at Fenway Park.

Share Tweet

Bears backup quarterback Connor Shaw needs surgery after suffering a broken leg in Saturday's preseason game vs. the Chiefs. Bears Coach John Fox told reporters the team will know more about the extent of the injury after Shaw has surgery. He was injure…

Share Tweet

ESPN.com nytimes.com

Aug 27 (yesterday)

Alex Smith and the Chiefs offense look ready for the regular season

Share Tweet

49ers trade cornerback Acker to Chiefs

The 49ers have traded cornerback Kenneth Acker to the Chiefs in exchange for a future draft pick. The 49ers' release on the trade noted that Acker must pass a physical before the trade is finalized. ESPN reported that the pick sent to Kansas City was a …

Share Tweet

Bears' offense continues a disappointing preseason

If Week Three of the preseason is the week that most resembles the regular season, the Bears' offense is not in good shape. Then again, the Bears' offense didn't look good in the first two weeks of the preseason either. In today's game against the Chief…

Share Tweet

Bears' Tracy Porter leaves game with apparent head injury

Bears cornerback Tracy Porter exited today's game against the Chiefs with what appeared to be a head injury. Porter, the Bears' most experienced defensive back, was attempting to tackle Chiefs tight end Demetrius Harris when he was accidentally kneed in…

Share Tweet

Playoff previews on tap for full MLB.TV slate

MLB.com

Aug 27 (yesterday)

For fans eager for the postseason, today's Major League schedule offers a potential preview of what's to come in October. Four division-leaders -- Cubs at Dodgers and Indians at Rangers -- and two Wild Card contenders -- Royals at Red Sox -- are among t…

Share Tweet

Berry not willing to risk injury without new deal

Jul 27

Adam Schefter explains why Eric Berry is not planning to report to the start of Chief's training camp isn't a surprise since he has still not signed his franchise tender.

Chiefs will make playoffs if they can accomplish three things

Jul 18

ESPN Chiefs reporter Adam Teicher says winning at least four AFC West games will go a long way toward putting Kansas City into the postseason.

Berry and Chiefs never got close

Jul 15

Adam Schefter, Tom Waddle and Jeff Saturday react to the Chiefs and Eric Berry failing to reach a deal on a long-term contract.

Berry has done everything necessary to be paid by Chiefs

Jul 15

Tom Waddle doesn't see any reason why the Chiefs shouldn't give Eric Berry the long-term deal he's seeking.