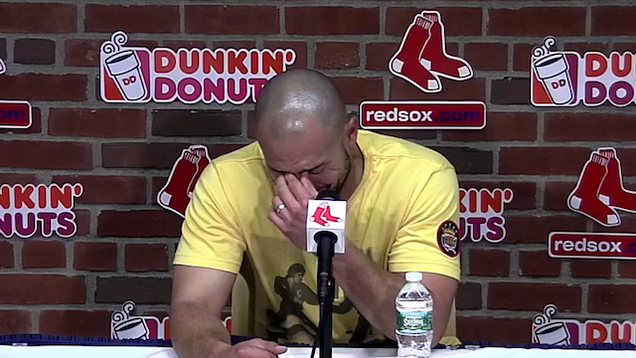 deadspin.com
MLB.com
nytimes.com
Updated Jul 28 (yesterday)
The Red Sox traded outfielder Shane Victorino to the Angels in exchange for infielder Josh Rutledge and cash considerations. This is good news for Victorino, who just came off the DL and is going from a last-place team to a first-place squad, but Victor…
Share
Tweet
nytimes.com

Jul 27 (2 days ago)

Trout, 23, leads the majors in home runs and runs scored, and his stats are among the league leaders again this season in many other categories.

Share Tweet

Joyce exits after collision with Aybar

MLB.com

Jul 26 (3 days ago)

The Angels had a couple of scary moments in the outfield in the fourth inning of Sunday's 13-7 victory over the Rangers. First, Mike Trout landed awkwardly on his left wrist attempting to make a diving catch, but was able to stay in the game. Then Matt …

Share Tweet

MLB.com nytimes.com

Jul 26 (4 days ago)

The Rangers rallied from two runs down in the eighth inning, getting clutch RBI singles from Robinson Chirinos and Delino DeShields to beat the Angels, 7-6, on Saturday night at Angel Stadium.

Share Tweet

MLB.com nytimes.com yahoo.com

Jul 25 (5 days ago)

Colby Lewis was charged with two runs in 7 2/3 innings on Friday night, snapping his six-start losing streak against the Angels and leading the Rangers to a 4-2 victory. Josh Hamilton went 2-for-4 in his first game at Angel Stadium since he was traded t…

Share Tweet

Lewis' 9-K gem likely to fuel trade buzz

MLB.com

Jul 25 (5 days ago)

Clubs have asked the Rangers about Colby Lewis as the Trade Deadline approaches, and the frequency of phone calls may increase after he held the Angels to two runs over 7 2/3 innings in a 4-2 victory at Angel Stadium.

Share Tweet

White Sox deal Gillaspie to Angels for cash

MLB.com

Jul 24 (5 days ago)

The White Sox traded Conor Gillaspie to the Angels in exchange for cash considerations, the teams announced Friday.

Share Tweet

Stellar Santana sets up shutout of Angels

MLB.com

Jul 23 (6 days ago)

Ervin Santana dominated against his former team on Thursday afternoon, shutting out the red-hot Angels through eight innings and leading the Twins to a 3-0 victory in Southern California.

Share Tweet

Street joins elite group with 300th save

MLB.com

Jul 23 (7 days ago)

On Wednesday night, in the Angels' 5-2 win over the Twins -- their 17th win in 20 games -- Huston Street finally got his chance. Pitching out of his hunched-over delivery, throwing his high-80s fastball, the 11-year veteran rolled through the heart of t…

Share Tweet

ESPN.com

Jul 23 (7 days ago)

Angels' Freese going to DL with fractured finger

Share Tweet

Angels Beat Twins 5-2 for 7th Straight Win

nytimes.com

Jul 23 (7 days ago)

Huston Street earned his 300th save, Kole Calhoun had three hits and drove in two runs, and the Los Angeles Angels beat the Minnesota Twins 5-2 on Wednesday night for their seventh straight victory.

Share Tweet

MLB.com nytimes.com

Jul 23 (7 days ago)

Angels center fielder Mike Trout returned to the Angels' lineup for Wednesday's 5-2 win over the Twins, one day after missing his first game of the season with soreness in his left heel.

Share Tweet

Shoemaker Gives Twins Fits in Angels' 7-0 Win

nytimes.com

Jul 22

Matt Shoemaker pitched six innings of two-hit ball for his first home win of the season in nine tries, batterymate Chris Iannetta had a homer and four RBIs, and the Los Angeles Angels beat the Minnesota Twins 7-0 Tuesday night for their season-high sixt…

Share Tweet

MLB.com

Jul 21

The Angels swept a doubleheader against the Red Sox to complete a four-game series sweep against Boston. The Angels have won five straight and 23 of their last 33. Since the start of play on June 11, they own the best record in the Majors and have jumpe…

Share Tweet

Angels remain hopeful of adding bat in deal

MLB.com

Jul 21

The Angels are still "casting a wide net" in their ongoing search for offense, a source familiar with the team's thinking told MLB.com Monday. The July 31 non-waiver Trade Deadline is only 11 days away, and the Angels are still hopeful of acqu…

Share Tweet

Take a look around the league with Big League Stew's daily wrap up. We'll hit on all of the biggest moments from the day that you may have missed, while providing highlights, photos and interesting stats. Los Angeles Angels first baseman Albert Pujols i…

Share Tweet

Roundup: Angels Drub Visiting Red Sox in Makeup of a Rare Rainout

nytimes.com

Jul 21

Kole Calhoun and Albert Pujols homered in the second inning as Los Angeles scored seven runs and routed Boston, 11-1.

Share Tweet

Richards' Road To Recovery

Mar 8

Eric Karabell and Stephania Bell discuss the timetable for Angels pitcher Garrett Richards to return from a knee injury and what to his rehabilitation has involved to get back to the mound.

Rob Manfred's Choice: The Josh Hamilton Ethical Nightmare

Mar 5

Major League Baseball has a choice: Help Josh Hamilton by sending him to rehab, or give the Angels' owners 25 million dollars.

How Mike Trout Can Get Even Better

Feb 26

Aaron Boone and Tim Kurkjian look at the ways that reigning MVP Mike Trout can get even better this season.

Trout Wishes The Best For Hamilton

Feb 26

Angels outfielder Mike Trout shares his thoughts on Josh Hamilton, who met with MLB officials on Wednesday about a disciplinary issue.

Sports Columnists

5-on-5: Biggest risers, fallers for 2015-16 NBA season

Jul 28

After a summer of deals, which teams are on the inside track to success next season and which are headed for a down year? Our 5-on-5 panel weighs in.

The MMQB Mailbag

Jul 22

Today is a good day for logic around the NFL. Because: • The Tennessee Titans on Tuesday signed the second pick in the draft, quarterback Marcus Mariota, meaning that five days before the first practice of the NFL preseason, all 32 first-round picks hav…

Adande: Jordan wouldn't let pride get in the way

Jul 21

The healthiest sign in DeAndre Jordan's return engagement with the Clippers is that the final decision was made for the right reasons, overcoming what would have been a prideful mistake.