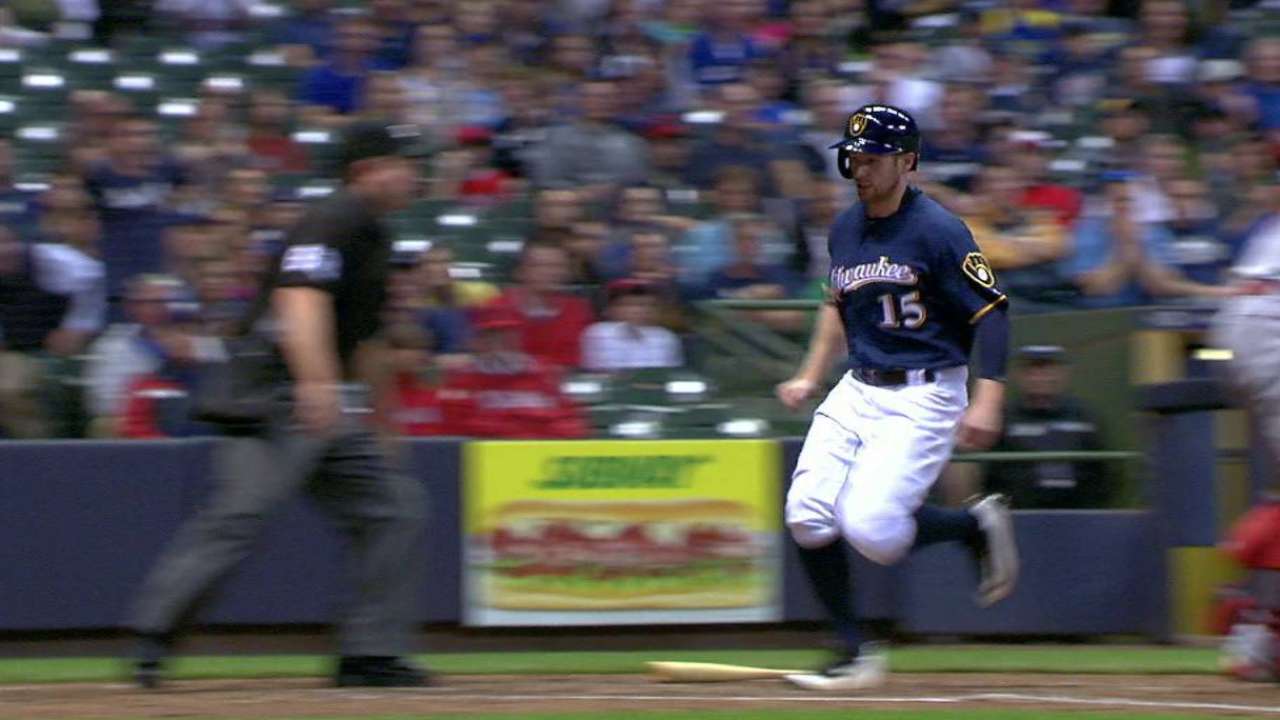 nytimes.com
MLB.com
Updated 4 hours ago
Jimmy Nelson has been lone the bright spot in the Milwaukee Brewers' starting rotation this season. He turned in a career performance at the plate Monday night to help his cause.
Share
Tweet
MLB.com

8 hours ago

Count the Angels among the many teams that are keeping tabs on Tim Lincecum, the two-time National League Cy Young Award winner who is expected to throw in front of scouts for the first time on Friday. It's hard to gauge the Angels' interest at this poi…

Share Tweet

Roenicke 'really enjoyed my time' with Crew

MLB.com

9 hours ago

"Even though I really enjoyed it and had a great time here [in Milwaukee]," said Ron Roenicke, now the Angels' third-base coach, "I realize that you're not going to stay in one place forever. It's uncomfortable, but it's a good feeling, b…

Share Tweet

nytimes.com MLB.com

May 1 (yesterday)

The Los Angeles Angels' bullpen responded in a big way when it got an early call Sunday.

Share Tweet

Rangers rout Angels with six-run third inning

MLB.com

May 1 (2 days ago)

The Rangers strung together six runs on eight hits in the third inning, ending Matt Shoemaker's night early while en route to a 7-2 thrashing of the Angels at Globe Life Park on Saturday night.

Share Tweet

Odor Has 3 Doubles, Rangers Overturn to Beat Angels 7-2

nytimes.com

Apr 30 (2 days ago)

Rougned Odor was double the fun for the Texas Rangers, who benefited from another replay challenge against the AL West rival Los Angeles Angels.

Share Tweet

MLB.com nytimes.com

Apr 30 (3 days ago)

The Rangers scored three runs in the sixth inning to turn a deficit into a lead as they captured the first game of the three-game series with their AL West rivals, the Angels.

Share Tweet

MLB.com nytimes.com

Apr 28 (5 days ago)

Mike Trout, Yunel Escobar and Andrelton Simmons accounted for all of the Angels' offense on Wednesday, as each hit home runs in a victory over the Royals.

Share Tweet

Giavotella's 3-Run HR Helps Weaver, Angels Beat Royals 9-4

nytimes.com

Apr 27 (6 days ago)

Johnny Giavotella drove in three runs with his first homer of the season, Mike Trout and Carlos Perez had two-run singles, and the Los Angeles Angels beat the Kansas City Royals 9-4 Tuesday night.

Share Tweet

yahoo.com

Apr 26

If you look at the stats, it's pretty clear that Mike Trout does enough for the Los Angeles Angels. Over the past four seasons, Trout has hit an astounding .308/.403/.568. He's won a Rookie of the Year award, made the All-Star game each season and took …

Share Tweet

MLB.com

Apr 25

Cole Hamels threw 26 pitches in his bullpen session on Monday without any issues and could return to the rotation as early as Saturday, against the Angels.

Share Tweet

Skaggs scratched from Minors start

MLB.com

Apr 25

Angels starter Tyler Skaggs, easing his way back from Tommy John surgery, was scratched from his scheduled start for Triple-A Salt Lake on Monday.

Share Tweet

yahoo.com

Apr 25

Infield plays can be a number of things. They can be flashy and fun, they can be horrifically bad, or they can just be plain routine. But rarely are infield plays straight-up fake. That's the feat that several Los Angeles Angels players pulled off on Su…

Share Tweet

'Dude's sick': Simmons' defense dazzles again

MLB.com

Apr 24

Andrelton Simmons had already made a handful of highlight-reel plays in the first two weeks of his first season with the Angels, ranging 115 feet to catch a foul popup in Oakland on April 12 and converting a slick backhand play on Adam Eaton's grounder …

Share Tweet

nytimes.com MLB.com

Apr 24

Wade Miley overcame a shaky first inning that included a home by slumping Albert Pujols to post his first victory in a Mariners uniform, helping Seattle beat the Los Angeles Angels 9-4 Sunday.

Share Tweet

King of the K: Felix rules Seattle in strikeouts

MLB.com

Apr 23

Felix Hernandez became the Mariners all-time career strikeout leader on Saturday when he set down Rafael Ortega of the Angels in the first inning of Seattle's game at Angel Stadium.

Share Tweet

Cruz Homers in Mariners' 5-2 Win Over Angels in 10 Innings

nytimes.com

Apr 23

Pinch-hitter Franklin Gutierrez came through with a tiebreaking RBI single in the 10th inning and Nelson Cruz added a two-run homer, leading the Seattle Mariners to a 5-2 victory over the Los Angeles Angels on Friday night.

Share Tweet

deadspin.com MLB.com

Apr 21

Mike Trout started the 2016 season on an uncharacteristic slump. Before yesterday's game against the White Sox, the Angels center fielder was hitting .220 (the worst through 14 games since his rookie season) and had only four extra base hits and a singl…

Share Tweet

nytimes.com

Apr 20

It took 14 games for the Mets to encounter extra innings, and when they did, they lost, 5-4, in Philadelphia.

Share Tweet

Sale twirls gem against Angels, first to 4-0

MLB.com

Apr 20

White Sox ace Chris Sale breezed through seven-plus innings and the White Sox bullpen held on late, continuing his dominant start to the season and adding to his terrific record against the Angels in a 2-1 victory Wednesday at U.S. Cellular Field.

Share Tweet

Sale Becomes 1st 4-Game Winner, Leads ChiSox Over Angels 2-1

nytimes.com

Apr 20

Chris Sale became the major leagues' first four-game winner, allowing two hits in seven innings to lead the Chicago White Sox over the Los Angeles Angels 2-1 Wednesday.

Share Tweet

Richards' Road To Recovery

Mar 8

Eric Karabell and Stephania Bell discuss the timetable for Angels pitcher Garrett Richards to return from a knee injury and what to his rehabilitation has involved to get back to the mound.

Rob Manfred's Choice: The Josh Hamilton Ethical Nightmare

Mar 5

Major League Baseball has a choice: Help Josh Hamilton by sending him to rehab, or give the Angels' owners 25 million dollars.

How Mike Trout Can Get Even Better

Feb 26

Aaron Boone and Tim Kurkjian look at the ways that reigning MVP Mike Trout can get even better this season.

Trout Wishes The Best For Hamilton

Feb 26

Angels outfielder Mike Trout shares his thoughts on Josh Hamilton, who met with MLB officials on Wednesday about a disciplinary issue.