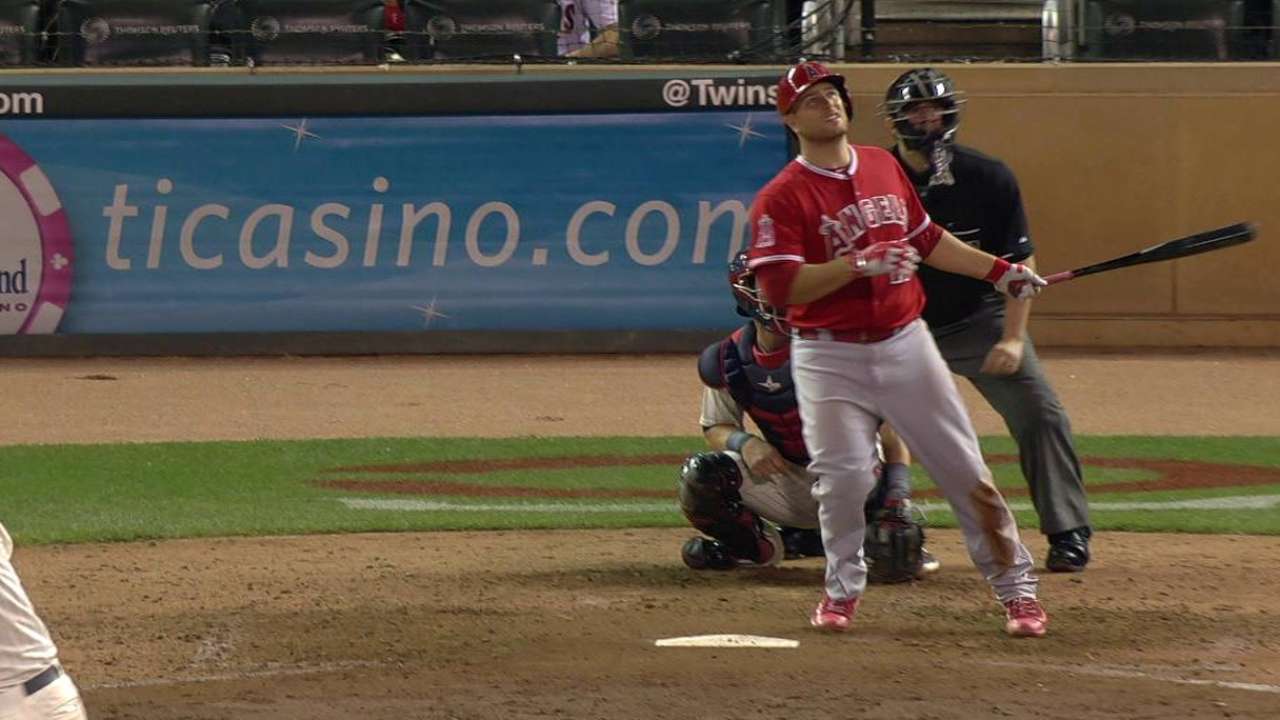 MLB.com
Updated Nov 23 (yesterday)
New Mariners general manager Jerry Dipoto reached back into his former Angels team to make his first new free-agent acquisition, signing veteran catcher Chris Iannetta to a one-year Major League contract on Monday.
Share
Tweet
Week Ahead: Hot Stove set to cook up tasty deals

MLB.com

Nov 22 (yesterday)

The Angels signing Cliff Pennington was the stuffing. The A's inking Rich Hill to a one-year contract was the sweet potatoes. The Tigers trading for Francisco Rodriguez and then Cameron Maybin? Cranberries and corn pudding. Oakland flipping Jesse Chavez…

Share Tweet

MLB.com

Nov 18 (6 days ago)

Longtime pitching coach and manager Bud Black is expected to rejoin the Angels in a front-office capacity, a source told MLB.com on Wednesday. The Black news, which has not been confirmed by the team, comes on the same day Ron Roenicke was announced as …

Share Tweet

nytimes.com MLB.com

Nov 18 (6 days ago)

Veteran infielder Cliff Pennington became the first free agent to switch teams this offseason when the Los Angeles Angels agreed to a $3.75 million, two-year contract.

Share Tweet

Martone tabbed as assistant GM for Angels

MLB.com

Nov 18 (7 days ago)

Steve Martone, who spent the last two years as the Yankees' manager of professional scouting, is joining the Angels as an assistant general manager to new GM Billy Eppler, a source confirmed to MLB.com on Tuesday.

Share Tweet

nytimes.com

Nov 18 (7 days ago)

Fresh off his Gold Glove last week, San Francisco shortstop Brandon Crawford signed a six-year, $75 million contract that will take him through the 2021 season.

Share Tweet

In his first major move with his new team, Billy Eppler acquired Andrelton Simmons from the Braves in exchange for the veteran shortstop Erick Aybar and two top pitching prospects.

Share Tweet

nytimes.com

Nov 12

A player agreed to accept a qualifying offer for the first time in the four-year history of the compensation system rather than remain a free agent, and Atlanta dealt shortstop Adrelton Simmons to the Los Angeles Angels on Thursday as the annual general…

Share Tweet

yahoo.com nytimes.com MLB.com

Nov 11

Former Atlanta Braves and Los Angeles Angels pitcher Tommy Hanson may have died due to an overdose. The details surrounding the 29-year-old's death are still unclear, but an overdose is possible according to Zach Klein of WSB-TV. We've obtained Tommy Ha…

Share Tweet

nytimes.com yahoo.com MLB.com

Nov 9

Los Angeles Angels slugger Albert Pujols underwent surgery on his right toe and may be in doubt for the start of the next baseball season, the team said on Monday.

Share Tweet

Grimes Is A Very Awkward Pop Star, Which Makes Art Angels Way More Fun

deadspin.com

Nov 9

The truth is that all sorts of weirdos get to be pop stars nowadays, and that should excite you whether you like pop stars or weirdos. Think Lana Del Rey, who has excellent rocket-launcher technique and makes profoundly soporific records that double as …

Share Tweet

Angels add Molina as catching coordinator

MLB.com

Nov 6

The Angels have added Jose Molina to their Major League coaching staff, bringing the longtime catcher back to the organization as a catching coordinator, the team announced Friday.

Share Tweet

Skaggs sets out to 're-make' Angels

MLB.com

Nov 5

The most trying season of Tyler Skaggs' career is over. The Angels' young starter spent all of 2015 recovering from Tommy John surgery, a procedure he underwent way back on Aug. 13, 2014. Now he can look forward to a normal offseason, one that should ha…

Share Tweet

Richards' Road To Recovery

Mar 8

Eric Karabell and Stephania Bell discuss the timetable for Angels pitcher Garrett Richards to return from a knee injury and what to his rehabilitation has involved to get back to the mound.

Rob Manfred's Choice: The Josh Hamilton Ethical Nightmare

Mar 5

Major League Baseball has a choice: Help Josh Hamilton by sending him to rehab, or give the Angels' owners 25 million dollars.

How Mike Trout Can Get Even Better

Feb 26

Aaron Boone and Tim Kurkjian look at the ways that reigning MVP Mike Trout can get even better this season.

Trout Wishes The Best For Hamilton

Feb 26

Angels outfielder Mike Trout shares his thoughts on Josh Hamilton, who met with MLB officials on Wednesday about a disciplinary issue.