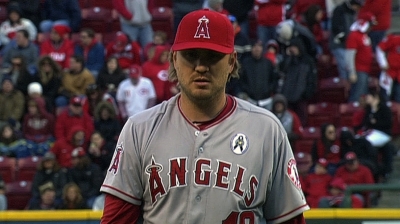 Gentlemanly Angels Fan Runs Away, Allows Flying Bat To Just Miss Woman

deadspin.com

Jun 4, 2013

This has kind of become a thing in recent years, hasn't it? A man and a woman are seated next to each other at a baseball park. They're enjoying themselves, relaxed to the game's gentle rhythms, when all of a-HOLYSHITIT'SCOMINGRIGHTATUSRUNFORYOURLIVES!R

Share Tweet

Seams like a baby is on the bump at the Angels game!

yahoo.com

Jun 4, 2013

Unless they have flatscreens inside of the womb, like major league umpires do for video review, there's no way the baby boy baking inside of Los Angeles Angels fan Courtney Stitzinger could see how his mommy painted her belly like a baseball - seams and

Share Tweet

It's obvious that $100 million just doesn't buy what it used to. That's the approximate gap in respective payrolls for the 2013 season between the Los Angeles Angels and the Houston Astros, with the 'Stros bringing up the rear in the major leagues. And …

Share Tweet

Pujols, Angels Edge Cubs

Jun 4

The Angels recovered from getting swept by the Astros with a 4-3 win over the Cubs.