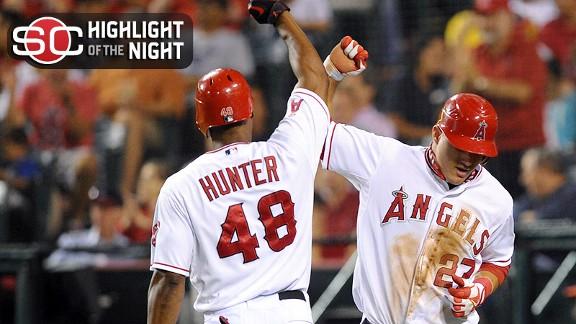 Angels boost playoff hopes with rout of Rangers

ESPN.com

Sep 19, 2012

Jered Weaver earned his 100th victory, Chris Iannetta had a two-run single during an eight-run fourth inning, and the Los Angeles Angels moved up in the AL playoff race with an 11-3 victory over the Texas Rangers on Tuesday night.

Upvote Share Tweet

Kruk: 'Trout More Spectacular, Cabrera MVP'

Sep 19

ESPN MLB Analyst John Kruk breaks down the two-man race for the AL MVP between Mike Trout and Miguel Cabrera.

Shorthanded Rangers Top Angels

Sep 19

Mike Napoli had the Rangers out to a 3-0 lead after an RBI double, and Geovany Soto hit a late two-run homer to add some insurance.

Who's AL MVP?

Sep 19

Baseball Tonight looks at who will win the AL MVP, Miguel Cabrera or Mike Trout?