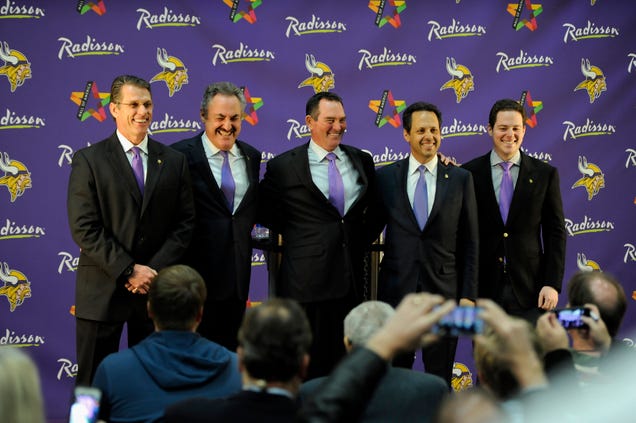 deadspin.com
Updated 11 hours ago
If we learned anything from the NBA's Donald Sterling saga, it was that public outrage alone is not enough to force sports leagues to act. It only became clear that the NBA would take a serious stand with Sterling when sponsors began fleeing the Clipper…
Upvote
Share
Tweet
Sources: Clips, Aussie SF Ingles reach deal

ESPN.com

1 hour ago

Australian swingman Joe Ingles has parlayed a fine showing at the 2014 FIBA Basketball World Cup into an NBA contract with the Los Angeles Clippers.

Upvote Share Tweet

Blake Griffin Recites #SlamDunkPoetry In Three Hilarious, Emotional Videos

dimemag.com

16 hours ago

Blake Griffin is the world's best hoops slammer. And on the stage under the lights, he does grammar with even more glamour. With that out of the way, watch the Los Angeles Clippers superstar take on poetry in these hilarious videos courtesy of VIZIO. In…

Upvote Share Tweet

The Los Angeles Clippers announced today that they have re-signed free agent forward Hedo Turkoglu. Terms of the deal were not disclosed.

Upvote Share Tweet

dimemag.com

Sep 10 (6 days ago)

Chris Douglas-Roberts signed with the Los Angeles Clippers this offseason. Whether he'll crack the regular rotation is up in the air, but if he does, CDR is set on making a fashion statement by going with short shorts this season. CDR went on Twitter la…

Upvote Share Tweet

Douglas-Roberts, Udoh signed by Clippers

nba.com

Sep 3

The Clippers have signed free agent forward-guard Chris Douglas-Roberts and forward-center Ekpe Udoh.

Upvote Share Tweet

Ray Allen Says He's "Not In Any Rush" To Make Playing Decision

dimemag.com

Sep 3

Early September is the time most NBA free agents are waiting for a call that may never come, but Ray Allen has flipped the script. After receiving interest from several of the league's marquee teams, the future Hall-of-Famer says he is still uncertain w…

Upvote Share Tweet

nba.com

Sep 3

The Washington Wizards are hiring former Los Angeles Clippers assistant coach Howard Eisley to their staff, according to league sources.

Upvote Share Tweet

dimemag.com

Sep 3

It was a tough 2013-14 season for Jared Dudley. After finally getting a chance to play for a contender again when the Clippers acquired him from the Suns as part of their three-team Eric Bledsoe trade — ironically involving the Bucks — Dudley was going …

Upvote Share Tweet

ESPN.com dimemag.com

Aug 30

The San Antonio Spurs and the Los Angeles Clippers are the latest elite teams to join the race to sign Ray Allen, ESPN.com has learned.

Upvote Share Tweet

The Los Angeles Clippers waived Carlos Delfino and Miroslav Raduljica just three days after trading for both players, the team announced Friday.

Upvote Share Tweet

dimemag.com

Aug 29

Los Angeles Clippers guard and Seattle Pro-Am host Jamal Crawford recorded just three dunks last season. We don't remember any of them, frankly, but still feel confident saying none were as awesome as this one. Awesome. There's something extra fun about…

Upvote Share Tweet

nba.com

Aug 29

When asked how much money she wanted to sell the Los Angeles Clippers, the wife of disgraced team owner Donald Sterling handed a piece of paper to her lawyer with two numbers: $1.5 to $2.

Upvote Share Tweet

dimemag.com nba.com

Aug 27

Apparently $21 million over three years wasn't enough for Doc Rivers. Los Angeles Clippers owner Steve Ballmer thought so, too. Rivers has agreed to a five-year contract worth in excess of $10 million annually to remain with the Clippers through the 201…

Upvote Share Tweet

Small forward Jared Dudley is going to the Milwaukee Bucks.

Upvote Share Tweet

Watch Stephen Jackson's Donald Sterling-Themed Music Video With Scarface

dimemag.com

Aug 21

Last season, Stephen Jackson only played nine games with the Clippers. While the 36-year-old Jackson has enjoyed a successful NBA career — winning a title in San Antonio and experiencing a fun run with that 2007 Dubs team who shocked No. 1 seed Dallas i…

Upvote Share Tweet

yahoo.com

Aug 19

When Shelly Sterling orchestrated the sale of the Los Angeles Clippers to threateningly boisterous ex-Microsoft CEO Steve Ballmer, she gained a great number of perks. While a record $2 billion purchase price would seem to be its own reward, Sterling als…

Upvote Share Tweet

Rivers, Clippers Agree

Aug 27

Brian Windhorst discusses why the stability provided by extending coach Doc Rivers' contract is important to the Los Angeles Clippers.

Cavs To Win Title?

Aug 23

Stephen A. Smith breaks down the Western Conference teams that could pose a threat to the Cavaliers if they make the NBA Finals.

The Forum: Steve Ballmer

Aug 19

Dave Shore and Arash Markazi recap Steve Ballmer's introduction to the Clippers.

Clippers Conversation

Aug 18

Steve Ballmer and Doc Rivers discuss the new direction for the Clippers.