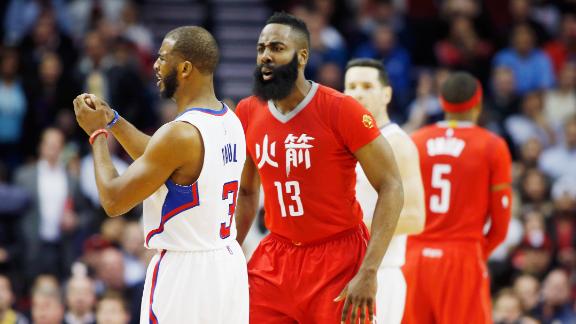 Clippers sign Jordan Hamilton to 10-day deal

nba.com

Feb 24 (4 days ago)

The Clippers have signed free agent Jordan Hamilton to a 10-day contract.

Upvote Share Tweet

ESPN.com

Feb 24 (5 days ago)

Mike Conley scored 18 points, Jeff Green added 16 and the Memphis Grizzlies hung on to beat the Clippers 90-87 Monday night, ending Los Angeles' four-game winning streak.

Upvote Share Tweet

Clippers turn back Spurs, boost lead in West

ESPN.com

Feb 20

DeAndre Jordan had 26 points and 18 rebounds, Jamal Crawford added 26 points, and the Clippers beat San Antonio 119-115 on Thursday night, increasing their lead over the Spurs to 1 1/2 games in the West.

Upvote Share Tweet

yahoo.com

Feb 20

Shorter defenders still make the same mistake after all these years. If DeAndre Jordan is preparing to dunk on your face, it's a safe bet to get out of the way. [Follow Dunks Don't Lie on Tumblr: The best slams from all of basketball] The Clippers cente…

Upvote Share Tweet

Griffin lawyer gets more time to resolve case

ESPN.com

Feb 17

A defense lawyer for Los Angeles Clippers star Blake Griffin got another month to try to resolve a Las Vegas criminal complaint stemming from a nightclub argument in October.

Upvote Share Tweet

Dwight Howard Mashes His Hand Into Teammate's Crotch

deadspin.com

Feb 13

Dwight Howard, who always needs your attention , didn't play in the Rockets' game against the Clippers Wednesday, but he did take part in a sideline interview, and after that sideline interview, he walked back to the bench and jammed his hand into Isaia…

Upvote Share Tweet

Bucks' Dudley had knee fracture while in L.A.

Milwaukee Bucks forward Jared Dudley said he played last season with the Los Angeles Clippers with a fracture in his right knee, and did so at the request of Clippers coach Doc Rivers.

Upvote Share Tweet

After watching center DeAndre Jordan get bypassed yet again as an All-Star reserve, Clippers coach Doc Rivers called the snub a "travesty."

Upvote Share Tweet

Jordan's 24-20 game leads Clips over Rockets

DeAndre Jordan had 24 points and 20 rebounds, Jamal Crawford and J.J. Redick each had 20 points, and the Los Angeles Clippers beat the Houston Rockets 110-95 on Wednesday night.

Upvote Share Tweet

Mavericks shooting guard Monta Ellis, who suffered a strained left hip in Monday's loss to the Los Angeles Clippers, started Wednesday night against the Utah Jazz.

Upvote Share Tweet

Los Angeles Clippers forward Blake Griffin will miss at least three weeks after undergoing surgery Monday to remove a staph infection from his right elbow.

Upvote Share Tweet

dimemag.com

Feb 9

Steven Adams, Kevin Durant (Mark D. Smith-USA TODAY Sports) Midway through OKC's 131-108 beatdown of the Clippers yesterday, Steven Adams fractured his right hand. The only problem? He still had to take the free throws and he's right-handed. To Adams' c…

Upvote Share Tweet

Clippers Roll Over Grizzlies

Feb 27

Chris Paul and DeAndre Jordan each posted double-doubles in the Clippers' 97-79 win over the Grizzlies.

Jordan's High-Flying Oop

Feb 25

Clippers center DeAndre Jordan throws down a powerful one-handed alley-oop from Chris Paul in the second quarter against the Rockets.

DeAndre Comes Up With Great Block

Feb 25

Los Angeles Clippers center DeAndre Jordan came up with a big block on Houston Rockets guard Corey Brewer near the end of the first quarter.

Harden, Rockets Pull Away From Clippers

Feb 25

Despite scoring just one point in the first quarter, James Harden finished with 21 points in the Rockets' 110-105 win over the Clippers.