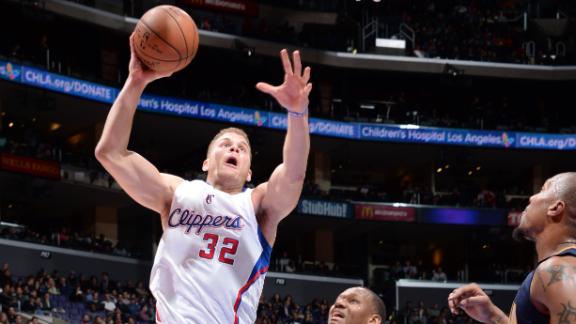 Jamal Crawford Says He Has Special Moves Reserved For All-Star Game

dimemag.com

Dec 17 (3 days ago)

Don't let yourselves down, NBA fans. If Jamal Crawford says something like this, he should damn well be voted an All-Star starter – for your benefit as much as his. When told by a reporter that he believes Crawford is the best active player to never app…

Upvote Share Tweet

GIF: Blake Griffin's Big-To-Big Lob To DeAndre Jordan

dimemag.com

Dec 16 (4 days ago)

Blake Griffin had 18 points and seven rebounds, and DeAndre Jordan had a double-double with 16 points and 15 rebounds as the Clippers bigs largely outplayed Detroit's three-headed monster in the front-court during a 113-91 win in LA Monday night. A simp…

Upvote Share Tweet

GIF: Blake Griffin Finds DeAndre Jordan For Reverse Alley-Oop Slam

dimemag.com

Dec 14 (6 days ago)

The Los Angeles Clippers lost to the Milwaukee Bucks on Saturday night. But highlights are highlights. In the highlight of a game filled with jams, watch Blake Griffin find DeAndre Jordan for an effortless reverse alley-oop. A Blake-DAJ pick-and-roll wi…

Upvote Share Tweet

Giannis Antetokounmpo Finds Jabari Parker With Sick No-Look Bullet For Jam

dimemag.com

Dec 13 (6 days ago)

Remember Giannis Antetokounmpo, experimental point guard? These must be the skills that briefly inspired Jason Kidd. Watch the Greek Freak run the break and find Jabari Parker with a no-look bullet pass for a dunk in the Milwaukee Bucks' 111-106 win ove…

Upvote Share Tweet

Los Angeles Clippers forward Matt Barnes was fined $25,000 on Saturday for kicking a water bottle into the stands and directing profane language at fans on Friday night at Washington.

Upvote Share Tweet

Wall, Wizards end Clips' 9-game win streak

ESPN.com

Dec 12

The first John Wall-Chris Paul showdown of the season turned into a mismatch as the Washington Wizards snapped the Los Angeles Clippers' nine-game winning streak with a 104-96 victory.

Upvote Share Tweet

Sony Leak: Will Ferrell As Donald Sterling In A Ruthless People Remake?

deadspin.com

Dec 12

One of the oddest revelations in the Sony mega-leak features a pitch to remake the 1986 Danny DeVito film Ruthless People as a take on Donald Sterling, starring Will Ferrell as the former Clippers owner and Melissa McCarthy as his wife Shelly.Read more.…

Upvote Share Tweet

Watch Jamal Crawford's Filthy Crossover Put C.J. Miles On His Butt

dimemag.com

Dec 11

Before we show you Jamal Crawford's crossover that put C.J. Miles on skates before he hit the deck, know that Crawford missed the ensuing three-point attempt. But he made a couple others — as you'll see — for a team-high 18 points in LA's rather ugly 10…

Upvote Share Tweet

GIF: Miles Plumlee Spikes Dwyane Wade's Shot Right Back In His Face

dimemag.com

Dec 10

The Heat handed the Suns their second consecutive loss Tuesday night, 103-97, the day after Phoenix lost on a dramatic last-second OT shot to the Clippers. Miles Plumlee struggled, too, but he did get one rejection of Dwyane Wade that was about as in yo…

Upvote Share Tweet

Blake Griffin Was His Old Bad-Ass Self Last Night

deadspin.com

Dec 9

One of the crappier things about the early part of this NBA season is that for much of it, Blake Griffin hasn't really looked like Blake Griffin. Too many Clippers games have seen Griffin floating around the perimeter, turning in uninspiring performance…

Upvote Share Tweet

Watch Eric Bledsoe Notch Triple-Double In CP3 Duel

It wasn't just the last-second play in regulation that pitted Eric Bledsoe against the man he backed up in Los Angeles for the first three seasons of his NBA career. While Chris Paul had 20 points and 10 dimes as well as the win, Bledsoe had a triple-do…

Upvote Share Tweet

So many crazy things to get into from the Clippers-Suns stunna on Monday night. There's so much to talk about, with so many amazing performances and clips of brilliance, it's hard to know where to begin. First, the game probably would have ended in regu…

Upvote Share Tweet

GIF: Goran Dragic's Behind-The-Back Layup In Scorching First Quarter

There was no end to the drama in last night's late game between the Clippers and Suns. You all know how it ended — with Blake Griffin putting a game-winning exclamation mark on his season-high 45-point night. For Phoenix, they relied on their guard play…

Upvote Share Tweet

yahoo.com ESPN.com dimemag.com

Dec 9

One of the best games of the 2014-15 season so far received a fantastically fitting ending. Over nearly 53 minutes of play, the Los Angeles Clippers and Phoenix Suns played an intense, close, and exciting contest that could have easily gone either way. …

Upvote Share Tweet

Prosecutors in Las Vegas might be swayed by findings of a defense investigation into a man's claim that Los Angeles Clippers star Blake Griffin attacked him in a Las Vegas Strip nightclub eight weeks ago, a lawyer suggested Monday.

Upvote Share Tweet

GIF: Blake Griffin Gets Pantsed By Austin Rivers

dimemag.com

Dec 7

Where did second-year New Orleans Pelicans guard Austin Rivers learn this wily veteran's trick? Look no further than his player-turned-coach father, Doc Rivers. What the Los Angeles Clippers' coach surely didn't know is that his son would utilize it aga…

Upvote Share Tweet

Magic's O'Quinn fined for flagrant foul on Clippers' Griffin

nba.com

Dec 4

Orlando Magic forward Kyle O'Quinn has been fined $15,000 for making excessive contact above the shoulders with Los Angeles Clippers forward Blake Griffin, it was announced Thursday by Rod Thorn, President, Basketball Operations.

Upvote Share Tweet

Freudian Slip? Chris Paul Gets Tongue Tied While Discussing Win Over Magic

dimemag.com

Dec 4

The Los Angeles Clippers have won six consecutive games after easily dispatching of the Orlando Magic last night. Means of the team's latest victory? If you're to believe the theories of Freud, Chris Paul inadvertently revealed the surprising justificat…

Upvote Share Tweet

GIF: Glen Davis Completes Basic Dunk, Clippers Bench Explodes In Euphoria

dimemag.com

Dec 2

You know how excited the entire team gets when a lineman scores a touchdown in football? Call this the hoops equivalent. After Glen Davis finished a very pedestrian fast break dunk versus the Minnesota Timberwolves last night, the Los Angeles Clippers' …

Upvote Share Tweet

Justin Bieber Tells Blake Griffin About His Ill Go-Kart, Or Some Shit

deadspin.com

Dec 2

It wasn't just the Patriots that Justin Bieber was hanging out with in the Clippers' locker room last night. He also got to spend some quality time with Blake Griffin, as seen in the video above. What do you think they are talking about? I bet Justin is…

Upvote Share Tweet

ESPN.com

Dec 2

Blake Griffin and J.J. Redick each scored 23 points before sitting out the fourth quarter, and the Clippers returned from the most successful road trip in franchise history with a 127-101 rout of the Timberwolves.

Upvote Share Tweet

Watch Andrew Wiggins Sky To Finish Monster Alley-Oop

dimemag.com

Dec 1

The step-backs, spins, and stellar defense are great. But we want more of this, Andrew Wiggins. Watch the Minnesota Timberwolves' rookie fly to finish a monster fast break alley-oop in the first quarter of his team's game against the Los Angeles Clipper…

Upvote Share Tweet

dimemag.com nba.com

Dec 1

So much for desperation in Los Angeles and Cleveland. After leading their teams to undefeated records, the Clippers' Blake Griffin and Cavaliers' LeBron James have been named NBA Conference Players of the Week for games played between November 24th and …

Upvote Share Tweet

Clippers Edge Pacers

Dec 17

Blake Griffin scored a game-high 31 points in the Clippers' 102-100 win over the Pacers.

Can The Clippers Win It All?

Dec 17

The "NBA Tonight" crew discusses the Clippers' chances of winning an NBA title.

Clippers Crush Pistons

Dec 15

Six Clippers scored in double figures in Los Angeles' 113-91 win over Detroit.

Clippers Win Despite Sluggish Start

Dec 15

After a 113-91 win over the Pistons, Clippers center DeAndre Jordan said the team hung tough despite getting off to a slow start.