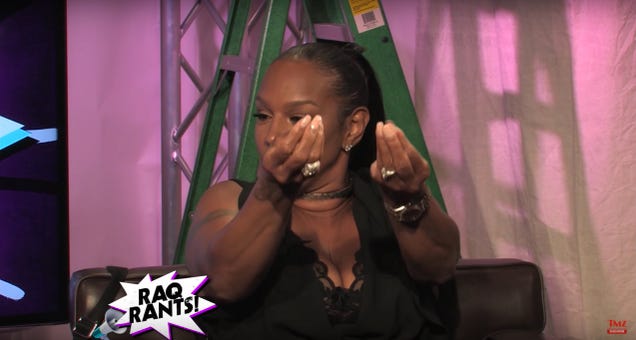 Jackie Christie Says She Weighs Doug Christie's Balls To See If He's Been Cheating
deadspin.com
Updated Jul 21 (4 days ago)
Doug Christie has been out of the NBA since 2005 (save for a 10-day contract with the Los Angeles Clippers in 2007), but his wife Jackie has been a fixture on VH1's Basketball Wives: LA since its inception in 2011. The couple's relationship has been a m…
Share
Tweet
Clippers sign Brandon Bass

nba.com

Jul 19 (6 days ago)

The Clippers have signed forward Brandon Bass, who joins them after playing last season for the Lakers.

Share Tweet

Clippers waive F Branden Dawson

nba.com

Jul 17

The Clippers have waived forward Branden Dawson, four months after he was arrested on suspicion of spousal abuse.

Share Tweet

yahoo.com

Jul 15

Los Angeles Clippers owner Steve Ballmer said at a sports and technology conference this week that he doesn't see the NBA returning to Seattle "within the next year or two years," and that the city's best chance of getting a new arena to house a profess…

Share Tweet

Magic deal Marble to Clippers for Wilcox

nba.com

Jul 15

The Orlando Magic have acquired third-year guard C.J. Wilcox and cash from the Los Angeles Clippers in exchange for Devyn Marble and a future second round draft pick.

Share Tweet

Clippers sign No. 40 draft pick Stone

nba.com

Jul 14

The Los Angeles Clippers signed center Diamond Stone, their 40th overall pick in this year's draft, on Thursday.

Share Tweet

dimemag.com yahoo.com

Jul 14

Getty Image When Kevin Durant joined the Warriors, it shifted the balance of power in the NBA to an extent not seen since LeBron James joined up with Dwyane Wade, Chris Bosh, and the Heat in 2011, and raised concerns around the league from everyone to K…

Share Tweet

The Celtics Are Reportedly Eyeing Blake Griffin In A Blockbuster Trade

dimemag.com

Jul 14

USA TODAY Sports With free agency all but complete, you might think the NBA is set to chill out and let you turn off your Twitter notifications until October. But, well, hey: Don't do that. As Sean Deveney of Sporting News reveals in a recent report, mu…

Share Tweet

Paul Pierce Reportedly 'Intends' To Play Another Season With The Clippers

dimemag.com

Jul 9

USA TODAY Sports Eighteen years into his NBA career, it appears future Hall of Famer Paul Pierce isn't quite ready to go out yet. According to Los Angeles Times Clippers beat writer Ben Bolch, Pierce will be back for another go-around in 2016-2017. Noth…

Share Tweet

Clippers' Wilcox to have surgery on broken right hand

nba.com

Jul 6

Los Angeles Clippers guard C.J. Wilcox will have surgery to repair a broken right hand on Friday.

Share Tweet

Doc Rivers Is Still A Terrible GM

deadspin.com

Jul 5

The Los Angeles Clippers lost in the first round of the playoffs to the upstart Portland Trail Blazers. Though it is true that they were without the injured Chris Paul and Blake Griffin, it was their fifth straight season getting bounced before the Conf…

Share Tweet

dimemag.com ESPN.com

Jul 4

Getty Image Ever have to ask your dad to use the car when you were in high school? Or for a raise in your allowance in middle school? It can be a very intimidating situation, asking a man for five extra dollars per week so you can maybe take your girlfr…

Share Tweet

dimemag.com

Jul 3

Getty Image The Kevin Durant sweepstakes, long hyped as the main event in this summer's NBA free agency period, is starting to live up to the dramatic expectations that come with a top superstar's availability on the market. After reportedly walking awa…

Share Tweet

Clippers Owner Steve Ballmer Supposedly Started Crying In The Free Agency Meeting With Kevin Durant

dimemag.com

Jul 2

USA TODAY Sports On Saturday, Kevin Durant will continue to sift through the options offered by his cavalcade of free agency suitors, with the Spurs and Celtics pitching their teams to the NBA's biggest free agent of the summer in the Hamptons. But duri…

Share Tweet

ESPN.com dimemag.com

Jul 1

Durant 'blown away' by Clippers, sources say

Share Tweet

Clippers promote Frank to basketball ops role

nba.com

Jun 30

The Clippers have promoted Lawrence Frank to executive vice president of basketball operations under Doc Rivers.

Share Tweet

dimemag.com

Jun 28

USA TODAY Sports The initial list of six teams Kevin Durant plans to meet with has been known for a few days — the Thunder, Warriors, Spurs, Clippers, Heat and Celtics. Notably absent on that list are the Los Angeles Lakers, who always at least get meet…

Share Tweet

yahoo.com

Jun 27

It's now well established that any NBA franchise, no matter the success of the team on the court or the size of the market, is worth a lot of money. The $2 billion sale of the Los Angeles Clippers in August 2014 set a new standard, and the $850 million …

Share Tweet

dimemag.com

Jun 25

Getty Image LeBron James is out; Same with Kawhi Leonard; Damian Lillard isn't going to Rio because of rehab and more than a bit of disgruntlement. Two-time MVP and zero-time Finals MVP Steph Curry is out. You can add Clippers Chris Paul and Blake Griff…

Share Tweet

Clippers draft Brice Johnson at No. 25, trade for additional picks

ESPN.com

Jun 24

Clippers draft Brice Johnson at No. 25, trade for additional picks

Share Tweet

yahoo.com

Jun 16

In the third week of January the Cleveland Cavaliers were on pace to win 60 games, coming off of a sound and nationally-televised 13-point win over the Los Angeles Clippers. With Chicago and Atlanta fading, and Toronto not quite there yet, the team was …

Share Tweet

Tracy McGrady Pours One Out For Paul Pierce's Career As 'The Truth' Discusses His Future

dimemag.com

Jun 9

Tracy McGrady, Vince Carter, and Paul Pierce were once three of the best players in basketball, taking turns as the most viable challenger to Kobe Bryant's title as the game's best wing player. But that was about a decade ago. In 2016, the trio of futur…

Share Tweet

NBA Superfan Jimmy Goldstein Will Pay $12.5K For Courtside Seats, But Still Flies Coach

dimemag.com

Jun 7

Getty Image Jimmy Goldstein is a 76-year-old man best known for being an NBA fan. He has attended every NBA Finals game for more than 20 years, has season tickets to both the Lakers and Clippers, and spends about $500,000 a year on tickets, according to…

Share Tweet

Doc Rivers Explained Why He Isn't Breaking Up The Clippers' Big Three Just Yet

dimemag.com

May 16

USA TODAY Sports Before the start of the season, Doc Rivers hinted that if the Los Angeles Clippers didn't make a deep playoff run, this might be the end of the run with the big three of Chris Paul, Blake Griffin and DeAndre Jordan. Now that the Clipper…

Share Tweet

Paul Leads Clippers Past Wizards

Mar 20

Chris Paul scored 30 points and had 15 assists in the Clippers' 113-99 win over the Wizards.

Clippers Hold Off Hornets

Mar 17

The Clippers topped the Hornets 99-92 to snap their two-game losing streak.

Jordan Booger Bombs Redick

Mar 17

DeAndre Jordan wipes a booger on Clippers teammate J.J. Redick.

NBA Top 3 Plays Of The Night

Mar 17

Check out the top plays from the night in the NBA, including Blake Griffin's big slam.