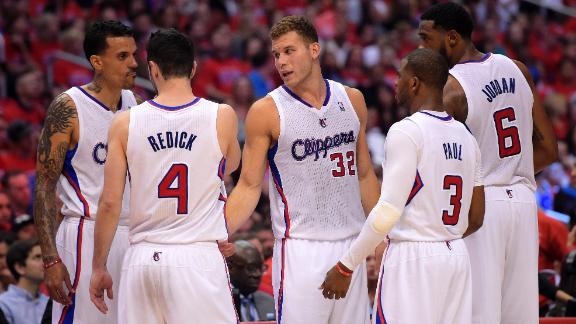 Doc Rivers is adding three new assistant coaches to his Los Angeles Clippers staff for the upcoming season.

Upvote Share Tweet

ESPN.com

20 hours ago

Los Angeles Clippers owner Steve Ballmer, who at a net worth of $22.5 billion, is the richest American owner of a sports team.

Upvote Share Tweet

dimemag.com yahoo.com deadspin.com

Sep 26 (4 days ago)

When former Microsoft CEO Steve Ballmer bought the Clippers for a record $2 billion, the sale was still shrouded by the then-ongoing Donald Sterling fiasco. Once the sale was made final, though, the media turned towards the new owner. In an interview wi…

Upvote Share Tweet

Frank joins Clippers after buyout from Nets

ESPN.com

Sep 25 (5 days ago)

The Brooklyn Nets and assistant coach Lawrence Frank have reached a buyout agreement, allowing the 44-year-old to join the Los Angeles Clippers and become an assistant under Doc Rivers.

Upvote Share Tweet

Donald Sterling's Stink Is Fading From The Clippers

deadspin.com

Sep 25 (5 days ago)

Donald Sterling's son-in-law Eric Miller left the Clippers this summer, new owner Steve Ballmer told the LA Times Wednesday. Miller was the team's Director of Basketball Administration last season, one of the more senior members of the Doc Rivers-helmed…

Upvote Share Tweet

Watch Jamal Crawford's Sick Mixtape From This Summer's Seattle Pro-Am

dimemag.com

Sep 24 (6 days ago)

With NBA training camp just around the corner and the regular season approaching closer every day, basketball fans have a quick breather to look back and appreciate the incredible hoops that graced the hardwood this summer. Clippers sixth man Jamal Craw…

Upvote Share Tweet

Grizzlies To Host Promotional Nights Poking Fun At Clippers, Thunder

dimemag.com

Sep 23 (6 days ago)

The Memphis Grizzlies have been a playoff fixture in the Western Conference since 2011, when they beat the San Antonio Spurs in a first-round upset and established themselves as a perennial threat. The Grit 'N Grind crew's emergence, unsurprisingly, has…

Upvote Share Tweet

dimemag.com yahoo.com

Sep 23 (7 days ago)

Even before audio of the reprehensible thoughts that ultimately forced Donald Sterling from the NBA surfaced, his racism was no secret. Sterling had harbored and acted on his sentiments about minorities for decades prior, a reality the league did its ve…

Upvote Share Tweet

Blake Griffin Says LeBron "Was Osama bin Laden" To Cavs Fans Before Return

dimemag.com

Sep 22

LeBron James' return to the Cleveland Cavaliers has received near-consensus support. The only group showering James with more praise than fans for his decision are his playing peers in the NBA, a trend that continued recently when Los Angeles Clippers s…

Upvote Share Tweet

Chris Paul Cried After Blowing Game 5 Against OKC, And He Won't Forget

dimemag.com

Sep 20

There are those atavistic few who believe an athlete's tears are a sign of weakness. But for many they're a sign of just how much that athlete cares about the game they hold so dear. That's why when Chris Paul cried after the Los Angeles Clippers' blew …

Upvote Share Tweet

Teams' Latest Twitter Contest Is #NBADramas

dimemag.com

Sep 17

The increasingly active and humorous Twitter accounts of NBA teams are at it again. We've already shown you our favorite #NBASitcoms and #NBAMovies; now it's time for some #NBADramas. Here are some miscellaneous notables this time around: Good Wall Hunt…

Upvote Share Tweet

Here's Blake Griffin Actually Performing Poetry Live On Stage

dimemag.com

Sep 17

Blake Griffin's comedic chops are well-known, and his reputation as basketball's premier commercial actor was cemented earlier this week when he partnered with VIZIO for #SlamDunkPoetry. But those videos, obviously, were heavily edited and put together …

Upvote Share Tweet

Happy 80th Birthday To Elgin Baylor! Truly One Of The NBA's Forgotten Greats

dimemag.com

Sep 16

A lot of names get bandied around when it comes to the increasingly divisive (and almost always insufferable) Greatest of All Time debate. But one name in particular that is usually inexplicably omitted from this discussion is Los Angeles Lakers legend …

Upvote Share Tweet

Joe Ingles of Australian national team agrees to 1-year deal with Los Angeles Clippers

ESPN.com

Sep 16

Australian swingman Joe Ingles has parlayed a fine showing at the 2014 FIBA Basketball World Cup into an NBA contract with the Los Angeles Clippers.

Upvote Share Tweet

deadspin.com

Sep 15

If we learned anything from the NBA's Donald Sterling saga, it was that public outrage alone is not enough to force sports leagues to act. It only became clear that the NBA would take a serious stand with Sterling when sponsors began fleeing the Clipper…

Upvote Share Tweet

Blake Griffin Recites #SlamDunkPoetry In Three Hilarious, Emotional Videos

dimemag.com

Sep 15

Blake Griffin is the world's best hoops slammer. And on the stage under the lights, he does grammar with even more glamour. With that out of the way, watch the Los Angeles Clippers superstar take on poetry in these hilarious videos courtesy of VIZIO. In…

Upvote Share Tweet

The Los Angeles Clippers announced today that they have re-signed free agent forward Hedo Turkoglu. Terms of the deal were not disclosed.

Upvote Share Tweet

dimemag.com

Sep 10

Chris Douglas-Roberts signed with the Los Angeles Clippers this offseason. Whether he'll crack the regular rotation is up in the air, but if he does, CDR is set on making a fashion statement by going with short shorts this season. CDR went on Twitter la…

Upvote Share Tweet

Douglas-Roberts, Udoh signed by Clippers

nba.com

Sep 3

The Clippers have signed free agent forward-guard Chris Douglas-Roberts and forward-center Ekpe Udoh.

Upvote Share Tweet

Ray Allen Says He's "Not In Any Rush" To Make Playing Decision

dimemag.com

Sep 3

Early September is the time most NBA free agents are waiting for a call that may never come, but Ray Allen has flipped the script. After receiving interest from several of the league's marquee teams, the future Hall-of-Famer says he is still uncertain w…

Upvote Share Tweet

nba.com

Sep 3

The Washington Wizards are hiring former Los Angeles Clippers assistant coach Howard Eisley to their staff, according to league sources.

Upvote Share Tweet

dimemag.com

Sep 3

It was a tough 2013-14 season for Jared Dudley. After finally getting a chance to play for a contender again when the Clippers acquired him from the Suns as part of their three-team Eric Bledsoe trade — ironically involving the Bucks — Dudley was going …

Upvote Share Tweet

Griffin: It Feels Different

Sep 29

Clippers forward Blake Griffin talks about his hopes for the season and how the team has changed under Steve Ballmer's ownership.

Rivers Talks Clippers' Outlook, Ballmer

Sep 29

Doc Rivers talks about his expectations for the Clippers' upcoming season and how the team is moving forward with Steve Ballmer as owner.

Clippers' New Owner Is Richest In American Team Sports

Sep 29

ESPN sports business reporter Darren Rovell discusses the heavy presence of sports owners on Forbes' list of the 400 richest Americans.

Frank Reaches Buyout With Nets, Heads To Clippers

Sep 25

ESPNNewYork.com's Mike Mazzeo discusses Lawrence Frank's buyout agreement with the Nets.