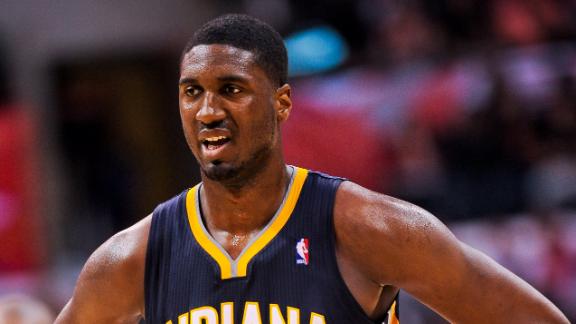 Create-a-Caption: Uh-oh, Willie Green is sleep-defending again

yahoo.com

Apr 2, 2013

Suddenly, this whole "the Los Angeles Clippers rank 22nd of 30 NBA teams in points allowed per possession since March 1" thing makes a whole lot more sense. Hard to stop opponents - especially ones as good as David West and the Indiana Pacers, who rolle

Share Tweet

Caron Butler Tips In Air Ball Backwards At The Halftime Buzzer

dimemag.com

Apr 2, 2013

Caron Butler rescues Blake Griffin's air ball with a backwards, over-the-head tip-in as the buzzer sounded to close the first half.The post Caron Butler Tips In Air Ball Backwards At The Halftime Buzzer appeared first on Dime Magazine (dimemag.com) : Da

Share Tweet

Hibbert, George carry Pacers past Clippers

ESPN.com

Apr 2, 2013

Roy Hibbert had 26 points and 10 rebounds, Paul George added 23 points and 10 assists, and the Indiana Pacers barely completed a sweep of their four-game road trip with a 109-106 victory over the Los Angeles Clippers on Monday night.

Share Tweet

Sports Columnists

Adande: Grant Hill, in his own words

Apr 2

With his career nearing the end, Grant Hill recalls the highs and lows of the past two decades.

Ian Thomsen: Why NBA didn't fine Heat for resting stars; more mail

Apr 2

Does LeBron James have a point about teams playing him too physically? Defenses are only going to get tougher on him during the postseason. What does he hope to accomplish with these comments? -- Paul G., Orlando, Fla.