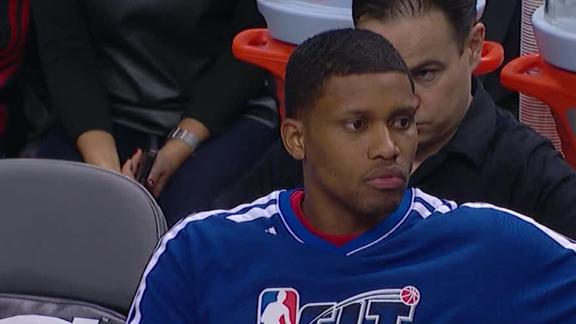 ESPN.com
Updated Feb 1, 2013
Rudy Gay wowed a sellout crowd by scoring 20 points in his Toronto debut, leading the Raptors to a 98-73 rout of the short-handed Los Angeles Clippers on Friday night.
Share
Tweet
When the Los Angeles Clippers take on the Toronto Raptors at the Air Canada Centre on Friday night, they'll do so without key reserve Matt Barnes, whom the NBA has suspended without pay for one game for perpetrating this aggressive bit of throat violenc…

Share Tweet
Raptors Win In Rudy Gay's Debut

Feb 1

Rudy gay scores 20 points in team debut and Raptors hold Clippers to 34 percent shooting in 98-73 win.

Two Sides Of Gay Trade

Feb 1

In the latest Weekend Stein Edition of TrueHoop TV, Henry Abbott and Marc Stein dig into all sides of the Rudy Gay trade.

Caron Butler Fakes Out Raptors With High Five

Feb 1

In final seconds of loss to Raptors, Caron Butler high fives with Jonas Valanciunas, steals the ball, and goes in for the layup.