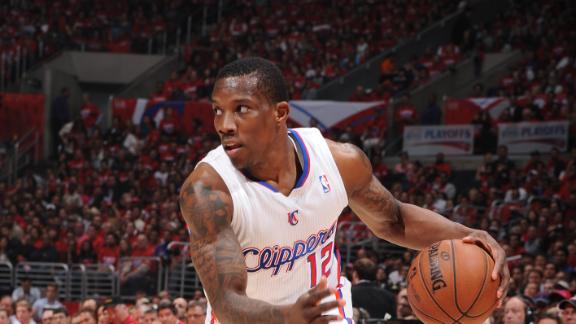 ESPN.com
CNNSI.com
dimemag.com
nba.com
deadspin.com
Updated Jul 2, 2013
The Clippers have traded Caron Butler and Eric Bledsoe to the Suns, and J.J. Redick and Jared Dudley have been dealt to the Clippers. Redick is expected to sign a four-year, $27 million deal, according to sources.
Share
Tweet
Clippers owner Donald Sterling may have used a racial slur while interviewing Rollie Massimino

yahoo.com

Jul 2, 2013

This is one person's unsubstantiated report of Los Angeles Clippers owner Donald T. Sterling acting like a racist cretin, but the report comes from a respected reporter in Jeff Pearlman, and we're always keen to remind you (as you dig in for another yea…

Share Tweet

yahoo.com

Jul 2, 2013

The biggest move of the NBA's nascent 2013 free agency period happened early Monday, when Chris Paul agreed to a five-year, $107 million max contract to return to the Los Angeles Clippers. The next major domino to fall will be All-Star center Dwight How…

Share Tweet

Clippers Send Bledsoe To Suns

Jul 2

J.A. Adande breaks down the Clippers sending Eric Bledsoe and Caron Butler to the Suns for J.J. Redick and Jared Dudley.

Clippers Interested In Mayo

Jul 2

Marc Stein discusses the Clippers' interest in G O.J. Mayo and a possible sign-and-trade scenario involving Mayo and G Eric Bledsoe.