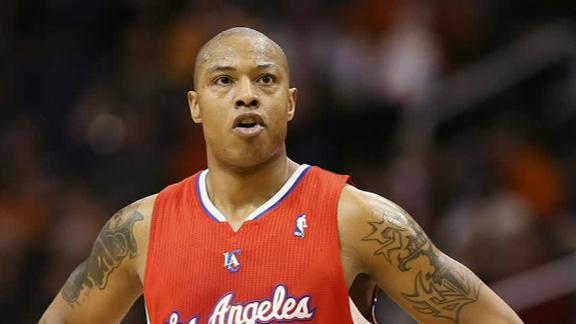 ESPN.com
Updated Mar 11, 2013
Caron Butler suffered a left elbow strain Sunday in the Clippers' 129-97 win over the Pistons and will be out approximately one week.
Share
Tweet
Blake Griffin And DeAndre Jordan's Top 10 Dunks Of March (So Far)

We're not even two weeks into March yet and DeAndre Jordan and Blake Griffin have combined to amass enough top-10 worthy dunks for their own personal highlight reel. In just five games the stars of Lob City have staked their claim to not only the two be

Share Tweet

Best N.B.A. Games of the Week

nytimes.com

Mar 11, 2013

Best N.B.A. games of the week include Thunder at Spurs, Knicks at Nuggets and Grizzlies at Clippers.

Share Tweet

The NBA's Top 10 Facial Dunks Of All Time

What makes NBA games so special and electrifying are the epic in-game dunks. Of course, we love the flashy passing and heart wrenching buzzer-beaters, but to be capsulated in a moment where someone gets posterized is beyond blissful. Let's start by sayi

Share Tweet

Dunk of the Year? DeAndre Jordan vs. Harrison Barnes

You make the call. Hit us on Twitter (@Dimemag) with your vote… For breaking news, rumors, exclusive content, and contests sent right to your inbox, sign up here for the Dime Email Newsletter. Follow Dime Magazine on Twitter Become a fan of Dime Magazin

Share Tweet

The Fundamentals: Clips need further evolution from Blake Griffin to contend

CNNSI.com

Mar 11, 2013

Contrary to popular belief, Blake Griffin is more than just a highlight-reel dunker. But he must continue his evolution if the Clippers want to contend for a title, writes Rob Mahoney.

Share Tweet

dimemag.com yahoo.com

Mar 11, 2013

While there were bigger games, there was no bigger moment Sunday than DeAndre Jordan's dunk over Brandon Knight. Yeah, we're going to lead with this from the Clippers' 129-97 destruction of the Pistons in L.A. because it's the one thing everyone i

Share Tweet

Clippers put on a show in pasting of Pistons

ESPN.com

Mar 11, 2013

Blake Griffin led seven players in double figures with 22 points on 9 of 12 shooting and the Los Angeles Clippers beat the Detroit Pistons 129-97 on Sunday night for their 10th win in 13 games.

Share Tweet

Best B.S.: Chris Paul and Bill Simmons

grantland.com

Mar 11, 2013

Chris Paul tells Bill Simmons about his offseason recruiting of free agents for the Clippers and what it's like playing with (and against) his new ros...

Share Tweet

Sports Columnists

NBA: Coast to Coast - Dwight Howard and Carmelo Anthony return to former t…

Mar 11

Dwight Howard's or Carmelo Anthony's return. Which is more bitter? J.A. Adande and Israel Gutierrez decide.