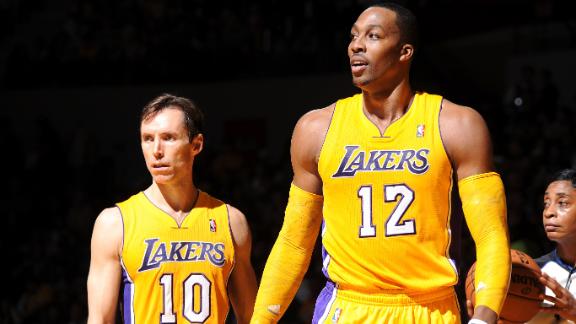 ESPN.com
Updated Nov 1, 2012
Los Angeles Lakers point guard Steve Nash will be listed as doubtful for Friday's game against the Los Angeles Clippers after suffering a lower leg bruise in the second quarter of the Lakers' 116-106 loss to the Portland Trail Blazers Wednesday night.
Share
Tweet
dimemag.com

Nov 1, 2012

The 2012-13 NBA regular season is finally upon us. For fans, this means it's time to re-up on your team's merchandise. Anyone can go to the nearest sporting goods store and pick up a brand new jersey or hat, but what about the unique collectibles that

Share Tweet

CNNSI.com dimemag.com yahoo.com ESPN.com

Nov 1, 2012

LOS ANGELES (AP) The Los Angeles Clippers ended Memphis' 2011-12 season with a gritty win in Game 7 of the Western Conference quarterfinals.

Share Tweet

Report: Blake Griffin Is Joining Jordan Brand

dimemag.com

Nov 1, 2012

Perhaps lost in the hoopla surrounding the Clippers' season debut last night — I'm starting to think this'll be the most exciting team in the league to watch, and that Eric Bledsoe might be my favorite non-superstar player in the league — is tha

Share Tweet

Paul Excited For Season

Nov 1

Chris Paul talks about his expectations for the Clippers in the 2012-13 season.

THTV: Hollinger on Lakers

Nov 1

TrueHoop's Henry Abbott and John Hollinger discuss LA's poor defense, being slow and old, and what's wrong with Dwight Howard and Steve Nash.

NBA Cold Hard Facts

Nov 1

Cold Hard Facts looks at the Thunder, Lakers and the Clippers.