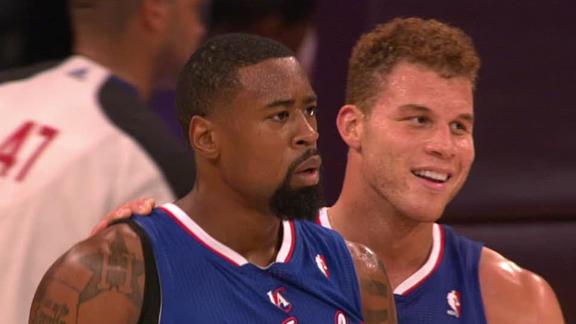 ESPN.com
Updated Nov 3, 2012
Chris Paul had 18 points and 15 assists, Jamal Crawford scored 21 points and the Los Angeles Clippers beat the Los Angeles Lakers 105-95 Friday night to send their Staples Center co-tenants to an 0-3 start.
Share
Tweet
Kobe hangs 40 but Clippers drown hapless Lakers

CNNSI.com

Nov 3, 2012

The new-look Lakers might have some kinks to work out. Kobe Bryant scored 40 points, but the Clippers stifled the Lake Show to its first 0-3 start since 1978 with a 105-95 victory.

Share Tweet

Lee Jenkins: Winless Lakers nearing critical point after loss to young Clippers

CNNSI.com

Nov 3, 2012

LOS ANGELES -- In the fall of 1978, Jack Kent Cooke owned the Lakers, Jerry West coached them, and Kobe Bryant was a newborn. They began the season on a road trip back east, with losses at Philadelphia, New Jersey and Cleveland, the last two by only a b…

Share Tweet

Gasol Talks Loss

Nov 3

Pau Gasol comments on the loss to the Clippers as well as what the Lakers need to do to get their first win.

Panic Time For The Lakers?

Nov 3

Stephen A. Smith assesses the panic meter for the Lakers after losing to the Clippers.

Controversial Finish To Clippers' Loss

Nov 3

Chris Paul's offensive foul in final seconds secures Warriors' 114-110 win.