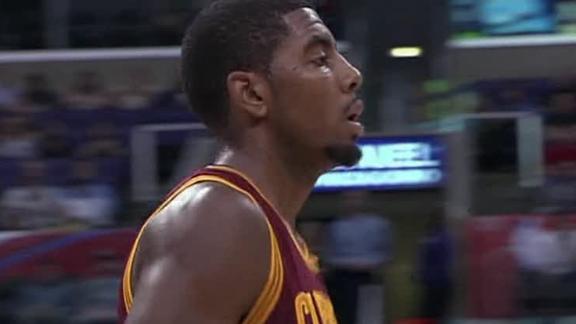 Del Negro: Griffin's elbow injury 'is a concern'
ESPN.com
Updated Nov 6, 2012
Los Angeles Clippers forward Blake Griffin will start Wednesday night against the San Antonio Spurs despite having a burst bursa sac in his right elbow and a neck strain, Clippers coach Vinny Del Negro said Tuesday.
Share
Tweet
yahoo.com

Nov 6, 2012

After three hit-or-miss games to open his NBA career, Cleveland Cavaliers rookie big man Tyler Zeller finally started to look comfortable in his fourth pro outing, a Monday night matchup with the Los Angeles Clippers at the Staples Center. The No. 17 ov…

Share Tweet

The Los Angeles Clippers reportedly remain ultra-cheap, as they chased away the man who traded for Chris Paul

yahoo.com

Nov 6, 2012

The Los Angeles Clippers remain one of the NBA's most entertaining teams, a squad bent on attempting to move up in the NBA's strata after a second round appearance last season (just the team's second trip to that round since moving to Los Angeles in 198…

Share Tweet

CNNSI.com

Nov 6, 2012

We are going to remember Tuesday because of the elections, and we are going to remember the last week because of Hurricane Sandy.

Share Tweet

Chris Paul Embarrassed Most Of The Cleveland Defense On This One Play

deadspin.com

Nov 6, 2012

Spin move past Kyrie Irving, crossover on Samardo Samuels, ball fake Anderson Varejao out of his headband. They're all just AI characters in Chris Paul's video game, helplessly watching him fill up the combo meter. More »

Share Tweet

deadspin.com CNNSI.com

Nov 6, 2012

The Cleveland Cavaliers downed the Clippers in Los Angeles last night 108-101 thanks to some mega-clutch fourth quarter play from Dion Waiters (with a little help from Kyrie Irving). Waiters hit back-to-back threes in the final minutes to hold off Chris…

Share Tweet

Cavaliers survive Clippers' comeback attempt

ESPN.com

Nov 6, 2012

Rookie Dion Waiters hit seven 3-pointers and scored 28 points, helping the Cleveland Cavaliers stave off a fourth-quarter rally by the Los Angeles Clippers to win 108-101 on Monday night.

Share Tweet

New York Can't Be Stopped; Kyrie Irving Beats Chris Paul In L.A.

dimemag.com

Nov 6, 2012

Is it time we start taking New York seriously? We'll have to wait until Amar'e Stoudemire comes back from his latest knee setback, and Carmelo Anthony gets pushed back to the three to see if this level of play holds up. But what else can we say? 'Me

Share Tweet

TrueHoop TV: Point Shaver

Nov 6

Chad Millman, editor in chief of ESPN the Magazine, discusses his essay on notorious basketball point shaver Jack Molinas with Kevin Arnovitz.