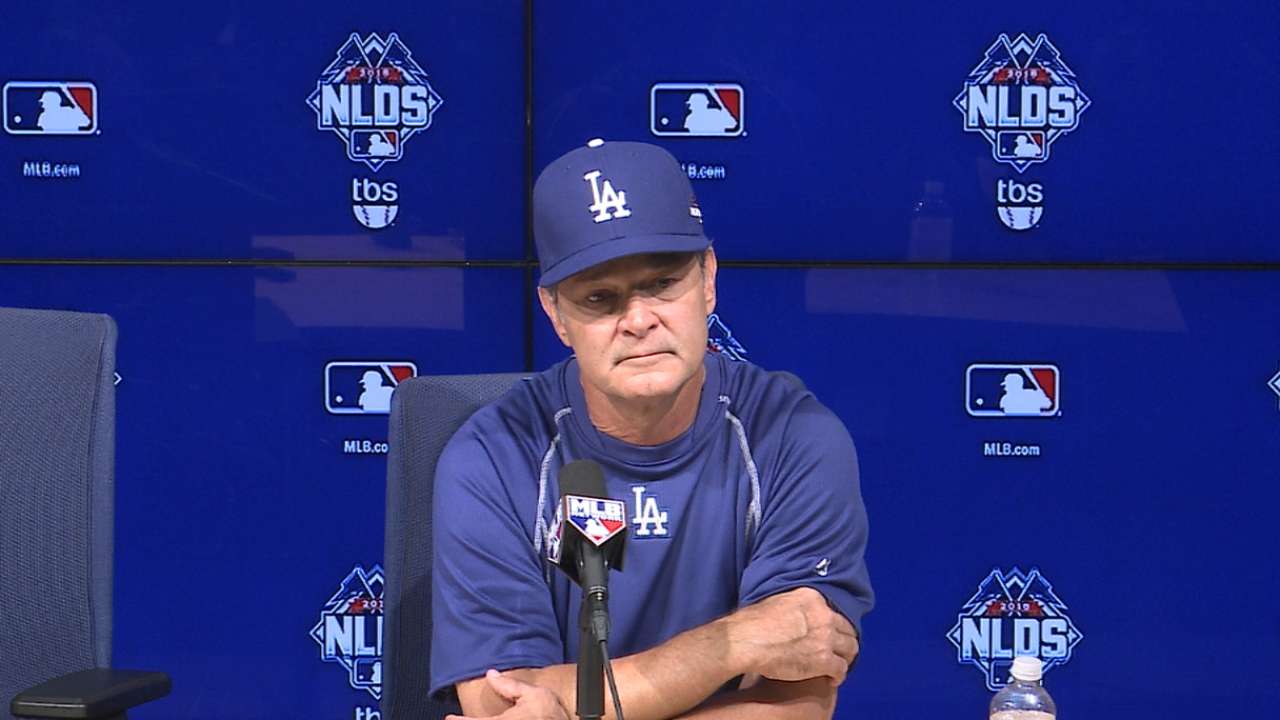 MLB.com
nytimes.com
Updated 3 hours ago
Don Mattingly has managed the Dodgers into the postseason three consecutive years, something that Hall of Famers Walt Alston, Tom Lasorda, Joe Torre, Leo Durocher, Ned Hanlon and Wilbert Robinson never did. Yet, critics are already speculating that Matt…
Share
Tweet
nytimes.com

2 hours ago

Los Angeles Dodgers ace Clayton Kershaw enters this postseason with a chance to atone for bitter playoff disappointment over the past two years but says team success, not personal satisfaction, is his main goal.

Share Tweet

No matter what happens on the field, baseball's postseason will be a lot less poetic. Los Angeles Dodgers Hall of Fame broadcaster Vin Scully's iconic voice won't be heard for the rest of the season after Scully underwent an unspecified medical procedur…

Share Tweet

Yasiel Puig Returns to the Dodgers for the Playoffs

nytimes.com

14 hours ago

Puig said he would come off the bench for Los Angeles. On Saturday, he returned to the Dodgers lineup for the first time since a hamstring injury.

Share Tweet

nytimes.com

20 hours ago

A day after he was absent from team workouts, Harvey arrived on time Wednesday, and Terry Collins said the team had moved past the issue.

Share Tweet

MLB.com

Oct 7 (yesterday)

There will obviously be no shortage of aces taking the mound in the National League Division Series matchup between the Dodgers and the Mets that begins Friday (9:30 p.m. ET, TBS).

Share Tweet

Dodgers' Kike Hernandez is ready for his close-up

ESPN.com

Oct 7 (yesterday)

Dodgers' Kike Hernandez is ready for his close-up

Share Tweet

Van Slyke out of NLDS; door open for Puig

MLB.com

Oct 7 (yesterday)

Dodgers outfielder Scott Van Slyke said he won't be active for the National League Division Series because of an injured right wrist, probably opening a spot for Yasiel Puig.

Share Tweet

Ex-Assistant to Dodgers Pitcher Arrested for Stealing His Boat

nytimes.com

Oct 6 (2 days ago)

A former employee of the pitcher Bronson Arroyo is accused of stealing and then selling the vessel after telling Arroyo it had sunk.

Share Tweet

Oral history of epic Mets-Dodgers 1988 NLCS

MLB.com

Oct 4 (4 days ago)

The 1988 National League Championship Series had everything an inspired script writer on Broadway or in Hollywood could have produced. It was New York vs. Los Angeles, a clash of titans and cultures. Stars, enough to fill an All-Star squad, aligned on b…

Share Tweet

nytimes.com ESPN.com

Oct 4 (4 days ago)

By striking out seven Padres in just three and two-thirds innings, Kershaw finished the season with a 16-7 record and a strikeout total of 301, a nice exclamation point for a pitcher who has already won three Cy Young Awards and a most valuable player t…

Share Tweet

MLB.com

Oct 4 (4 days ago)

The Padres didn't wait long after Sunday's regular-season finale to make a call on interim manager Pat Murphy's future with the team. A little more than an hour after the 6-3 loss to the Dodgers, the team announced that Murphy will not return in the sam…

Share Tweet

nytimes.com

Oct 4 (4 days ago)

Since they clinched their division eight days ago, the Mets played in a lackluster fashion and were caught in an awkward spot, trying to rest their veterans and clinch home-field advantage simultaneously.

Share Tweet

yahoo.com

Oct 4 (4 days ago)

The Los Angeles Dodgers faced no pressure going into the final game of the regular season on Sunday allowing them to have plenty of fun with the day. While other clubs around the major leagues were fighting for their playoff lives or positioning within …

Share Tweet

nytimes.com

Oct 4 (4 days ago)

The Mets have set their pitching rotation for the first three games of their best-of-five NL playoff series against the Los Angeles Dodgers.

Share Tweet

Kershaw Struck By Liner, Loses Part Of Tooth

Mar 20

Clayton Kershaw was hit by Andy Parrino's broken-bat liner in the bottom of the third inning in the Dodgers' 3-2 loss to the A's. Kershaw remained in the game.

Yasiel Puig Puts On A Big Head

Mar 9

While signing autographs during spring training, Los Angeles Dodgers outfielder Yasiel Puig decided to have some fun by putting on a giant head of himself.

Dodgers Injury Update

Mar 1

ESPN injury analyst Stephania Bell discusses the timetable for Dodgers closer Kenley Jansen to return to Los Angeles' lineup, as well as injuries to starting pitchers Zack Greinke and Hyun-jin Ryu.

Are Dodgers Better With Offseason Additions?

Mar 1

The Dodgers won 94 games last season, but are they now even better with the additions made in the offseason?

Sports Columnists

NBA - Blake Griffin wants to take his defense and the Clippers to another …

Oct 7

Blake Griffin is looking to become an elite defender and a vocal leader, and in turn, take the Clippers to a championship, writes J.A. Adande.

NBA - Los Angeles Clippers must learn to play without DeAndre Jordan

Sep 25

The Clippers were able to re-sign DeAndre Jordan. With a more able reserve unit behind him, the team must now learn how to win without him, writes J.A. Adande.

See the rankings (Insider)

Sep 22

Chad Ford says the Knicks are managed by "a neophyte coach, a buffoonish owner and an unproven team president." Amazingly, New York still isn't last p...