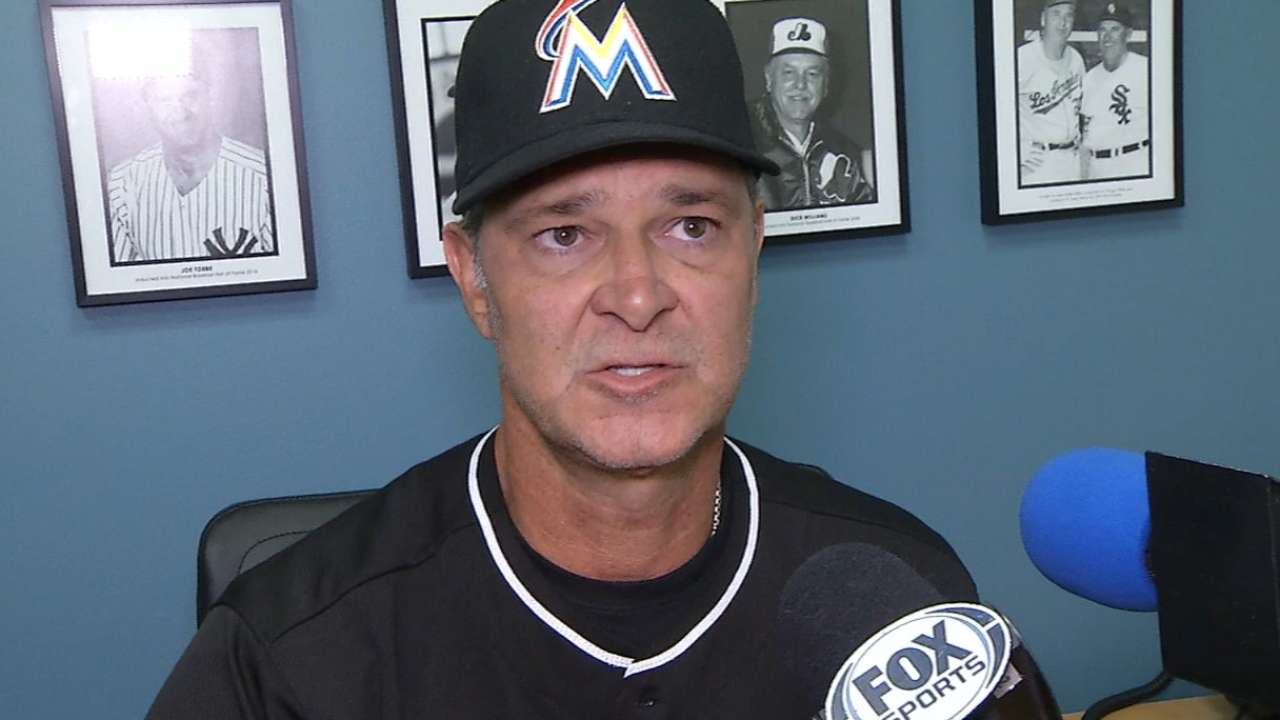 MLB.com
nytimes.com
Updated Apr 28 (yesterday)
Justin Nicolino clamped down the Dodgers with 7 1/3 shutout innings and took home a victory in his first start of 2016, guiding the Marlins to 2-0 victory on Wednesday night.
Share
Tweet
nytimes.com

3 hours ago

Dee Gordon and Martin Prado drove in the tying and go-ahead runs with consecutive two-out singles in the seventh inning, and the Miami Marlins got home runs from Giancarlo Stanton and J.T. Realmuto to beat the Los Angeles Dodgers 5-3 on Thursday night t…

Share Tweet

yahoo.com

Apr 27 (yesterday)

Kevin Brown signed the first nine-figure deal in MLB history, a seven-year, $105 million agreement with the Los Angeles Dodgers, before the 1999 season, and the new century has brought 64 more such contracts. Despite the relative regularity of $100 mill…

Share Tweet

MLB.com nytimes.com deadspin.com

Apr 27 (2 days ago)

Giancarlo Stanton's three-run homer capped a five-run sixth inning off Clayton Kershaw as the Marlins stormed back to beat the Dodgers, 6-3, on Tuesday night at Dodger Stadium.

Share Tweet

Sarah's Take: Re-signing Utley was right move

MLB.com

Apr 26 (2 days ago)

For the first three weeks of the season, Chase Utley has been the MVP of his hometown team, the Los Angeles Dodgers. Many people questioned why the Dodgers re-signed the 37-year-old second baseman who appeared to be near the end of his career. So far th…

Share Tweet

Dodgers rookie Ross Stripling stands strong, yet victory eludes him

ESPN.com

Apr 26 (3 days ago)

Dodgers rookie Ross Stripling stands strong, yet victory eludes him

Share Tweet

The Dodgers' Joc Pederson has altered his approach to get off to a solid start at the plate.

Share Tweet

Prado poised to rejoin Marlins

The Marlins are expected to activate third baseman Martin Prado from the paternity list on Tuesday in time for the second game of a four-game set with Dodgers at Dodger Stadium.

Share Tweet

Crawford's return from DL pushed back a day

With Miami left-hander Wei-Yin Chen on the mound Monday and the Los Angeles bullpen gassed after Sunday's game in which six relievers were used, Dodgers manager Dave Roberts made the decision to delay Carl Crawford's activation from the DL until Tuesday…

Share Tweet

Turner expected to start during homestand

MLB.com

Apr 24 (4 days ago)

Dodgers third baseman Justin Turner missed his second start with a bruised left big toe on Sunday, but manager Dave Roberts expressed optimism about a return to the lineup for Monday's homestand opener.

Share Tweet

Wall-banger: Puig's catch robs Rox of runs

MLB.com

Apr 24 (4 days ago)

Dodgers outfielder Yasiel Puig showed off several of his amazing tools in Sunday's 12-10 win over the Rockies, robbing Brandon Barnes of extra bases by sprinting to grab his line drive, then holding on while slamming his body into the right-field fence …

Share Tweet

deadspin.com nytimes.com

Apr 24 (4 days ago)

The Dodgers rolled into Denver and beat the Rockies on Saturday 4-1, which itself is fairly humdrum. More impressive was how L.A.'s winning rookie pitcher, Kenta Maeda, a 28-year-old right-hander who spent seven outstanding years as a pro in Japan, took…

Share Tweet

nytimes.com

Apr 24 (5 days ago)

Don Drysdale's 1963 World Series championship ring with the Los Angeles Dodgers sold for $110,111 in an auction of the late Hall of Fame pitcher's memorabilia.

Share Tweet

yahoo.com

Apr 24 (5 days ago)

Los Angeles Dodgers star Yasiel Puig had a little time to kill on Saturday night after Kenta Maeda and company made short work of the Colorado Rockies. So he decided he would surprise some Denver area high school students by crashing their prom party. T…

Share Tweet

ESPN.com

Apr 23 (6 days ago)

Despite Dodgers' loss, Yasiel Puig's peg to third base was the Story

Share Tweet

Barnes' 2-Run Triple Lifts Rockies Past Dodgers 7-5

nytimes.com

Apr 23 (6 days ago)

Brandon Barnes finished off a difficult at-bat with his first run-scoring hit of the season.

Share Tweet

LA's Coleman on leave; Baez cleared to play

The Dodgers' deep bullpen has been a big reason for their first-place standing in the National League West. But as play began Thursday afternoon, that depth was in jeopardy of taking a temporary hit, with righty reliever Pedro Baez dealing with a possib…

Share Tweet

Grand finale: Yasmani plates winner for LA

Clayton Kershaw escaped multiple threats and Matt Wisler overcame most of the defensive mistakes made behind him. But after these two starting pitchers set the tone at Turner Field on Thursday afternoon, Yasmani Grandal provided a 10th-inning double tha…

Share Tweet

yahoo.com deadspin.com ESPN.com

Apr 21

Los Angeles Dodgers starter Clayton Kershaw had an interesting day Wednesday in a 2-1 win on the road at Atlanta. He gave up a season high 10 hits to the Braves, struck out 10 batters, did not factor into the decision and was thrown out at home plate in…

Share Tweet

Grandal's Double in 10th Gives Dodgers 2-1 Win Over Braves

nytimes.com

Apr 21

Clayton Kershaw didn't have his best stuff. Even tried a blooper pitch.

Share Tweet

The schedule gets going in style on MLB.TV, with Clayton Kershaw and the Dodgers taking on the Braves at 12:10 p.m. ET at Turner Field. The three-time Cy Young Award winner is at it again early in 2016, with a 1.64 ERA over his first three outings.

Share Tweet

Kershaw Struck By Liner, Loses Part Of Tooth

Mar 20

Clayton Kershaw was hit by Andy Parrino's broken-bat liner in the bottom of the third inning in the Dodgers' 3-2 loss to the A's. Kershaw remained in the game.

Yasiel Puig Puts On A Big Head

Mar 9

While signing autographs during spring training, Los Angeles Dodgers outfielder Yasiel Puig decided to have some fun by putting on a giant head of himself.

Dodgers Injury Update

Mar 1

ESPN injury analyst Stephania Bell discusses the timetable for Dodgers closer Kenley Jansen to return to Los Angeles' lineup, as well as injuries to starting pitchers Zack Greinke and Hyun-jin Ryu.

Are Dodgers Better With Offseason Additions?

Mar 1

The Dodgers won 94 games last season, but are they now even better with the additions made in the offseason?