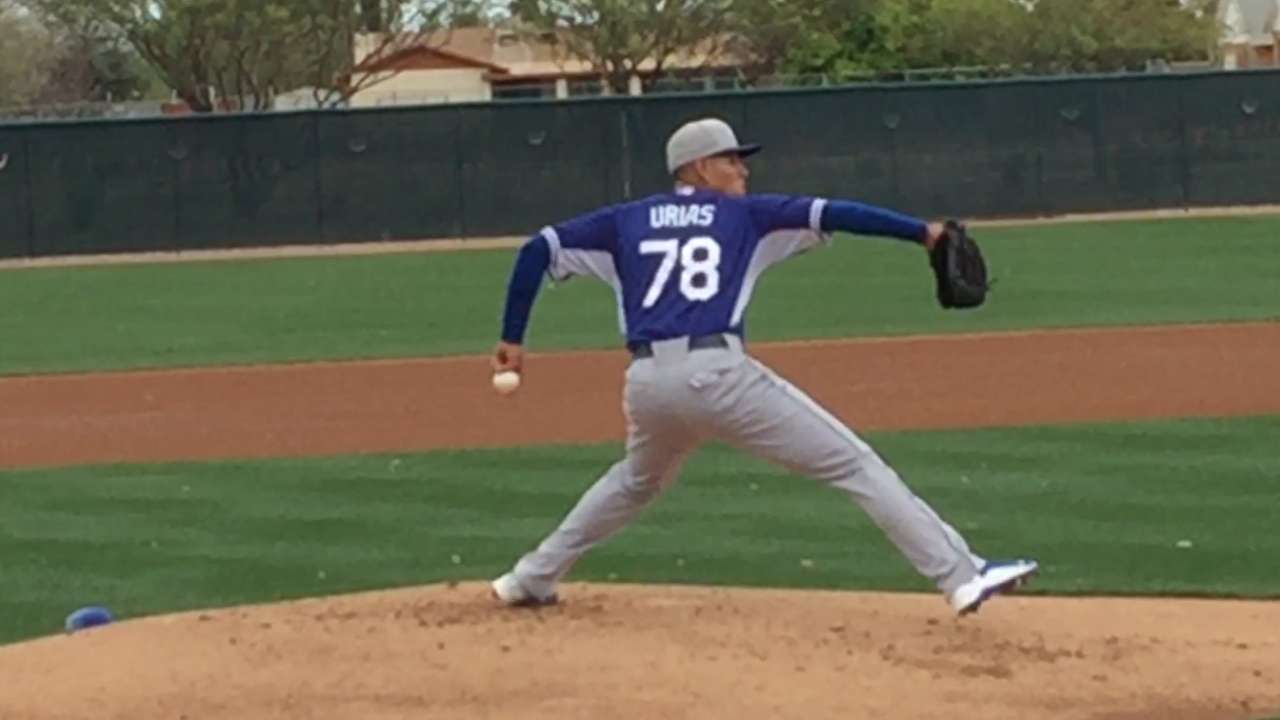 Urias reminds Kershaw of early days with Dodgers
MLB.com
Updated Mar 3 (yesterday)
Early hysteria over 18-year-old lefty Julio Urias reminds Clayton Kershaw of early hysteria over a 20-year-old Clayton Kershaw. Kershaw said he has already talked to Urias about dealing with it all.
Upvote
Share
Tweet
Quintana Looks Sharp, White Sox Beat Dodgers 6-4

nytimes.com

1 hour ago

Jose Quintana pitched two perfect innings, Alexei Ramirez drove in three runs and the Chicago White Sox beat the Los Angeles Dodgers 6-4 on Wednesday in the exhibition opener for each team.

Upvote Share Tweet

Brewers hint at Opening Day plan with spring rotation

MLB.com

Mar 3 (yesterday)

After Mike Fiers starts an exhibition against the University of Wisconsin-Milwaukee on Wednesday, Kyle Lohse will start in Tempe, Ariz., against the Angels on Thursday, and Matt Garza will pitch against the Dodgers on Friday. That order makes it appear …

Upvote Share Tweet

MLB.com

Mar 2 (2 days ago)

Most of the Dodgers' workout on Monday was washed out by rain, but they did receive good news from pitchers Hyun-Jin Ryu and Joel Peralta.

Upvote Share Tweet

Here's how the conversation about Opening Day goes when you have a pitcher of Clayton Kershaw's accomplishments. The Dodgers -- and everyone in baseball -- knew Kershaw would be scheduled to pitch that game before anyone even arrived at Camelback Ranch.

Upvote Share Tweet

Urias impresses Dodgers in live batting practice

MLB.com

Mar 1 (3 days ago)

Dodgers hitting coach Mark McGwire, general manager Farhan Zaidi, pitching coach Rick Honeycutt and special advisor Sandy Koufax all gathered on the field behind a batting cage at Camelback Ranch to watch a teenage phenom throw live batting practice Sun…

Upvote Share Tweet

Dodgers add veteran Adams to bullpen mix

ESPN.com

Mar 1 (3 days ago)

The Los Angeles Dodgers continued to stockpile high-upside pitchers with lengthy injury histories, adding reliever Mike Adams on a minor-league deal Sunday.

Upvote Share Tweet

Grandal catching on quickly at Dodgers camp

MLB.com

Feb 28 (4 days ago)

Camp Boomer, presided over by Dodgers coach Steve "Boomer" Yeager, just opened, but newcomer Yasmani Grandal -- the centerpiece in the Matt Kemp trade with the Padres -- already has opened eyes.

Upvote Share Tweet

Dodgers want versatile Barnes to focus on catching

MLB.com

Feb 28 (4 days ago)

Austin Barnes has the rare skill set for catching and second base, but the Dodgers have told him to put away the infield glove. For now, he will work exclusively as a catcher, general manager Farhan Zaidi said.

Upvote Share Tweet

Turner looks to keep turning heads with Dodgers

MLB.com

Feb 27 (5 days ago)

Being a non-roster position player in a Dodgers Spring Training camp is likely to lead to a year as Triple-A insurance, or worse. So what Justin Turner did last year, mostly under the radar, deserves respect.

Upvote Share Tweet

Jansen fitted for weight-bearing boot

MLB.com

Feb 27 (5 days ago)

After stitches are removed next week, the boot will allow Dodgers closer Kenley Jansen to begin placing weight on the foot and gradually ramp up athletic activity. Until then, he will continue on crutches.

Upvote Share Tweet

Manager Don Mattingly held a 70-minute meeting before the Dodgers' first full-squad workout of Spring Training on Thursday, presumably just to introduce everybody. There were 58 players in last year's Major League camp and 61 this year, but only 24 are …

Upvote Share Tweet

Legendary Koufax stops by for first full-squad workout

MLB.com

Feb 26 (6 days ago)

With all of the new faces in uniform for the first full-squad workout on Thursday, there was also the most iconic Dodgers face in uniform: Sandy Koufax.

Upvote Share Tweet

yahoo.com

Feb 26 (7 days ago)

If you're a fan of the Los Angeles Dodgers or Chicago White Sox and you're headed to spring training at Camelback Ranch in Glendale, Ariz over the next few weeks, you might want to take note of this story. Scorpions are invading the complex. Scorpion in…

Upvote Share Tweet

Sure-handed infielder Ellis retires at 37

MLB.com

Feb 25 (7 days ago)

Second baseman Mark Ellis is retiring from baseball, according to a report by the San Francisco Chronicle. The 37-year-old Ellis, a ninth-round selection of the Royals in the 1999 First-Year Player Draft, played 12 years in the Majors with the A's, Rock…

Upvote Share Tweet

ESPN.com

Feb 25

A California appellate court has rejected a bid by the ex-wife of former Los Angeles Dodgers owner Frank McCourt to toss out a divorce agreement because the team sold for more than $2 billion.

Upvote Share Tweet

Veteran right-hander Gaudin in camp with Dodgers

MLB.com

Feb 25

The Dodgers' collection of veteran pitchers continued to grow on Wednesday with the apparent addition of free-agent right-hander Chad Gaudin.

Upvote Share Tweet

McCarthy, Anderson eye successful reunion with Dodgers

MLB.com

Feb 25

Former A's Brandon McCarthy and Brett Anderson, now reunited in the Dodgers rotation, have always had a lot in common off the field, and this season they're both looking to prove their durability and help Los Angeles in its quest for a World Series cham…

Upvote Share Tweet

yahoo.com

Feb 25

Yasiel Puig is going outside of baseball when it comes to the athletes he wants to emulate. In an interview with Dylan Hernandez of the Los Angeles Times from Dodgers camp, Puig pointed to two NBA superstars as his inspiration: Puig said he would like t…

Upvote Share Tweet

ESPN.com

Feb 24

Andre Ethier, who was the odd man out for most of the second half of 2014, said he would prefer to play elsewhere if there isn't an everyday job open for him on the Dodgers.

Upvote Share Tweet

Dodgers Injury Update

Mar 1

ESPN injury analyst Stephania Bell discusses the timetable for Dodgers closer Kenley Jansen to return to Los Angeles' lineup, as well as injuries to starting pitchers Zack Greinke and Hyun-jin Ryu.

Are Dodgers Better With Offseason Additions?

Mar 1

The Dodgers won 94 games last season, but are they now even better with the additions made in the offseason?

Yasiel Puig's Inner Child

Feb 26

Dodgers right fielder Yasiel Puig enjoys an impromptu baseball game with kids at a Miami ballpark.

Prized Cuban Prospect Nearing MLB Decision

Feb 11

ESPN senior MLB writer Jerry Crasnick discusses potential MLB teams for Yoan Moncada.