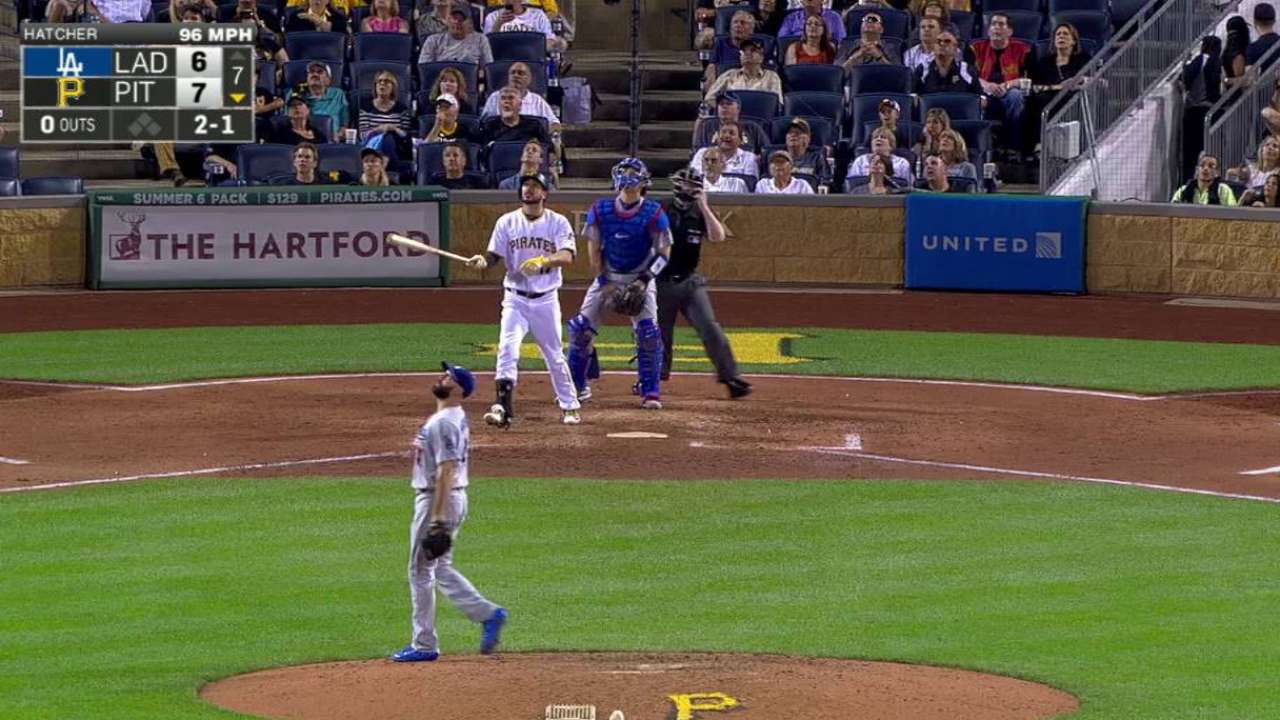 Joyce Helps Pirates Snap Dodgers' 6-Game Win Streak, 8-6

nytimes.com

7 hours ago

Matt Joyce homered and doubled among his three hits as Pittsburgh beat Los Angeles 8-6 on Friday night, ending the Dodgers' six-game winning streak and giving Pirates manager Clint Hurdle his 1,000th career victory.

Share Tweet

Strasburg likely to return Sunday vs. Brewers

MLB.com

11 hours ago

Nationals right-hander Stephen Strasburg, who was scratched from Monday's start against the Dodgers because of an upper back strain, had a light bullpen session Friday at Miller Park without any problems. Strasburg is confident that he can pitch against…

Share Tweet

Dodgers to promote Tepesch for Friday start

MLB.com

Jun 23 (yesterday)

The Dodgers will promote Nick Tepesch from Triple-A Oklahoma City to start Friday night's game in Pittsburgh.

Share Tweet

yahoo.com

Jun 23 (yesterday)

Wednesday night's game between the Los Angeles Dodgers and the Washington Nationals was jam-packed with exciting moments. Chase Utley and Adrian Gonzalez made a crazy juggling catch to secure an out, and the game ended with Yasiel Puig belly-flopping on…

Share Tweet

ESPN.com

Jun 23 (2 days ago)

Julio Urias learning lessons, making contributions to Dodgers

Share Tweet

yahoo.com nytimes.com MLB.com ESPN.com

Jun 23 (2 days ago)

On Wednesay night, the Los Angeles Dodgers defeated the Washington Nationals 4-3 on what may go down as the craziest finish to a game during the entire MLB season. With the Dodgers down a run in the ninth inning and a runner on first, Yasiel Puig hit a …

Share Tweet

yahoo.com

Jun 23 (2 days ago)

Los Angeles Dodgers first baseman Adrian Gonzalez is a four-time Gold Glove award winner who can still pick it with the best of them. However, at age 34, he's more than a little limited now when it comes to mobility, which makes him one of the least lik…

Share Tweet

Breaking down Dodgers' options for their rotation vacancy

ESPN.com

Jun 22 (2 days ago)

Breaking down Dodgers' options for their rotation vacancy

Share Tweet

Source: Dodgers hold private workout for Cuban star Gurriel

MLB.com

Jun 22 (3 days ago)

Cuban free-agent infielder Yulieski Gurriel was at Dodger Stadium on Wednesday for a private workout with the Dodgers, an industry source confirmed to MLB.com's Jesse Sanchez.

Share Tweet

ESPN.com MLB.com nytimes.com

Jun 22 (3 days ago)

Yasmani Grandal is just latest to light Dodgers' power fuse

Share Tweet

Clayton paves way for Jansen's record save

MLB.com

Jun 21 (4 days ago)

Kenley Jansen got the Dodgers' all-time saves record with 162 as he closed out the team's 4-1 win over the Nationals on Monday night at Dodger Stadium. Clayton Kershaw was his usual self, holding the Nationals to one run in seven innings to pick up his …

Share Tweet

nytimes.com MLB.com

Jun 21 (4 days ago)

After Kenley Jansen became the Los Angeles Dodgers' franchise leader with the 162nd save of his career, he made sure to compliment the pitcher whose dominance constantly puts him in position to slam the door.

Share Tweet

Mariners acquire RHP Lee in deal with Dodgers

MLB.com

Jun 19 (5 days ago)

Looking to add some pitching depth to an organization suddenly facing a rash of injuries to its Major League rotation, the Mariners acquired right-handed starter Zach Lee from the Dodgers on Sunday night in exchange for shortstop Chris Taylor.

Share Tweet

MLB.com nytimes.com

Jun 19 (5 days ago)

Yasmani Grandal's walk-off walk gave the Dodgers their fourth walk-off of the year and a comeback 2-1 win over the Brewers on Sunday at Dodger Stadium.

Share Tweet

Kershaw Struck By Liner, Loses Part Of Tooth

Mar 20

Clayton Kershaw was hit by Andy Parrino's broken-bat liner in the bottom of the third inning in the Dodgers' 3-2 loss to the A's. Kershaw remained in the game.

Yasiel Puig Puts On A Big Head

Mar 9

While signing autographs during spring training, Los Angeles Dodgers outfielder Yasiel Puig decided to have some fun by putting on a giant head of himself.

Dodgers Injury Update

Mar 1

ESPN injury analyst Stephania Bell discusses the timetable for Dodgers closer Kenley Jansen to return to Los Angeles' lineup, as well as injuries to starting pitchers Zack Greinke and Hyun-jin Ryu.

Are Dodgers Better With Offseason Additions?

Mar 1

The Dodgers won 94 games last season, but are they now even better with the additions made in the offseason?