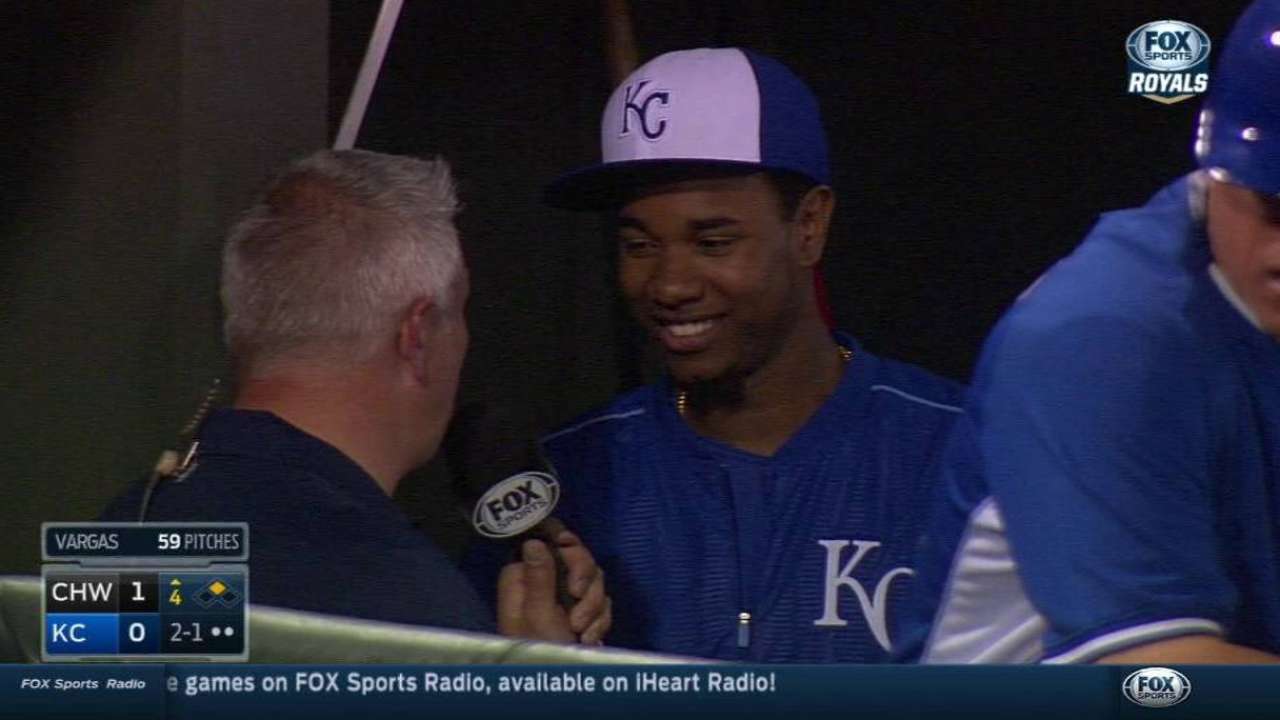 Ventura to scale back pitches in spring finale
MLB.com
Updated 1 hour ago
Royals manager Ned Yost said Yordano Ventura, who was slated to throw 90-95 pitches against the Mariners on Friday, will be backed down to about 60-65 pitches on Wednesday against the Dodgers in the final Cactus League game in Arizona.
Share
Tweet
Dodgers RP League (shoulder) out 2 months

ESPN.com

3 hours ago

Reliever Brandon League will be out at least two months after an MRI and two doctors' visits confirmed there is serious damage to his right shoulder.

Share Tweet

League out 'several months' with right shoulder injury

MLB.com

3 hours ago

Dodgers reliever Brandon League will be out for "several months," manager Don Mattingly said on Friday after his inflamed right shoulder was examined by several doctors in Las Vegas.

Share Tweet

MLB.com nytimes.com

5 hours ago

Clayton Kershaw has taken on a larger-than-life persona -- and not just with the Dodgers' fan base. Kershaw is more than the ace of the Dodgers' rotation. He is the trump card.

Share Tweet

Gaudin, Liberatore limited by injuries

MLB.com

Mar 26 (yesterday)

The Dodgers are concerned that right-hander Chad Gaudin may have a similar nerve condition that led to him missing the 2014 season, while lefty Adam Liberatore threw a bullpen session Thursday to test tightness in his left groin.

Share Tweet

Time Warner Cable expected to lose $1 billion in messy Dodgers TV deal

yahoo.com

Mar 26 (yesterday)

Time Warner Cable is expected to lose $1 billion in its messy deal involving the Los Angeles Dodgers' television rights, according to the New York Post. The company acquired the right to air Dodgers' games on SportsNet LA in 2013. The reported contract …

Share Tweet

yahoo.com MLB.com nytimes.com

Mar 26 (yesterday)

The following is a public service announcement from Los Angeles Dodgers outfielder Yasiel Puig. Your browser does not support iframes. The message: Don't build your executive offices so close to home plate. We didn't hear an exact estimate of the distan…

Share Tweet

MLB.com nytimes.com ESPN.com

Mar 25 (yesterday)

Dodgers starting pitcher Hyun-Jin Ryu said he wasn't surprised doctors discovered no new damage to his left shoulder in an MRI earlier this week.

Share Tweet

Dodgers sell 3 million tickets in record time

MLB.com

Mar 25 (2 days ago)

The Dodgers have reached 3 million tickets sold for the 2015 season, the earliest date in franchise history they have reached that mark. The milestone was reached one week earlier than a year ago, which was the previous franchise record.

Share Tweet

Scully's lone Cactus League appearance to come Friday

MLB.com

Mar 25 (2 days ago)

Hall of Fame broadcaster Vin Scully will make his lone Arizona appearance of Spring Training when he does play-by-play of Friday night's Dodgers-Giants game from Camelback Ranch on SportsNet LA.

Share Tweet

Injuries are an unfortunate reality of sports. There's no way to avoid them, but the Los Angeles Dodgers are looking at a way to use technology to at least minimize the risk of long-term physical damage for their players. We know how aggressive the Dodg…

Share Tweet

Anderson pleased with outing in 'B' Game

MLB.com

Mar 24 (3 days ago)

With third starter Hyun-Jin Ryu sidelined, fifth starter Brett Anderson's importance to the Dodgers rotation intensifies.

Share Tweet

The Los Angeles Dodgers have signed Cuban infielder Hector Olivera to a six-year contract worth $62.5 million, agent Greg Genske said.

Share Tweet

Kershaw Struck By Liner, Loses Part Of Tooth

Mar 20

Clayton Kershaw was hit by Andy Parrino's broken-bat liner in the bottom of the third inning in the Dodgers' 3-2 loss to the A's. Kershaw remained in the game.

Yasiel Puig Puts On A Big Head

Mar 9

While signing autographs during spring training, Los Angeles Dodgers outfielder Yasiel Puig decided to have some fun by putting on a giant head of himself.

Dodgers Injury Update

Mar 1

ESPN injury analyst Stephania Bell discusses the timetable for Dodgers closer Kenley Jansen to return to Los Angeles' lineup, as well as injuries to starting pitchers Zack Greinke and Hyun-jin Ryu.

Are Dodgers Better With Offseason Additions?

Mar 1

The Dodgers won 94 games last season, but are they now even better with the additions made in the offseason?