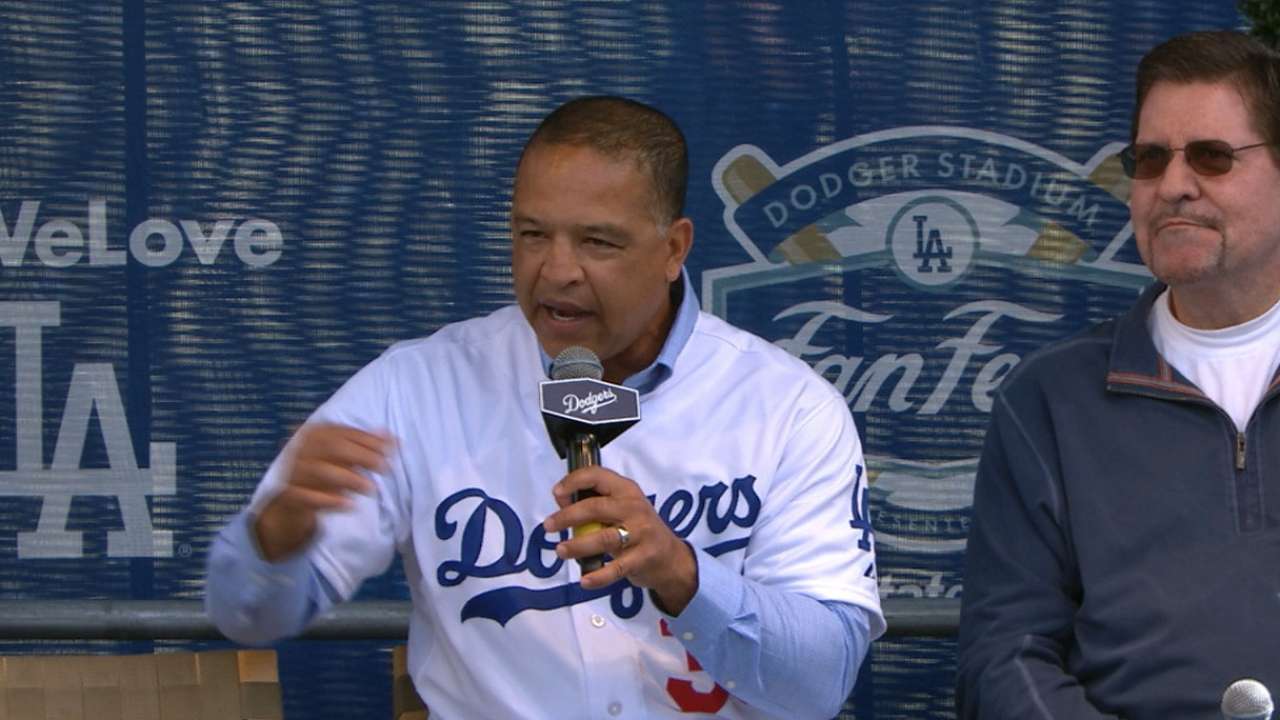 Roberts: Reflecting on Jackie's influence
MLB.com
Updated Feb 8 (yesterday)
The Dodgers are the groundbreaking franchise of Jackie Robinson. When I put on this uniform as a player, I understood the special responsibility to honor those that played before me, as well as the amazing bond between the Dodgers and their fans. I feel…
Share
Tweet
ESPN.com

Feb 5 (4 days ago)

Dodgers' Puig ready 'for new life in the majors'

Share Tweet

MLB.com nytimes.com

Feb 5 (4 days ago)

Howie Kendrick isn't happy with the way free agency treated him, but he insists he's happy to be back with the Dodgers anyway.

Share Tweet

MLB.com

Feb 4 (5 days ago)

Dodgers general manager Farhan Zaidi indicated he's not looking to trade outfielders Yasiel Puig or Andre Ethier.

Share Tweet

Dodgers Foundation helps Teach For America

MLB.com

Feb 4 (5 days ago)

The Los Angeles Dodgers Foundation is investing $25,000 this year in Teach For America - Los Angeles, the club announced on Thursday.

Share Tweet

yahoo.com

Feb 3 (6 days ago)

In our Homer History series, writers re-tell the stories of memorable home runs from their perspective. In this installment, Yahoo Sports MLB columnist Tim Brown remembers the game in which little Shane Robinson came up big for the Cardinals against the…

Share Tweet

The Los Angeles Dodgers have added a tremendous amount of talent this offseason — to their front office. On Tuesday, the club announced that it hired Hall of Fame pitcher Greg Maddux and 19-year vet Raul Ibanez for front office roles. Both are newly min…

Share Tweet

Dodgers invite 3 RHPs to Spring Training

MLB.com

Feb 1

The Dodgers have added three more non-roster invitees to their Spring Training list: right-handed pitchers Chase De Jong, Caleb Dirks and Jacob Rhame, bringing the total number to 20.

Share Tweet

Sarah's Take: Kendrick big asset for Dodgers

MLB.com

Feb 1

Many baseball people think the Los Angeles Dodgers have depth in their organization, and they didn't need to re-sign Howie Kendrick for the 2016 season. However, the club signed Kendrick to a two-year, $20 million deal late last week, pending the result…

Share Tweet

The No. 1s: Best tools of Top 100 Prospects

MLB.com

Jan 30

No prospect combines hitting for power and average better than Dodgers shortstop Corey Seager, which is the main reason that he ranks No. 1 on MLBPipeline.com's new Top 100 Prospects list. No prospect has better all-around tools than Twins outfielder By…

Share Tweet

MLB.com

Jan 30

Is the Dodgers' depth chart big enough for both Howie Kendrick and Chase Utley?

Share Tweet

yahoo.com

Jan 30

There's no question where Los Angeles Dodgers star Clayton Kershaw stands when it comes to Major League Baseball potentially expanding the designated hitter. Speaking at a team function at Los Angeles City Hall on Friday, the former three-time Cy Young …

Share Tweet

Kershaw Struck By Liner, Loses Part Of Tooth

Mar 20

Clayton Kershaw was hit by Andy Parrino's broken-bat liner in the bottom of the third inning in the Dodgers' 3-2 loss to the A's. Kershaw remained in the game.

Yasiel Puig Puts On A Big Head

Mar 9

While signing autographs during spring training, Los Angeles Dodgers outfielder Yasiel Puig decided to have some fun by putting on a giant head of himself.

Dodgers Injury Update

Mar 1

ESPN injury analyst Stephania Bell discusses the timetable for Dodgers closer Kenley Jansen to return to Los Angeles' lineup, as well as injuries to starting pitchers Zack Greinke and Hyun-jin Ryu.

Are Dodgers Better With Offseason Additions?

Mar 1

The Dodgers won 94 games last season, but are they now even better with the additions made in the offseason?