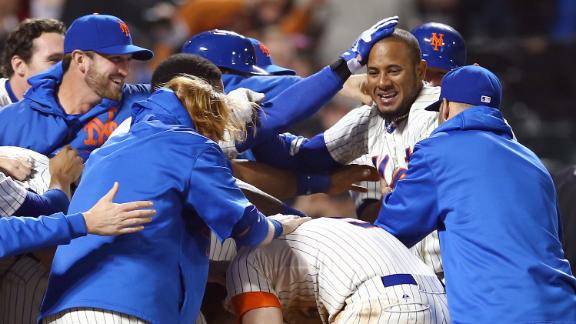 ESPN.com
Updated Apr 24, 2013
Jordany Valdespin hit a grand slam in the 10th inning, and the New York Mets rallied past the Los Angeles Dodgers 7-3 on Wednesday night to save early sensation Matt Harvey from his first loss of the season.
Share
Tweet
Dodgers activate Lilly, option Federowicz

MLB.com

Apr 24, 2013

The Dodgers reinstated left-hander Ted Lilly from the disabled list on Wednesday afternoon in time to start against the Mets and optioned catcher Tim Federowicz to Triple-A Albuquerque.

Share Tweet

MLB.com

Apr 24, 2013

Mark Ellis went 4-for-5 with two homers and four RBIs, and A.J. Ellis doubled in two runs Tuesday night as the Dodgers beat the Mets in their series opener at Citi Field, 7-2.

Share Tweet

Valdespin Lifts Mets With Walk-Off Grand Slam

Apr 24

Baseball Tonight Spotlight: Jordany Valdespin hit a pinch-hit grand slam in the 10th inning to power the Mets to a 7-3 win over the Dodgers.