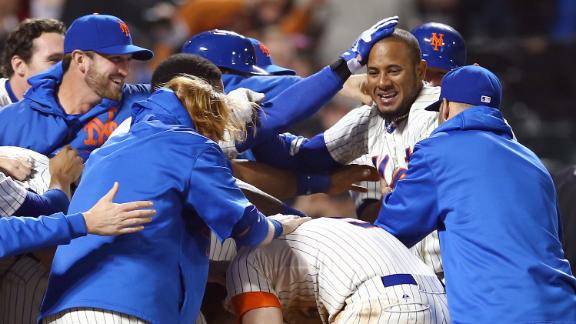 ESPN.com
Updated Apr 24, 2013
Jordany Valdespin hit a grand slam in the 10th inning, and the New York Mets rallied past the Los Angeles Dodgers 7-3 on Wednesday night to save early sensation Matt Harvey from his first loss of the season.
Share
Tweet
Dodgers activate Lilly, option Federowicz

MLB.com

Apr 24, 2013

The Dodgers reinstated left-hander Ted Lilly from the disabled list on Wednesday afternoon in time to start against the Mets and optioned catcher Tim Federowicz to Triple-A Albuquerque.

Share Tweet

MLB.com

Apr 24, 2013

Mark Ellis went 4-for-5 with two homers and four RBIs, and A.J. Ellis doubled in two runs Tuesday night as the Dodgers beat the Mets in their series opener at Citi Field, 7-2.

Share Tweet

Valdespin Lifts Mets With Walk-Off Grand Slam

Apr 24

Baseball Tonight Spotlight: Jordany Valdespin hit a pinch-hit grand slam in the 10th inning to power the Mets to a 7-3 win over the Dodgers.

Sports Columnists

Clayton: Thrill of skill positions will wait in draft

Apr 24

Tackles and guards will take precedence over skill positions early in the draft, writes John Clayton.

Derrick Rose of Chicago Bulls shouldn't be second-guessed for not playing

Apr 24

Those who criticize Derrick Rose for not playing should consider the risk of returning too soon from ACL surgery.