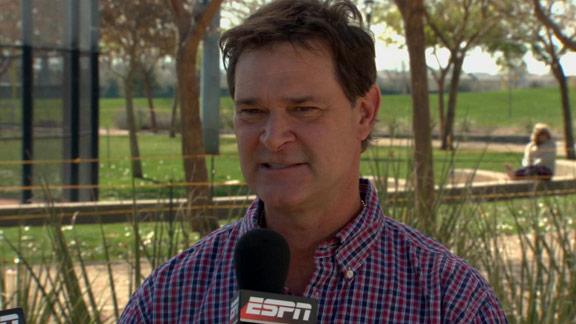 Players wander into the Los Angeles Dodgers' spacious clubhouse all morning, exchanging handshakes and hugs, asking about health and family, smiles all around.
Share
Tweet
Dodgers ready to get first look at Greinke, Ryu

MLB.com

Feb 12, 2013

An estimated crowd of 23,000 at the recent FanFest, and 27,000 season tickets already sold, speak to the pent-up enthusiasm buzzing around the Dodgers. Today, the excitement shifts to Arizona, where pitchers -- including Zack Greinke -- and catchers rep…

Share Tweet
Dodgers Packed With Talent

Feb 12

Matt Kemp dishes on the star power in Los Angeles and team chemistry.

BBTN Special: Dodgers Spring Training

Feb 12

Karl Ravech, Tim Kurkjian, and Curt Schilling report from the Dodgers' spring training camp.

Kershaw Excited For 2013

Feb 12

Clayton Kershaw discusses the Dodgers' first few days of spring training, his health going into the season, and what the team needs to do for a successful year.
Sports Columnists
Kobe Bryant says chastising fan on Twitter was 'right thing to do'

Feb 13

Kobe Bryant welcomes challenges, which explains why he chastised a fan on Twitter for using a homophobic slur. "It's the right thing to do," Bryant told ESPN.com. "I couldn't help myself. I saw it, I was like, 'I can't help myself. I have to respond.'"

Don Banks: Philadelphia Eagles 2013 Offseason Preview

Feb 12

SI.com is laying out offseason road maps for all 32 teams as they start their journey for the Lombardi Trophy -- two teams per day, from the teams that need the most work to contend in 2013 to the ones that are in pretty good shape. See them all.