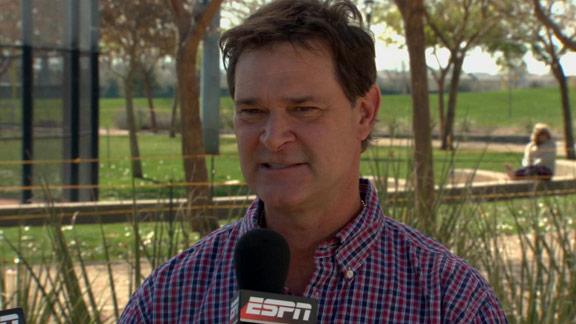 Players wander into the Los Angeles Dodgers' spacious clubhouse all morning, exchanging handshakes and hugs, asking about health and family, smiles all around.
Share
Tweet
Dodgers ready to get first look at Greinke, Ryu

MLB.com

Feb 12, 2013

An estimated crowd of 23,000 at the recent FanFest, and 27,000 season tickets already sold, speak to the pent-up enthusiasm buzzing around the Dodgers. Today, the excitement shifts to Arizona, where pitchers -- including Zack Greinke -- and catchers rep…

Share Tweet
Dodgers Packed With Talent

Feb 12

Matt Kemp dishes on the star power in Los Angeles and team chemistry.

BBTN Special: Dodgers Spring Training

Feb 12

Karl Ravech, Tim Kurkjian, and Curt Schilling report from the Dodgers' spring training camp.

Kershaw Excited For 2013

Feb 12

Clayton Kershaw discusses the Dodgers' first few days of spring training, his health going into the season, and what the team needs to do for a successful year.