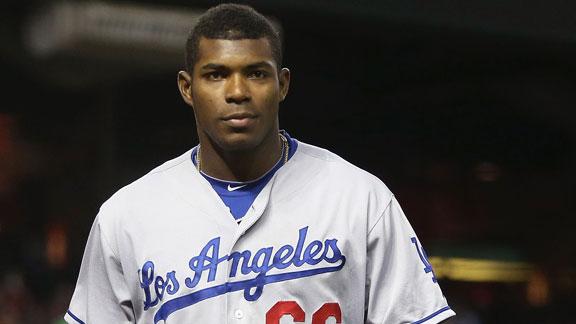 ESPN.com
Updated Jul 11, 2013
Los Angeles Dodgers outfielder Yasiel Puig brushed off a question about "playing with arrogance" Thursday, saying he plays the way he does for the fans.
Share
Tweet
CNNSI.com

Jul 11, 2013

NEW YORK (AP) -- Atlanta first baseman Freddie Freeman and Toronto reliever Steve Delabar have won the fan voting for the last spots in the All-Star game.

Share Tweet

It took back-to-back homers by Hanley Ramirez and A.J. Ellis in the 14th inning and nine scoreless innings from the bullpen to pull it off, but the surging Dodgers pulled out a 7-5 win over Arizona Wednesday night and climbed back to .500 for the first …

Share Tweet

grantland.com

Jul 11, 2013

In case you were out watching the extended cut of Inception where the top spins for two years before finally falling, here's what you missed in sports...

Share Tweet

Puig Happy To Be In L.A.

Jul 11

Dodgers OF Yasiel Puig talks about his journey from Cuba to the majors, playing for the Dodgers, and whether he should play in the All-Star Game. He also addresses the perception that he plays with arrogance.

Buster Posey Has Top-Selling Jersey

Jul 11

Darren Rovell discusses the list of MLB's top-selling jerseys, headlined by young players.

Dodgers Reach .500 With Win In 14th

Jul 11

Hanley Ramirez's 14th-inning home run helped the Dodgers to .500 for the first time since April 30.

Dodgers Roll Rockies

Jul 11

Chris Capuano struck out eight in the Dodgers' 6-1 win over the Rockies.