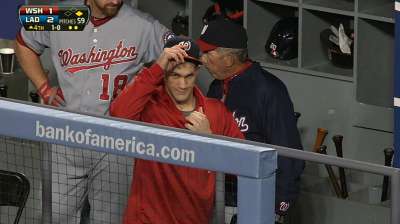 Updated May 15
Share
Tweet
Nationals outfielder Bryce Harper was limited to a ninth-inning pinch-hit appearance in Wednesday's 3-1 loss to the Dodgers because his knees and rib cage were sore in the wake of Monday's collision with the right-field wall at Dodger Stadium.
Dodgers ink Jonathan Sanchez to minor deal

Updated May 15

Share Tweet

Trying to add depth to their injury-ravaged rotation, the Los Angeles Dodgers have agreed to a minor-league deal with pitcher Jonathan Sanchez.

Source:

ESPN.com

Gio Gonzalez is the latest big league pitcher to play catch with a kid in the stands

Updated May 15

Share Tweet

If you watched the video we posted recently of Los Angeles Dodgers pitcher Hyun-Jin Ryu playing catch with a young fan at Dodger Stadium and said, "More players should do this" (and many people did have that reaction), then here you go: This t…

Source:

yahoo.com

Updated May 15

Share Tweet

Hardly a month after right-hander Zack Greinke of the Los Angeles Dodgers fractured his left collarbone fighting with Padres slugger Carlos Quentin, his team scheduled him to start against the Washington Nationals on Wednesday night. Instead of returnin…

Source:

yahoo.com

LA Hot Button: Don Mattingly Right for Dodgers?

May 15

The LA Hot Button question for the week is answered by fans on the street: Is Don Mattingly the right guy to manage the Dodgers?

Greinke, Dodgers Stymie Nationals

May 15

Zack Greinke tossed 5 1/3 strong innings in his first start since coming off the DL due to a broken left clavicle.