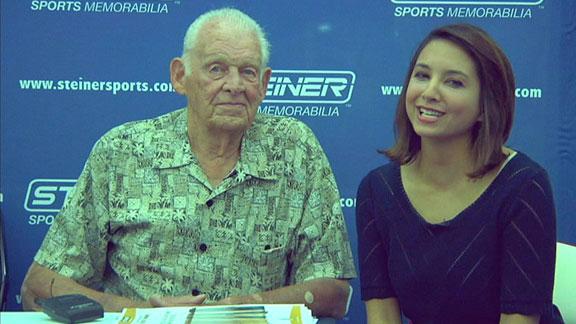 Updated Oct 8, 2012
Share
Tweet
Fifty-six years to the day Monday, Don Larsen walked into Yankee Stadium for Game 5 of the World Series against the Brooklyn Dodgers, having no idea he was about to create one of the most memorable moments in baseball history.
Source:
ESPN.com
Catcher Ellis undergoes clean-up procedure on knee

Updated Oct 8, 2012

Share Tweet

The Dodgers announced that catcher A.J. Ellis underwent arthroscopic surgery on his left knee on Friday and is expected to be fully competitive at the start of Spring Training.

Source:

MLB.com

Updated Oct 8, 2012

Share Tweet

Buck Showalter was not even born when Charlie Dressen - a 5-foot-6 pepperpot whose diminutive presence was belied by an out-sized ego - was managing the Dodgers in Brooklyn. But whether he knows it or not, the low-key Showalter's underlying formula for

Source:

nydailynews.com

The Best B.S.: Matt Kemp Says He Would Beat Magic Johnson at H.O.R.S.E.

Updated Oct 8, 2012

Share Tweet

Los Angeles Dodgers outfielder Matt Kemp details his love of basketball and challenges Bill Simmons and Magic Johnson to a game of H.O.R.S.E.

Source:

grantland.com

Mint Condition: Parting With Perfection

Oct 8

Don Larsen joins Michele Steele to discuss auctioning his game-worn jersey from the perfect game he pitched in the 1956 World Series.