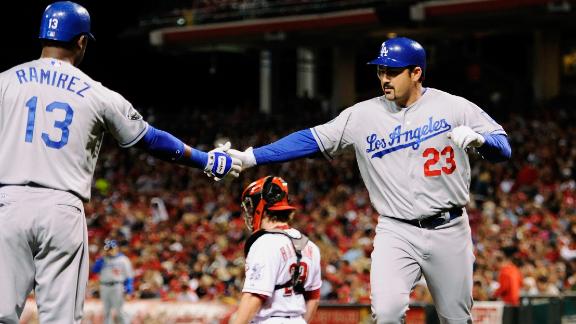 ESPN.com
Updated Sep 23, 2012
Adrian Gonzalez hit a pair of solo homers off Homer Bailey on Sunday night, powering the Dodgers to a 5-3 victory over the Reds that let them keep pace in the wild-card race.
Share
Tweet
Path to the Postseason: Sept. 24, 2012

At this point in the Wild Card races, the teams on the outside looking in have gone into full-out survival mode. And that's exactly what the Brewers, Dodgers and Angels all did on Sunday -- survive.

Share Tweet

Hanley fouls ball off shin, limps off after single

Dodgers shortstop Hanley Ramirez left Sunday night's 5-3 win over the Reds in the seventh inning after fouling a pitch off his left shin.

Share Tweet

With Clayton Kershaw stepping up to start Sunday night, the Dodgers' rotation has been juggled going into the final full week of the season.

Share Tweet

Although Aroldis Chapman finished Saturday's 6-0 division-clinching Reds win over the Dodgers, he was not expected to draw a save situation for the time being.

Share Tweet

The playoff picture became a little clearer after Saturday's contests, especially in the National League, as the Reds were crowned NL Central champions in Cincinnati after a 6-0 win over the Dodgers and the Giants joined them as champs later in the nigh…

Share Tweet

Gonzalez Homers Lead Dodgers

Sep 23

Adrian Gonzalez's two home runs lead the Dodgers to a victory over the Reds, keeping them within 3 games of the Wild Card.