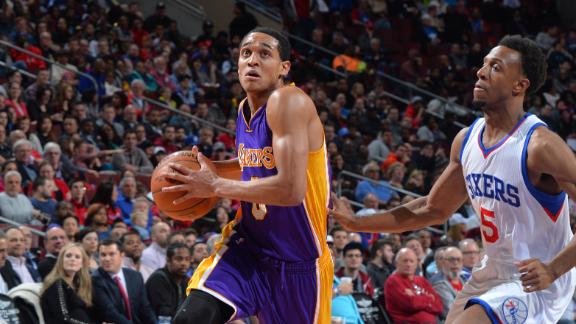 Lakers sink 76ers in OT, endanger draft pick
ESPN.com
Updated 40 minutes ago
Jordan Clarkson scored 26 points and made the tiebreaking basket with 0.7 seconds left in overtime to lift the Los Angeles Lakers past the Philadelphia 76ers, 113-111 on Monday night in a matchup of two of the NBA's worst teams.
Share
Tweet
Raptors clinch second straight division title

ESPN.com

Mar 27 (3 days ago)

Raptors beat Lakers, clinch second straight division title

Share Tweet

Westbrook, Kanter vault Thunder by Lakers

ESPN.com

Mar 24 (6 days ago)

NBA scoring leader Russell Westbrook poured in 27 points and added 11 assists and Enes Kanter contributed 25 points and 16 rebounds as the Thunder beat the Lakers 127-117 on Tuesday night for their fourth straight victory.

Share Tweet

nba.com

Mar 24 (6 days ago)

Steve Nash played through pain and injury for essentially his entire career. Until last fall, he really thought he could do it again for the Los Angeles Lakers.

Share Tweet

Los Angeles Lakers coach Byron Scott will miss his team's upcoming road games in Oklahoma City on Tuesday and in Minnesota on Wednesday to attend funeral services for his mother Dorothy Scott, who passed away last Sunday at the age of 72.

Share Tweet

nba.com

Mar 21

Los Angeles Lakers guard Steve Nash announced his retirement Saturday, quietly ending a 19-year NBA career that included two MVP awards.

Share Tweet

Lakers hit 50-loss mark; fifth time for franchise

ESPN.com

Mar 20

Gordon Hayward scored 22 points, Trey Burke added 17 off the bench and the Jazz sent the Lakers to their 50th loss of the season, 80-73 on Thursday night.

Share Tweet

Lakers' Young has small fracture in knee cap

ESPN.com

Mar 18

Lakers guard Nick Young has a small fracture in his left knee cap and will be re-evaluated on a weekly basis, the team announced Wednesday.

Share Tweet

yahoo.com

Mar 17

Centers Vlade Divac and Shaquille O'Neal spent many nights battling against each other in the late '90s and early '00s during their time with the Sacramento Kings and Los Angeles Lakers, respectively, so it would seem safe to assume that both former riv…

Share Tweet

Warriors seal playoff spot, fend off Lakers

ESPN.com

Mar 17

Klay Thompson scored 26 points, Stephen Curry had 19 points and nine assists and the Golden State Warriors secured a playoff spot before beating the depleted Los Angeles Lakers 108-105 on Monday night.

Share Tweet

Atlanta Hawks guard Kyle Korver will miss at least three games after breaking his nose against the Los Angeles Lakers.

Share Tweet

ESPN.com

Mar 13

The NBA-worst Knicks beat the Lakers 101-94 in former Los Angeles point guard and current New York coach Derek Fisher's return to Staples Center, where he won five NBA championships alongside Kobe Bryant.

Share Tweet

This Knicks-Lakers Game Is A War Crime

deadspin.com

Mar 12

We might be in the NBA's Belle Époque, but this 15 second sequence is the lowest moment in NBA history. These two shots are crimes against humanity. If you are watching the Knicks-Lakers game please hit yourself in the face, and then instead watch the C…

Share Tweet

nydailynews.com

Mar 12

The best entertainment the Knicks can possibly provide these days are Phil Jackson's stories about life at home with Jeanie Buss.

Share Tweet

yahoo.com

Mar 12

Steve Nash's tenure with the Los Angeles Lakers began with visions of championship contention alongside fellow future Hall of Famers Kobe Bryant and Dwight Howard, but has been rendered an utter disaster by injuries. What started with a fractured fibula…

Share Tweet

The Lakers were eliminated from playoff contention Tuesday, marking their earliest elimination since the franchise moved to L.A. before the 1960-61 season.

Share Tweet

Rondo: 'Honor' that Kobe wants PG as Laker

ESPN.com

Mar 9

Kobe Bryant's efforts to recruit Mavericks point guard Rajon Rondo as a free agent appeared especially strong Sunday, when the Mavericks beat the Lakers 100-93.

Share Tweet

ESPN.com

Mar 7

Mavericks small forward Chandler Parsons plans to return Sunday against the Los Angeles Lakers after missing the last seven games due to a left ankle injury.

Share Tweet

deadspin.com

Mar 4

After missing Sunday's game against the Lakers because of surgery to repair a fractured zygomatic arch bone, Russell Westbrook has returned with a vengeance, and a mask! Both were on display as he split two Philadelphia defenders to throw down a monster…

Share Tweet

Lakers' Young out again vs. Hornets

nba.com

Mar 3

Lakers coach Byron Scott says Nick Young will miss Tuesday night's game against the Charlotte Hornets with a sore left knee.

Share Tweet

Short-handed OKC denies Lakers 4th straight

ESPN.com

Mar 1

Serge Ibaka had 18 points and 14 rebounds, D.J. Augustin added 18 points and nine rebounds, and the Oklahoma City Thunder beat the Los Angeles Lakers 108-101 Sunday night without Kevin Durant and Russell Westbrook.

Share Tweet

deadspin.com

Feb 28

The Thunder announced that Russell Westbrook underwent surgery to repair that dent in his face . In medical terms, he had a "fracture to the zygomatic arch of his right cheek." Westbrook won't play tomorrow against the Lakers and will be re-ev…

Share Tweet

Steve Nash Announces Retirement

Mar 21

Stephen A. Smith discusses Steve Nash's retirement and his place among the greatest point guards in history.

Steve Nash On Decision To Retire

Mar 21

Two-time NBA MVP Steve Nash discusses his time with the Lakers, legacy questions, and his decision to retire.

The D'Antoni Revolution

Mar 20

Mike D'Antoni changed the game with rapid ball movement and spacing players on the court. The game has changed accordingly, but the man that brought this about is no longer coaching in the NBA.

Hayward Leads Jazz Past Lakers

Mar 19

Gordon Hayward scored a game-high 22 points in the Jazz's 80-73 win over the Lakers.