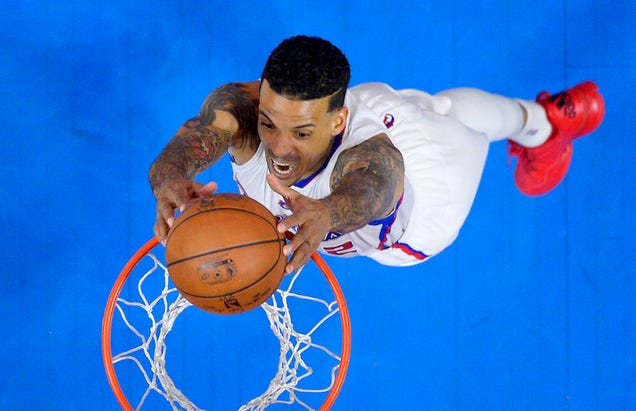 deadspin.com
Updated 15 hours ago
Today, Matt Barnes attempted to clarify his version of his uninvited weekend trip to estranged wife Gloria Govan's home, where he allegedly fought former Lakers teammate and current Knicks head coach Derek Fisher. The 35-year-old claimed he drove to Red…
Share
Tweet
yahoo.com

Oct 7 (yesterday)

Enjoy Kobe Bryant while you still can. One of the greatest players in league history, now 37, is on the last year of a mega-max extension and unlikely to earn a similar deal in the future should he choose to continue playing. Various reports and semi-in…

Share Tweet

ESPN.com

Oct 7 (yesterday)

'Phenomenal' Randle has Lakers excited about his potential

Share Tweet

Sure, it's still just preseason, but whenever NBA players take the court and get into the flow of competition, temperatures can start to rise and tempers can flare. Case in point: Utah Jazz forward Trevor Booker challenging Los Angeles Lakers center Roy…

Share Tweet

Lakers' Russell exits game with bruised glute muscle

nba.com

Oct 7 (2 days ago)

Los Angeles Lakers rookie point guard D'Angelo Russell left their exhibition game against Utah in the first quarter Tuesday night with a bruised glute muscle.

Share Tweet

yahoo.com

Oct 5 (4 days ago)

You had to know this was coming. Last week, Kevin Durant responded to reports that the Los Angeles Lakers are his "primary objective and landing spot" should he choose not to re-sign with the Oklahoma City Thunder this summer by saying that th…

Share Tweet

Earlier this week, ESPN commentator Stephen A. Smith went on "First Take" and discussed the impending free agency of Oklahoma City Thunder superstar Kevin Durant, one of the biggest stories in the NBA world and one that's sure to dominate futu…

Share Tweet

Preseason debuts of LeBron and Kobe highlight NBA TV's coverage

nba.com

Oct 1

NBA TV will televise 31 live preseason game telecasts -- including the expected preseason debuts of LeBron James and the Cleveland Cavaliers, Kobe Bryant and the Los Angeles Lakers, Chris Paul and the Los Angeles Clippers and many of the league's top st…

Share Tweet

yahoo.com

Oct 1

Let the grand slinging-of-stuff-against-the-wall begin! [Follow Dunks Don't Lie on Tumblr: The best slams from all of basketball] On ESPN's "First Take" Tuesday morning, Stephen A. Smith said that sources have told him [Kevin] Durant's preferred landing…

Share Tweet

yahoo.com

Sep 30

Wesley Johnson isn't the first player to make a switch from the Lakers to Clippers in consecutive seasons, but he is the first to do so since the Lakers have entered into the role of Los Angeles' laughingstock, with the Clippers ascending to championshi…

Share Tweet

Bryant, Lakers return to Hawaii for training camp

nba.com

Sep 30

Kobe Bryant returned Tuesday morning to where it all began for him.

Share Tweet

ESPN.com

Sep 28

Kobe Bryant on youthful Lakers: 'I don't know what to expect'

Share Tweet

Now that he's been medically cleared to resume basketball activities, Kobe Bryant is preparing to return to the Los Angeles Lakers. The future Hall of Famer's 20th season in purple and gold will also be the final season of the two-year, $48.5 million ex…

Share Tweet

nba.com

Sep 24

The Los Angeles Lakers are giving Metta World Peace another chance.

Share Tweet

yahoo.com

Sep 21

Los Angeles Lakers fans got some welcome news last week, when Bleacher Report's Kevin Ding reported that superstar swingman Kobe Bryant has been "medically cleared for all basketball activities" after undergoing shoulder surgery in January. La…

Share Tweet

yahoo.com

Sep 17

After Kobe Bryant underwent season-ending surgery to repair a torn right rotator cuff back in January, the Los Angeles Lakers laid out a nine-month timeline for his return to the court. His return to shooting drills last month and general manager Mitch …

Share Tweet

Steve Nash Announces Retirement

Mar 21

Stephen A. Smith discusses Steve Nash's retirement and his place among the greatest point guards in history.

Steve Nash On Decision To Retire

Mar 21

Two-time NBA MVP Steve Nash discusses his time with the Lakers, legacy questions, and his decision to retire.

The D'Antoni Revolution

Mar 20

Mike D'Antoni changed the game with rapid ball movement and spacing players on the court. The game has changed accordingly, but the man that brought this about is no longer coaching in the NBA.

Hayward Leads Jazz Past Lakers

Mar 19

Gordon Hayward scored a game-high 22 points in the Jazz's 80-73 win over the Lakers.

Sports Columnists

Derek Fisher of New York Knicks, Matt Barnes of Memphis Grizzlies scuffle …

Oct 7

Knicks coach Derek Fisher and Grizzlies forward Matt Barnes were involved in a physical altercation Saturday night in Los Angeles at the home of Barnes' ex-wife, sources say.

NBA - Blake Griffin wants to take his defense and the Clippers to another …

Oct 7

Blake Griffin is looking to become an elite defender and a vocal leader, and in turn take the Clippers to a championship, writes J.A. Adande.

ESPN Now

Oct 6

ESPN's Kevin Arnovitz and Brian Windhorst provide the low down on how a tangle inside the Hawks' front office led to a racially-charged scandal and th...