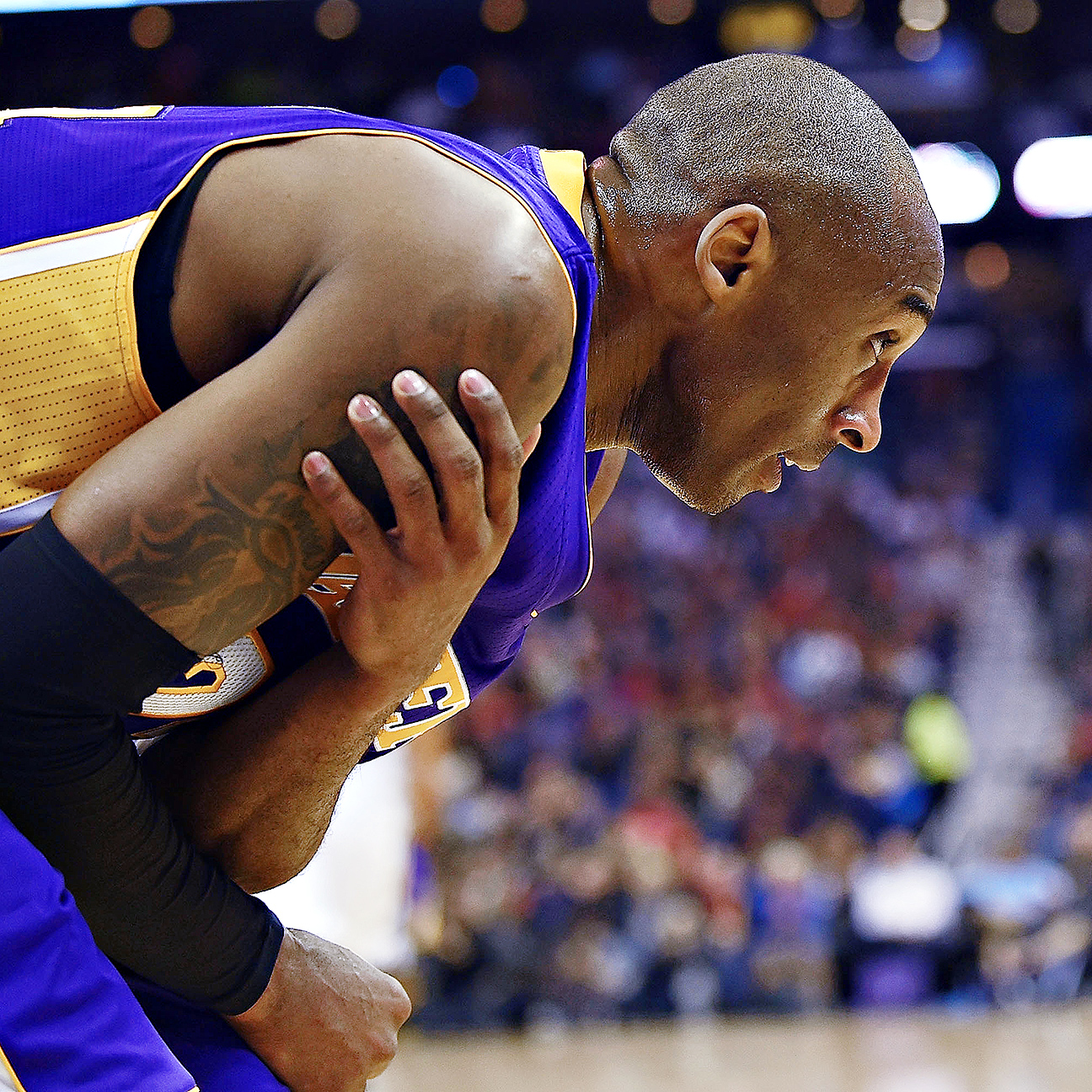 purpleandgoldblog.com
ESPN.com
Updated May 22 (4 days ago)
The Los Angeles Lakers desperately needed some luck and they got it in the draft lottery. As well as maintaining their place in the top five to hang on to their draft selection, the Lakers also climbed to number two in the overall selection, opening the…
Share
Tweet
yahoo.com

May 22 (4 days ago)

It's been a topic of conversation for years now. With so many accolades, championships and miles on his now twice-surgically-repaired legs — and a surgically repaired shoulder thrown in — when will Kobe Bryant decide to hang up his high tops and begin t…

Share Tweet

76ers Win Right To Trade Somebody For Two Second-Rounders In 2017

deadspin.com

May 19 (6 days ago)

Well, it was worth it. At long last, it was worth it. The two forfeited seasons, the lottery picks spent on bum legs, the young players traded for assets, the assets traded for lesser assets, the draft lottery letting the Heat and Lakers keep their pick…

Share Tweet

The Minnesota Timberwolves too often came to the NBA draft lottery and left in worse shape than they arrived.

Share Tweet

yahoo.com

May 19 (7 days ago)

The NBA as a whole giddily rubbed its hands together when it became more and more obvious that Kevin Garnett was available on the trade market in 2007. KG, for a few years by then, had always technically been available, but his loyalty toward the Minnes…

Share Tweet

yahoo.com

Apr 29

Former NBA guard Javaris Crittenton was sentenced to 23 years in prison and 17 years of probation on Wednesday after entering a guilty plea on charges related to the 2011 shooting death of an Atlanta woman. The 27-year-old Crittenton — who played for th…

Share Tweet

Drunk Clippers Bro Is Very Chill About Getting Kicked Out Of Game

deadspin.com

Apr 20

We have found the perfect rivals for the Lakers Bros . These Clippers bros say they got kicked out of Sunday's Game 1 again the Spurs. Why? The more loquacious bro explained: "Apparently they frown upon open bottles of vodka."Read more...

Share Tweet

After worst season ever, Lakers see hopeful signs in future

nba.com

Apr 16

The worst season in the Los Angeles Lakers' history has finally ended, and the longest summer has just begun.

Share Tweet

Let Carlos Boozer Explain "Holdat" To You

deadspin.com

Apr 16

What is life like for a veteran roleplayer on a shitty NBA team? Not that bad, if the tail end of Carlos Boozer's press postmortem today in Los Angeles is any sign. The Lakers forward took his opportunity when prompted to explain exactly what he means w…

Share Tweet

nba.com

Apr 14

Guard Jeremy Lin hasn't ruled out a return to the Los Angeles Lakers next season despite his up-and-down first season with the club.

Share Tweet

yahoo.com

Apr 9

The Lakers announced a curious renewal deadline for season-ticket holders that has some conspiracy theorists wondering whether the team is trying to get Los Angelenos to pony up big bucks before knowing just what kind of product they'll all be watching …

Share Tweet

Gary Harris Gets Ankles Demolished By Crossover, Doesn't Quit Basketball

deadspin.com

Apr 9

The Lakers played in Denver last night. By the fourth, they were losing by a zillion, which meant that both the Lakers' Dwight Buycks and the Nuggets' Gary Harris were matched up against each other. Read more...

Share Tweet

Byron Scott Thinks Some Of His Players Would Frag Him

deadspin.com

Apr 7

It has been a remarkable year of quotes from Lakers coach Byron Scott, who has vacillated between pure delusion and brutal honesty with his words. Speaking with reporters after practice yesterday about how he is going to continue to make his very bad te…

Share Tweet

yahoo.com

Apr 7

Head coach Byron Scott has not been a godsend to the Los Angeles Lakers in his first year, he's once again presiding over a terrible defense and his offensively-minded club is only 23rd out of 30 teams on that end. He has been a godsend for those of us …

Share Tweet

Lakers fall to Clips for franchise-worst 56th loss

ESPN.com

Apr 5

Lakers fall to Clips for franchise-worst 56th loss

Share Tweet

Bulls' Nikola Mirotic and Lakers' Jordan Clarkson named Kia Rookies of the Month

nba.com

Apr 3

The Chicago Bulls' Nikola Mirotic and the Los Angeles Lakers' Jordan Clarkson today were named the Kia NBA Eastern and Western Conference Rookies of the Month, respectively, for games played in March.

Share Tweet

Lakers' Ellington out for season with separated shoulder

nba.com

Apr 2

Los Angeles Lakers guard Wayne Ellington will miss the rest of the season with a separated right shoulder.

Share Tweet

D-League callup Brown gets multiyear deal with Lakers

nba.com

Apr 1

Guard Jabari Brown has agreed to a multiyear contract with the Los Angeles Lakers.

Share Tweet

yahoo.com

Mar 31

On Monday evening, the Los Angeles Lakers downed the Philadelphia 76ers on a last-second shot from rookie Jordan Clarkson. Hands were rung and eyes rolled, as a significant portion of NBA fandom could hardly recall what number Clarkson wore prior to thi…

Share Tweet

The Lakers' Pyrrhic Victory Lays Bare The NBA's Flawed Incentives

deadspin.com

Mar 31

With the game tied 111-111 with 0.7 seconds left in overtime, the Lakers' Jordan Clarkson made a layup to defeat the 76ers. Clarkson was the 46th pick in the draft, sandwiched between two guys named Dwight Powell and Russ Smith. Both Powell and Smith ha…

Share Tweet

Lakers sink 76ers in OT, endanger draft pick

ESPN.com

Mar 30

Jordan Clarkson scored 26 points and made the tiebreaking basket with 0.7 seconds left in overtime to lift the Los Angeles Lakers past the Philadelphia 76ers, 113-111 on Monday night in a matchup of two of the NBA's worst teams.

Share Tweet

Steve Nash Announces Retirement

Mar 21

Stephen A. Smith discusses Steve Nash's retirement and his place among the greatest point guards in history.

Steve Nash On Decision To Retire

Mar 21

Two-time NBA MVP Steve Nash discusses his time with the Lakers, legacy questions, and his decision to retire.

The D'Antoni Revolution

Mar 20

Mike D'Antoni changed the game with rapid ball movement and spacing players on the court. The game has changed accordingly, but the man that brought this about is no longer coaching in the NBA.

Hayward Leads Jazz Past Lakers

Mar 19

Gordon Hayward scored a game-high 22 points in the Jazz's 80-73 win over the Lakers.

Sports Columnists

2015 NBA playoffs - Golden State Warriors eye finishing touch against Hous…

May 25

For all intents and purposes, these Western Conference finals are over. The only question that remains: How quickly will Steph Curry and the Warriors seal the deal?

Kent Bazemore says Atlanta Hawks are still 'the better team'

May 22

Kent Bazemore made an attempt to give the Atlanta Hawks some badly needed confidence with some brash statements Friday, after his team's Game 2 loss to the Cleveland Cavaliers.

Kyrie Irving misses Cleveland Cavaliers shootaround, questionable for Game…

May 22

Cavaliers guard Kyrie Irving skipped the morning shootaround Friday before Game 2 of the Eastern Conference finals to get further evaluation on his ailing left knee.