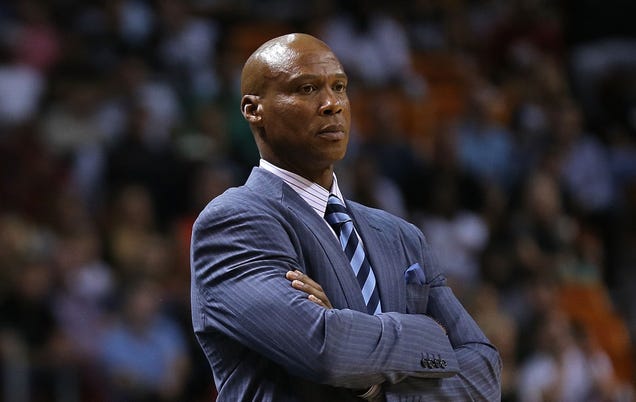 deadspin.com
Updated Nov 25 (yesterday)
As a basketball fan, one of life's simplest pleasures is waking up each day and knowing there is a good chance that Lakers head coach Byron Scott is going to do or say something that is hilariously dumb. Last night, he did not disappoint.Read more...
Share
Tweet
Warriors Fan Hits Shot During Timeout, Taunts Lakers Bench

deadspin.com

Nov 24 (yesterday)

This Warriors fan here hit a three-pointer during a timeout and, naturally, poked fun at the hapless Lakers. That sure looks like a throat slash motion to me!Read more...

Share Tweet

Lakers' Byron Scott believes Showtime Lakers could stop Warriors

ESPN.com

Nov 24 (2 days ago)

Lakers' Byron Scott believes Showtime Lakers could stop Warriors

Share Tweet

Byron Scott and the Los Angeles Lakers continue to be the worst-matched team and coach in the NBA. As Kobe Bryant nears retirement and several young players with potential attempt to establish themselves as long-term fixtures, Scott has doubled down on …

Share Tweet

yahoo.com

Nov 23 (3 days ago)

After comfortably dispatching the Denver Nuggets on Sunday night to become the third NBA team ever to open a season with 15 consecutive wins, the Golden State Warriors will take aim at securing a solo spot in NBA history on Tuesday, when they return to …

Share Tweet

Kobe Bryant Shocked That He's The Voice Of "Ball Movement Reason" For The Lakers

deadspin.com

Nov 22 (4 days ago)

The Los Angeles Lakers are, unsurprisingly, very bad this year. They're in the bottom seven in both defensive and offensive rating, Byron Scott doesn't seem to know what he's doing, and Kobe Bryant has been comically awful when he's not taking mandated …

Share Tweet

yahoo.com

Nov 20 (6 days ago)

Kobe Bryant has yet to confirm his retirement plans. He, genuinely, may not have any retirement plans, even though the Lakers have had to keep him out of back-to-back games, and even though his presence is likely hindering the development of several of …

Share Tweet

dimemag.com

Nov 12

USA TODAY Sports Kobe Bryant was "the best part" of the Los Angeles Lakers' free agency pitch. Daryl Morey explained specifically how he'd fit in an offense revolving around James Harden and Dwight Howard. Neil Olshey "was great" while trying to convinc…

Share Tweet

ESPN.com deadspin.com

Nov 12

Lakers' D'Angelo Russell responds after fourth-quarter benching

Share Tweet

yahoo.com dimemag.com deadspin.com

Nov 11

The Orlando Magic have been a surprisingly enjoyable squad so far this NBA season, parlaying their young core and the intensity of new head coach Scott Skiles into five margins of five points or fewer in their first eight games. The bad news for Orlando…

Share Tweet

Lakers to honor 3 men who helped stop attempted train attack

nba.com

Nov 11

The three men who helped stop an attempted terror attack on a train in Europe will be honored by the Los Angeles Lakers this weekend.

Share Tweet

Magic's Oladipo leaves game vs Lakers with concussion

nba.com

Nov 11

Magic guard Victor Oladipo, the team's second-leading scorer, left Wednesday's game against the Los Angeles Lakers with a concussion.

Share Tweet

yahoo.com

Nov 11

It's getting to the point where you just have to be convinced that the Lakers are employing Byron Scott in order to keep their draft pick. If Los Angeles works its way toward a terrible record and the NBA's draft lottery determines that the pick stays w…

Share Tweet

yahoo.com

Nov 11

The transition to the NBA can be difficult for even the most seasoned of rookies. Los Angeles Lakers point guard Marcelo Huertas, veteran of Brazilian international contests and European club competition but now a rookie at 32 years old, found out the h…

Share Tweet

nba.com

Nov 10

A sore back kept Kobe Bryant out of the Los Angeles Lakers' lineup on Tuesday for the first game that the 20-year veteran dogged by injuries in recent years missed this season.

Share Tweet

nba.com

Nov 10

The Miami Heat announced today that Gerald Green has been suspended for two games for conduct detrimental to the team. He will begin his suspension immediately and miss tonight's contest vs. the Lakers and Thursday's game vs. Utah. He will rejoin the te…

Share Tweet

yahoo.com

Nov 10

The Brooklyn Nets are winless in seven attempts. They have the NBA's third-worst offense and its second-worst defense. The team looks listless on the court – mind you this is November – and unlikely to make much of a dent as the season moves along. They…

Share Tweet

Steve Nash Announces Retirement

Mar 21

Stephen A. Smith discusses Steve Nash's retirement and his place among the greatest point guards in history.

Steve Nash On Decision To Retire

Mar 21

Two-time NBA MVP Steve Nash discusses his time with the Lakers, legacy questions, and his decision to retire.

The D'Antoni Revolution

Mar 20

Mike D'Antoni changed the game with rapid ball movement and spacing players on the court. The game has changed accordingly, but the man that brought this about is no longer coaching in the NBA.

Hayward Leads Jazz Past Lakers

Mar 19

Gordon Hayward scored a game-high 22 points in the Jazz's 80-73 win over the Lakers.