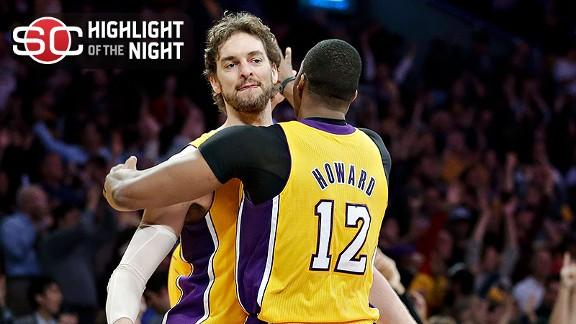 The New York Knicks' Mike Woodson and the Los Angeles Lakers' Mike D'Antoni today were named the NBA Eastern and Western Conference Coaches of the Month, respectively, for games played in April.
Share
Tweet
This won't be the most competitive first-round series, but it may be the most entertaining, however long it lasts. Conventional wisdom says pace slows and scores dip in the playoffs, but that won't be the case with Houston and Oklahoma City, who rank se…

Share Tweet

Primer for the first round of the postseason

Are the Lakers one-and-done? Can Carmelo carry the Knicks? Will the Nuggets be able to keep pace? Chris Mannix tackles what should be a memorable first round of the playoffs.

Share Tweet

Since Tim Duncan's 1997 arrival in San Antonio, the extraordinary Spurs have won at least 50 games (or the equivalent, taking into account the lockout year of '99) and contended for the championship every year. They've met the Lakers in six playoff seri…

Share Tweet

Report: Lakers assistant Jordan headed to Rutgers

nba.com

Apr 18, 2013

Rutgers is turning to one of its greatest players to lead the basketball program past an embarrassing coaching scandal and into its future with the Big Ten Conference.

Share Tweet

PHILADELPHIA (AP) -- Doug Collins has resigned after three seasons as coach of the Philadelphia 76ers and will remain with the franchise as an adviser.

Share Tweet

yahoo.com ESPN.com grantland.com

Apr 18, 2013

By the time their season finale tipped off at Staples Center on Wednesday, the Los Angeles Lakers already knew they'd clinched the West's final playoff berth thanks to the Memphis Grizzlies' 86-70 win over the Utah Jazz. But both the Lakers and their op…

Share Tweet

LOS ANGELES -- Five-and-a-half months after the Los Angeles Lakers tipped off with a $100 million payroll, four future Hall of Famers and one of the most decorated starting lineups ever assembled, the ball settled into the hands of Darius Morris, a seco…

Share Tweet

Playoff Picks: Western Conference

Apr 18

Who does David Thorpe think will win and why? ESPN.com's Insider picks every West series.

Step Into The Spotlight

Apr 18

Who has the most to prove in these playoffs? J.A. Adande and Israel Gutierrez discuss.

Healing Kobe

Apr 18

Trainer Tim Grover on what it's going to take to get Kobe Bryant his sixth ring.

D'Antoni Named West Coach Of The Month

Apr 18

J.A. Adande looks at the future of Mike D'Antoni and the Lakers.