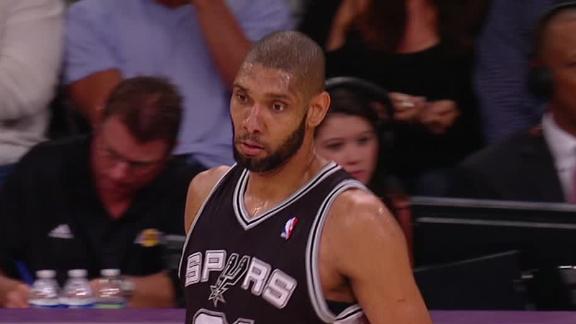 Updated Apr 27
Share
Tweet
The Los Angeles Lakers will be without Steve Nash for Friday night's pivotal Game 3 against the San Antonio Spurs.
Updated Apr 27

Share Tweet

Andrew Goudelock played 41 minutes last night for the Los Angeles Lakers and scored 20 points. Only Dwight Howard and fellow brother-in-obscurity Darius Morris scored more. Read more...

Sources:

deadspin.com CNNSI.com
Are Mike D'Antoni's Days Numbered In LA?

Apr 27

Stephen A. Smith discusses whether Mike D'Antoni will be back as Lakers coach.
Sports Columnists
Ian Thomsen: Nate Robinson propels Bulls in Game 4, Nets blow it, more tho…

Apr 27

Three thoughts from Chicago's 142-134 triple overtime win over the visiting Nets on Sunday to give the Bulls a 3-1 lead in their first-round series:

Lee Jenkins: Shorthanded loss leaves Lakers with many questions

Apr 27

Andrew Goudelock, a 24-year-old guard who came to the Lakers starting lineup by way of Sioux Falls and Rio Grande Valley, sat in front of his locker reminiscing about the days when he was broke in the Development League and had to beg his girlfriend for…

Ian Thomsen: For Celtics, Game 3 is the beginning of the end

Apr 27

It was always going to end sooner than later. That was the understanding when the Celtics surrounded Paul Pierce with Kevin Garnett and Ray Allen while holding onto Rajon Rondo and Kendrick Perkins six years ago. This day seemed a long way off when they…