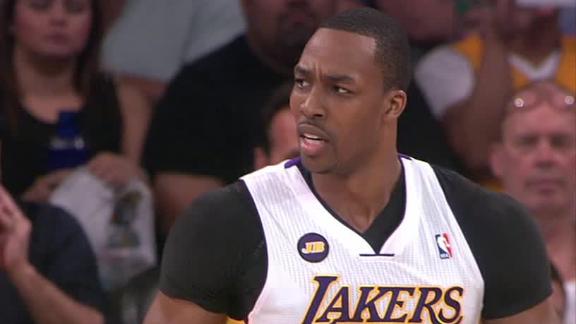 Spurs blow out Lakers 103-82 to complete the sweep

CNNSI.com

Apr 28, 2013

Spurs blow out Lakers 103-82 to complete the sweep

Share Tweet

ESPN.com yahoo.com deadspin.com

Apr 28, 2013

In what could end up being his last game in a Los Angeles Lakers uniform, Dwight Howard was ejected for picking up his second technical foul shortly after halftime in Sunday's Game 4 against the San Antonio Spurs.

Share Tweet

This Heckler At Staples Center Really Wants Matt Bonner's Attention

deadspin.com

Apr 28, 2013

We don't know why this gentleman, presumably a Lakers fan, wants the attention of Spurs big man Matt Bonner. (Perhaps he suspects Bonner of having gotten him pregnant.) Regardless, he is very close to TNT's court mic, which we've isolated here.Read more…

Share Tweet

'Straight Up Punk Move' By Dwight Howard

Apr 28

Stephen A. Smith reacts to Dwight Howard getting ejected in Game 4 against the Spurs and what it means for Howard's future with the Lakers.

Spurs Sweep Lakers

Apr 28

Dwight Howard is ejected in the third quarter as the Lakers are swept in the opening round of the playoffs for the first time since 1967.

Lakers' Future

Apr 28

Kurt Rambus breaks down the future for the Lakers after getting swept by the Spurs in the first round of the playoffs.

NBA Injuries Result Of Bad Luck

Apr 28

Israel Gutierrez discusses why the NBA's rash of injuries shouldn't lead to a shortened season.