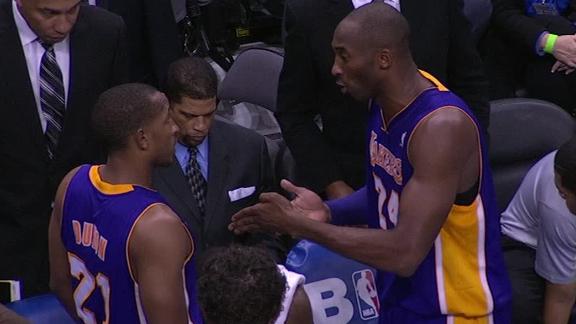 yahoo.com
ESPN.com
CNNSI.com
nba.com
purpleandgoldblog.com
Updated Dec 11, 2012
It was almost predestined to fail. The struggling Los Angeles Lakers are now working out of the American Midwest while attempting to right the ship without the injured Steve Nash and Pau Gasol, and their first game of the road trip included a visit to C…
Share
Tweet
The Only Thing Mike D'Antoni Detests More Than His Team's Play Is T.J. Simers' Questions

deadspin.com

Dec 11, 2012

There's probably no other sports reporter/columnist out there who can ingratiate himself so well to a coach as T.J. Simers of the Los Angeles Times, if by "ingratiate" we mean "antagonize coaches coming off a bad loss by uttering outrageo…

Share Tweet

Even Without Harden, OKC Looks Like The Best Team In The West

dimemag.com

Dec 11, 2012

Before the season started, the Oklahoma City Thunder were relegated by many to a tier just below the Los Angeles Lakers and the San Antonio Spurs for supremacy in the Western Conference. Even though they defeated the mighty Borg that is San Antonio to c…

Share Tweet

dimemag.com

Dec 11, 2012

Kyrie Irving returns to Cleveland's lineup tonight against the Lakers after missing 11 games with a broken finger. However, be very surprised if the injury, or the wrap he'll cover it with, holds back Irving's world-class handle much. Every elite NB

Share Tweet

Many have said that we can't really judge the Mike D'Antoni Lakers until Steve Nash returns, but the offense hasn't been the problem in Los Angeles. The Lakers are top 10 in the NBA in points scored per possession, but just middle of the road in points …

Share Tweet

The Forum: Lakers' Defensive Issues

Dec 11

Brian and Andy Kamenetzky talk about the Lakers' defensive issues under Mike D'Antoni and Kobe's lack of defensive intensity.

Cavs Top Lakers Despite Kobe's 42

Dec 11

Cavaliers win in Kyrie Irving's return.

Coast to Coast: Hack-A-Dwight

Dec 11

J.A. Adande and Israel Gutierrez on how intentionally fouling poor free throw shooters is affecting today's game.

TrueHoop TV: With O.J. Mayo

Dec 11

Kevin Arnovitz talks with O.J. Mayo about the guard's new home in Dallas, hushing the crowd on the road, Dirk, the flop rule, and how he likes his steaks.