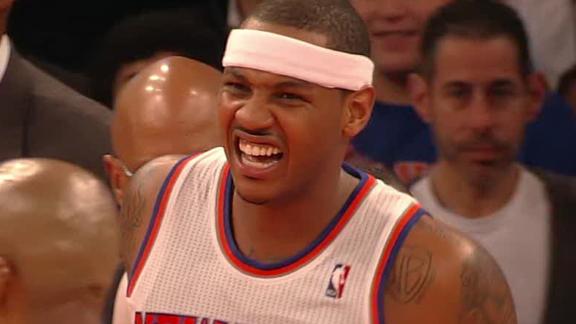 Updated Dec 13, 2012
Share
Tweet
Carmelo Anthony scored 22 of his 30 points in the first quarter, and the New York Knicks held on after he departed with a sprained left ankle to beat the Los Angeles Lakers 116-107 in coach Mike D'Antoni's return to Madison Square Garden.
Source:
ESPN.com
Updated Dec 13, 2012

Share Tweet

Knicks forward Carmelo Anthony sprained his left ankle in the third quarter and was not expected to return to the game against the Los Angeles Lakers.

Updated Dec 13, 2012

Share Tweet

The NBA announced Thursday the first returns in the fan vote for the 2013 NBA All-Star game, and in news that will shock precisely no one, LeBron James of the Miami Heat and Kobe Bryant of the Los Angeles Lakers stand above their peers as the leading vo…

Updated Dec 13, 2012

Share Tweet

Despite being the only team in the NBA that have yet to lose at home and being a game and a half in front of the defending champions for the top spot in the east, the New York Knicks (16-5) will not be the subject of conversation for tonight's first mat…

Source:

purpleandgoldblog.com

James Dolan, according to Madison Square Garden lore, had to be told who Fmr. Attorney General John Ashcroft was

Updated Dec 13, 2012

Share Tweet

It is incredibly easy to feel good for New York Knicks fans, as their team races out to a superb 16-5 record as they prepare to take on the Los Angeles Lakers Thursday night at Madison Square Garden. Not only did Knicks fans have to sit through the unea…

Kobe calls Magic to talk Lakers: 'Very helpful'

Updated Dec 13, 2012

Share Tweet

Los Angeles Lakers star Kobe Bryant found time on his off day to make a phone call to Magic Johnson to talk about the team.

Source:

ESPN.com

Dwight Howard, stuck in the middle of another trying season, discusses how 'emotional' he is

Updated Dec 13, 2012

Share Tweet

Noted provocateur and Los Angeles Times columnist T.J. Simers' latest piece on Lakers center Dwight Howard may come off as a surprise to some, but we're less moved by Howard's admissions.  Dwight Howard cries a lot at things that would make anyone with …

Carmelo Injured In Knicks' Win

Dec 13

Knicks hold off Lakers, 116-107.

TrueHoop TV: John Hollinger

Dec 13

John Hollinger drops in to talk about the Lin-Harden dilemma in Houston, the ongoing problems in L.A., and Dwight Howard's likely destination next season.

Kobe: Carmelo Harder To Guard Than LeBron

Dec 13

Stephen A. Smith and Skip Bayless discuss Kobe Bryant's comments about guarding Carmelo Anthony.

Breaking Down The Knicks' Win

Dec 13

Kurt Rambis breaks down the Knicks' win over the Lakers.