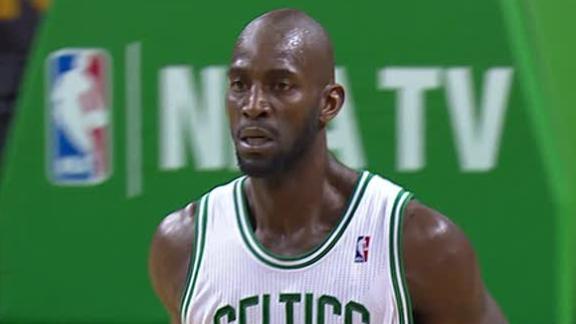 Updated Feb 7
Share
Tweet
Paul Pierce scored 24 points and led a third-quarter surge as the Boston Celtics routed the Lakers 116-95 on Thursday night in Dwight Howard's return for Los Angeles.
Sources:
ESPN.com
nba.com
dimemag.com
purpleandgoldblog.com
Updated Feb 7

Share Tweet

Celtics forward Kevin Garnett became only the 16th player in NBA history to reach 25,000 points during Thursday's game against the Los Angeles Lakers.

Sources:

ESPN.com dimemag.com

Updated Feb 7

Share Tweet

Los Angeles Lakers forward Pau Gasol is expected to be out a minimum of six to eight weeks with a tear in the plantar fascia of his right foot, the team announced.

Source:

ESPN.com

Updated Feb 7

Share Tweet

The only true rivalry in the NBA will have its first showcase of the season in Beantown tonight. The Lakers (23-26) and Boston Celtics (25-23) are dealing with key injuries, but the purple and gold will most likely be without their 2 star big men. The C…

Source:

purpleandgoldblog.com

Dwight Howard Fires Back at Kobe Bryant: "He's Not a Doctor"

Updated Feb 7

Share Tweet

ESPN got in front of Dwight Howard today after Lakers shootaround to ask him about Kobe Bryant's comments implying that Dwight needs to suck it up and play through his shoulder pain. Not surprisingly, Dwight's not amused: The comments from Steve Nash

Source:

dimemag.com

Million Dollar Ballers "Goggles" Collection

Updated Feb 7

Share Tweet

After hitting gold with their last couple of collections, Million Dollar Ballers might've outdone themselves again. Their latest collection honors the greatest frontcourt ever to strap on goggles: the Lakers' Kareem Abdul-Jabbar, James Worthy and Kurt

Source:

dimemag.com

Garnett Reaches 25,000 Points In Celtics' Win

Feb 7

Celtics win sixth straight.

Rapid Fire with Dwane Casey

Feb 7

Raptors head coach Dwane Casey on who will win the NBA title, who the league's best point guard is, and whether the Celtics and Lakers can contend with their current rosters.

Howard: Kobe's Not A Doctor

Feb 7

Dwight Howard and Steve Nash discuss Kobe Bryant's comments urging Howard to play through pain.

Best Rivalry In Sports?

Feb 7

"SportsCenter" debates the best rivalry in sports.

Sports Columnists

Chicago Bulls, Toronto Raptors talking Carlos Boozer-Andrea Bargnani swap,…

Feb 7

The Chicago Bulls and Toronto Raptors have engaged in exploratory trade discussions on a deal that would swap the Bulls' Carlos Boozer for the Raptors' Andrea Bargnani, according to sources familiar with the discussions.