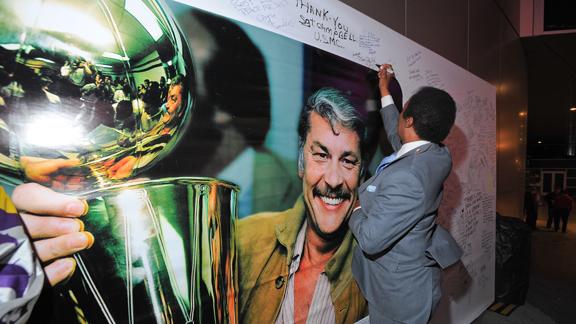 ESPN.com
CNNSI.com
nba.com
deadspin.com
yahoo.com
Updated Feb 21, 2013
Los Angeles Lakers owner Dr. Jerry Buss was remembered in true "Showtime" fashion Thursday.
Share
Tweet
ESPN.com

Feb 21, 2013

Kobe Bryant evidently is confident the Los Angeles Lakers will make the playoffs -- and be a factor when they get there.

Share Tweet

deadspin.com

Feb 21, 2013

Here it is, from today's Los Angeles Times: More »

Share Tweet

James Harden's 46 vs. Kyrie Irving's 35: Who ya got? (VIDEOS)

yahoo.com

Feb 21, 2013

The NBA's 11-game Wednesday night slate was headlined by the first meeting of the Los Angeles Lakers and Boston Celtics following the death of longtime Lakers owner Dr. Jerry Buss, but it was highlighted by a pair of sensational performances by ascendin…

Share Tweet

Spend A Minute Listening To This Maniac Lakers Fan Scream At Kevin Garnett

deadspin.com

Feb 21, 2013

"Kevin, Kevin, Kevin!" he shouts. He finds that he enjoys shouting the word, so he does it again, "KevinKevinKevinKevin!" He slows it down, just to see what that might sound like, "Kevin!-Kevin!-KEVVINNNN!" Yes, that was nice. He stops. Perhaps he has

Share Tweet

CNNSI.com

Feb 21, 2013

Confident Kobe declares Lakers 'will make the playoffs'

Share Tweet

CNNSI.com

Feb 21, 2013

LOS ANGELES -- The NBA's old flagships gathered under one roof Wednesday night, the Lakers having lost a piece of their soul, and the Celtics wondering if they will as well. Kobe Bryant strode to center-court with microphone in hand and pointed at the s…

Share Tweet

dimemag.com

Feb 21, 2013

When Houston traded for James Harden, they were hoping, maybe even believing that they were getting a star. But we're not sure anyone thought they were getting this. In Houston's wild 122-119 comeback win over the Thunder, Harden not only had a defini

Share Tweet

nydailynews.com

Feb 21, 2013

This is how it works out in Hollywood: The Lakers get superstars, and keep them. It's how the NBA's Tiffany franchise operated for 33 years under Dr. Jerry Buss, when they were winning 10 titles and playing in six other Finals.

Share Tweet

About Last Night: Lakers Win One for the Doctor

grantland.com

Feb 21, 2013

In case you were out learning that what you thought was Oscar Fever is actually just an untreated strep infection, here's what you missed in sports on...

Share Tweet

NBA Trade Deadline Winners, Losers

Feb 21

Flip Saunders, Chris Broussard and Tom Penn break down the winners and losers at the NBA trade deadline.

The Rockets' Moment

Feb 21

Daryl Morey is desperate to push his Rockets into the West elite. James Harden and Jeremy Lin have helped, and now a flurry of trade activity holds even more promise. David Thorpe explains how the pieces fit together, and why Josh Smith would make se

Hypothetical NBA Trades

Feb 21

Bill Simmons fires up the NBA Trade Machine for some deadline deals.

Hot Button: Fans Remember Jerry Buss

Feb 21

LA fans sound off on the memories of Jerry Buss.