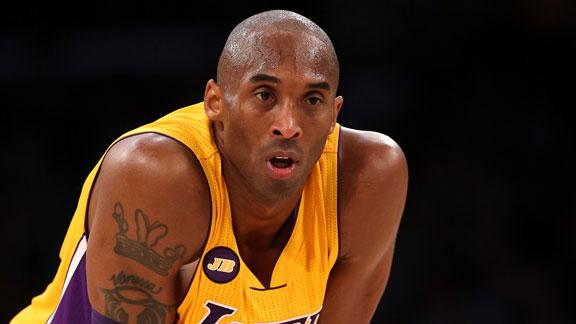 purpleandgoldblog.com

Feb 22, 2013

It has been an emotional week for the Lakers (26-29) since the passing of Dr. Jerry Buss. His loss seems to have given the team the type of motivation that could propel them to capture at least the 8th spot in the west. Against Boston on Wednesday, Lake…

Upvote Share Tweet

Nash, D'Antoni, Howard back Kobe's guarantee

ESPN.com

Feb 22, 2013

Steve Nash, Mike D'Antoni and Dwight Howard stood behind Kobe Bryant's guarantee that the Los Angeles Lakers will make the playoffs and be a factor when they get there.

Upvote Share Tweet

Los Angeles Lakers owner Jerry Buss was buried in a private ceremony on Friday.

Upvote Share Tweet

ESPN.com

Feb 22, 2013

Los Angeles Lakers forward Metta World Peace put on his Cookie Monster pajamas and came to the rescue of his nephew and brother who had been detained by police outside his condo complex earlier this week, according to the Los Angeles Times.

Upvote Share Tweet

yahoo.com deadspin.com

Feb 22, 2013

Sports Illustrated's interview with Kobe Bryant is just as revealing and interesting as the one the magazine recently gave us featuring Phil Jackson. Kobe Bryant's basketball brain is rather large, so any time he goes on record you can trust that inte

Upvote Share Tweet

Kobe Bryant Guarantees a Lakers Playoff Spot; Tony Parker Dominates Chris Paul

dimemag.com

Feb 22, 2013

We watched Thursday's games expecting showdowns. We got two routs, with each one asking whether the result was more about the winners (San Antonio and Miami) or the losers (Los Angeles Clippers or Chicago). The answers aren't black and white so, sorry

Upvote Share Tweet

Kobe Predicts Lakers Will Make Playoffs

Feb 22

Skip Bayless, Stephen A. Smith and Jemele Hill debate whether Kobe's playoff guarantee will prove prophetic.

Kobe Drops 40 Points On Blazers

Feb 22

Highlight of the night: Kobe Bryant leads Lakers to win over Blazers.

Lakers Stand Behind Kobe's Promise

Feb 22

Arash Markazi of ESPNLA.com breaks down what the Lakers need to do in order to back up Kobe Bryant's promise of making the playoffs.