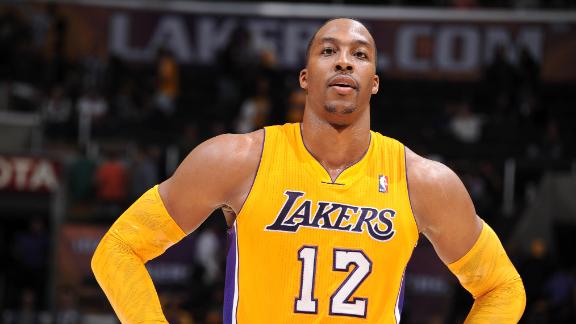 Howard admits poor conditioning led to losses
Updated Feb 23
Share
Tweet
The Los Angeles Lakers have already lost more games this season (29) than they have in any full season since 2007, and big man Dwight Howard says he knows that his inconsistent energy and struggles with conditioning have cost his team some of them.
Source:
ESPN.com
Kobe's legacy on the line with guarantee

Updated Feb 23

Share Tweet

If the guarantee was somewhat shocking, it's only because the Los Angeles Lakers have been shockingly bad.

Source:

nba.com

Mavs' Kaman available after missing 10 games

Updated Feb 23

Share Tweet

Dallas Mavericks center Chris Kaman is available to play Sunday against the Los Angeles Lakers after missing the last 10 games due to a concussion.

Source:

ESPN.com

Updated Feb 23

Share Tweet

Kobe Bryant scored 40 points, Dwight Howard had 19 points and 16 rebounds, and the Los Angeles Lakers capped a trying week with a gritty 111-107 victory over the slumping Portland Trail Blazers on Friday night.

Howard Attributes Struggles To Conditioning

Feb 23

Dwight Howard admitted that his poor conditioning has led to the Lakers' struggles.