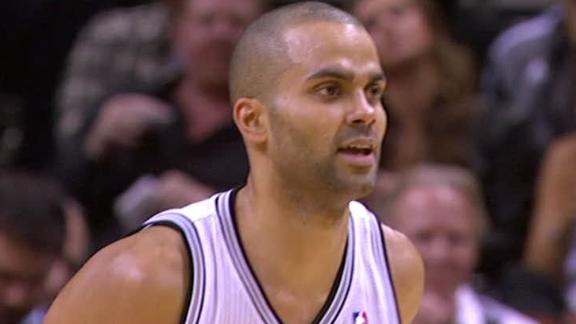 ESPN.com
purpleandgoldblog.com
Updated Jan 9, 2013
Tony Parker scored 24 points and the San Antonio Spurs handed the slumping Los Angeles Lakers their fifth straight loss with a 108-105 victory Wednesday night.
Upvote
Share
Tweet
purpleandgoldblog.com

Jan 9, 2013

After their loss to the Hornets on Monday, Manu Ginobili was gracious enough to say that his San Antonio Spurs (27-10) must play better against the Lakers (15-19), a team, he says, "got heart" and "play hard", in order for them to ke…

Upvote Share Tweet

The 5 Teammates & Coaches Who Owe Steve Nash The Most

dimemag.com

Jan 9, 2013

Steve Nash became just the fifth player to record 10,000 assists last night, even as his disappointing Lakers team got manhandled by Houston's backcourt of James Harden and Jeremy Lin. But Nash has always been all about the team and making other guys be

Upvote Share Tweet

yahoo.com

Jan 9, 2013

When the Los Angeles Lakers decided to fire Mike Brown, the name at the top of most fans' coaching wish lists was Phil Jackson. This makes sense, as Jackson led the Lakers to five NBA championships between 1999 and 2011. When the Brooklyn Nets decided t…

Upvote Share Tweet

yahoo.com deadspin.com

Jan 9, 2013

Pretty harsh, Houston Rockets scorekeepers. The tape clearly shows that after Steve Nash passed off his pit-stunk towel to Metta World Peace, the Los Angeles Lakers forward went right up with it and connected. No dribbling, no stutter-steps, no hesitati…

Upvote Share Tweet

Rockets mascot Clutch slams cake in face of 'Laker fan' during big Houston win (VIDEO)

yahoo.com

Jan 9, 2013

As I watched the Houston Rockets cut through the Los Angeles Lakers like a chainsaw through a stuffed animal during the third quarter of Tuesday night's matchup, I found myself wondering: If I was a Laker fan, how would I describe this? Like, if I had t…

Upvote Share Tweet

ESPN.com

Jan 8, 2013

Steve Nash became just the fifth player in NBA history to reach 10,000 career assists Tuesday, reaching the milestone late in the first half against the Houston Rockets.

Upvote Share Tweet

Why Nikola Vucevic Could Be the Next Marc Gasol

grantland.com

Jan 9, 2013

It's been nearly five years since the Memphis Grizzlies sent Pau Gasol to the L.A. Lakers in what was one of the more vilified deals in NBA history. I...

Upvote Share Tweet

Spurs Hold Off Lakers, 108-105

Jan 9

Lakers lose fifth straight.

LA Hot Button: Dwight Howard

Jan 9

ESPNLA Now host Mark Willard answers the hot question: Will Dwight Howard be a Laker next year?

Sports Columnists

Ian Thomsen: A perfect fit in Utah, Millsap may find himself elsewhere soo…

Jan 9

Unrestricted free agency is on the way for Paul Millsap. Its reward has been a long time coming.