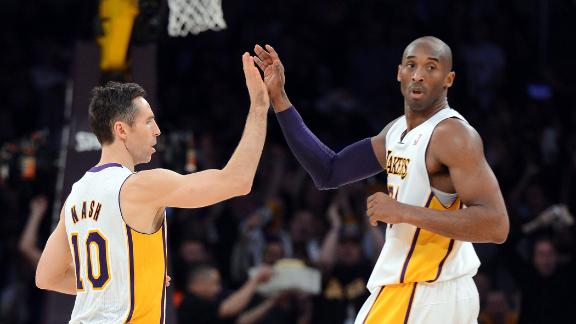 ESPN.com
Updated Jan 27, 2013
Kobe Bryant had 21 points, 14 assists and nine rebounds, Steve Nash added seven of his 17 points in the final 5 1/2 minutes, and the Los Angeles Lakers held off the NBA-leading Oklahoma City Thunder 105-96 Sunday.
Share
Tweet
Kobe Facilitating

Jan 27

Kobe Bryant drives to the hoop and passes out to Earl Clark who finishes with the two-handed dunk.

Kobe Finds Nash

Jan 27

Steve Nash hits one-legged jumper.

Kobe Bryant Making Adjustments

Jan 27

Kobe Bryant one rebound shy of triple-double in Lakers' 105-96 win over Thunder.
Sports Columnists
Ian Thomsen: Celtics spoil Allen's return, must regroup after losing Rondo

Jan 27

BOSTON -- A roar went up for Rajon Rondo in the second overtime of what his teammates hoped would be their breakthrough win of this troubled season. Rondo was sitting in a corner of the arena near the players' exit in his winter coat with a scarf around…

Adande: Kobe Bryant brings a new approach to floundering franchise

Jan 27

With Kobe Bryant channeling his inner Magic Johnson, have the Lakers found the right formula? Or is this fancy passing just a passing fancy? J.A. Adande explores.