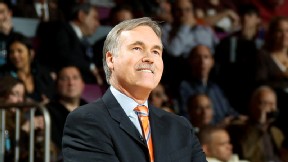 Updated Nov 11, 2012
Share
Tweet
Mike D'Antoni is the new Lakers coach, but how he fits with Dwight Howard may be ultimate test
Source:
ESPN.com
Updated Nov 11, 2012

Share Tweet

Once the Lakers finished off their all-you-can-eat buffet of a summer, there was really only one man for the job. Sure Mike Brown was the coach at the time, but all along, didn't this job have Phil Jackson's name written all over it? The job is his to

Source:

dimemag.com
Phil Jackson Latest

Nov 11

Stephen A. Smith with the latest on the Lakers' pursuit of Phil Jackson to replace Mike Brown as Lakers coach.

Howard, Lakers Roll Over Kings

Nov 11

Dwight Howard posts double-double as Lakers improve to 2-0 under Bernie Bickerstaff.