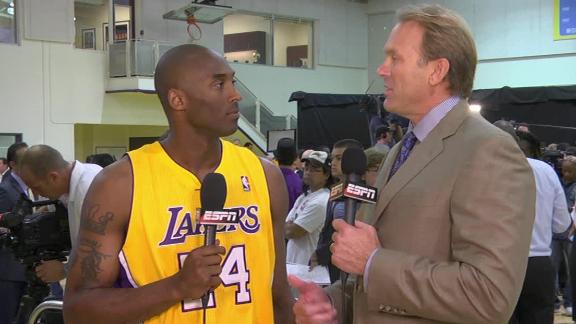 Updated Oct 1, 2012
Share
Tweet
It didn't officially hit us that the Lakers have Kobe Bryant…Pau Gasol…Steve Nash…AND Dwight Howard until we saw pictures from the team's media day yesterday. It must be fun being a Lakers fan. Howard is having himself a grand ol' time as one
Sources:
dimemag.com
ESPN.com
Lakers' Blake on mend after spike strip mishap

Updated Oct 1, 2012

Share Tweet

Los Angeles Lakers guard Steve Blake has resumed shooting and said he hopes to resume basketball activities by next week, after suffering a deep puncture wound to his left foot about 10 days ago.

Source:

ESPN.com

Los Angeles Lakers' Letter of the Day -- A

Updated Oct 1, 2012

Share Tweet

Can Los Angeles Lakers' many type-A personalities coexist on the same team in 2012-13? J.A. Adande turns to Steve Jobs for some insight.

Source:

ESPN.com

Kobe's Expectations High

Oct 1

Kobe Bryant talks to Kurt Rambis about his new teammates and his expectations for the 2012-2013 season.

Lakers' Recent Additions Prepare For Season

Oct 1

Shelley Smith and Kurt Rambis preview impact that Dwight Howard and Steve Nash will have on the Lakers.