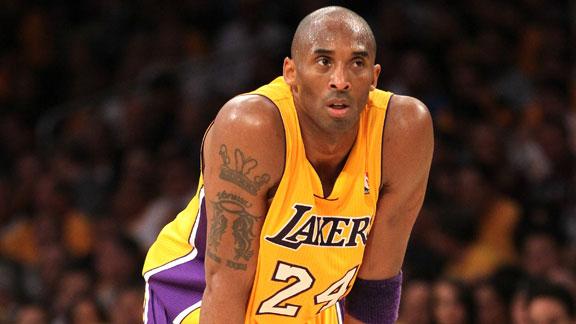 Updated Oct 5, 2012
Share
Tweet
Kobe Bryant sat out the Los Angeles Lakers' two practices Friday because of discomfort in his left foot. The discomfort is not serious, however.
Source:
ESPN.com
The Competition 2012-13: #2 Boston Celtics

Updated Oct 5, 2012

Share Tweet

Contributed by guest writer Frank PalmasaniThe lean, green, Laker-rival machine; Ray Allen is gone. Two of their three best players are old. Their all-star point guard is the Celtics final saving grace. So why are they the number 2 team to beat for the …

Source:

purpleandgoldblog.com

Updated Oct 5, 2012

Share Tweet

Today's Smack had the latest shot that Shaq has fired at Dwight Howard (The Diesel been talking trash about Dwight since '09). Dwight isn't about to get bullied by O'Neal this time though, and he came right back at Shaq after Lakers practice yeste

Source:

dimemag.com

Sports Columnists

Chicago Bears better off with feisty Jay Cutler

Oct 5

The Bears should just let Cutler do his thing, and they might be better off for it.