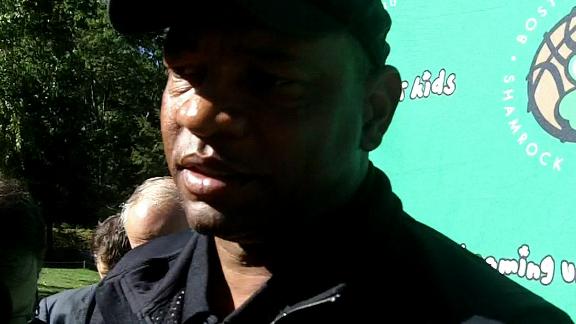 ESPN.com
Updated Sep 25, 2012
New Celtics guard Jason Terry said Tuesday that he's on a mission to 'kill' the Miami Heat and Los Angeles Lakers.
Share
Tweet
yahoo.com

Sep 25, 2012

When the Los Angeles Lakers traded Andrew Bynum for Dwight Howard back in August, pretty much anyone with an opinion thought it was a clear win for L.A. While Howard acted like a big jerk and struggled with back issues last season, he's also one of the …

Share Tweet

Bad team branding update: The Magic and Bobcats have hot new slogans

yahoo.com

Sep 25, 2012

The Orlando Magic are coming to the end of an offseason that saw them part ways with their two best players: All-NBA center Dwight Howard (traded to the Los Angeles Lakers, which you might have heard about) and emerging forward Ryan Anderson (signed-and…

Share Tweet

Snoop Dogg Likes The New-Look Lakers

Sep 25

Snoop Dogg stops by the debate desk to discuss the Lakers chances of beating the Heat with Stephen A. Smith and Skip Bayless.

TrueHoop TV: Thoughts on #NBArank

Sep 25

TrueHoop's Henry Abbott and Kevin Arnovitz on Blake Griffin dropping in rank, and a debate on the best power forwards in the league.

Snoop Talks Football, Lakers

Sep 25

Snoop Dogg, also known as Snoop Lion, joins SportsCenter to talk about EA Sports FIFA13, controversial ending to Packers-Seahawks, being a fan of the Steelers and Raiders, Oregon's De'Anthony Thomas and the new-look Lakers.