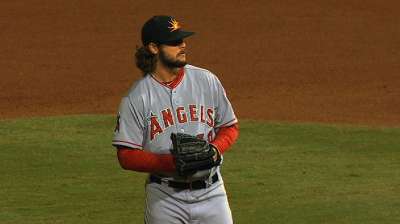 Alvarez called up in flurry of roster moves
MLB.com
Updated 1 hour ago
Of the four players that the Padres received from the Angels for All-Star closer Huston Street, none was held in higher regard than 23-year-old right-hander R.J. Alvarez. On Tuesday, the Padres sent a clear message -- they want to get a look at Alvarez,…
Upvote
Share
Tweet
Puig given another day off as Pederson starts

ESPN.com

1 hour ago

For the third time in his team's last nine games, Los Angeles Dodgers manager Don Mattingly held slumping outfielder Yasiel Puig out of the starting lineup.

Upvote Share Tweet

Influenced By Kobe's Work Ethic, Jodie Meeks Should Mentor Young Pistons

dimemag.com

7 hours ago

The Kobe Bryant stories just keep on coming. As the Los Angeles Lakers legend readies for the nineteenth season of his career, tales of Bryant's unmatched and relentless drive to improve have been added to his historical lore on a seemingly daily basis.…

Upvote Share Tweet

Oddsmaker won't even let you bet on Clayton Kershaw winning Cy Young

yahoo.com

9 hours ago

Los Angeles Dodgers left-hander Clayton Kershaw is running away (pitching away?) with the National League's Cy Young race, say gamblers who make their living on that kind of thing. Bovada.lv apparently believes that Kershaw is such a lock for Cy Young t…

Upvote Share Tweet

yahoo.com

9 hours ago

Looking at the latest Bovada betting odds for the NHL's 2014-15 season, a few things are clear about wagering on the division champions. 1. The Metro Division might be the only one that could turn you a decent profit, provided the Pittsburgh Penguins st…

Upvote Share Tweet

MLB.com

9 hours ago

Astros interim manager Tom Lawless will have an extra-long bench to work with in his debut on Tuesday, as Houston announced a series of September callups in advance of its game against the Angels.

Upvote Share Tweet

Back tightness has Nats' LaRoche day to day

MLB.com

21 hours ago

Nationals first baseman Adam LaRoche left Monday night's 6-4 victory over the Dodgers in the top of the seventh inning because of lower back tightness and was replaced by Kevin Frandsen.

Upvote Share Tweet

Dodgers put prospect Pederson right into fire

MLB.com

21 hours ago

Joc Pederson had the stage, had the drama, had family in the stands, had everything he needed Monday to make his first Major League at-bat the stuff of legend -- a true Hollywood debut.

Upvote Share Tweet

MLB.com nytimes.com

21 hours ago

Roberto Hernandez allowed four home runs in 4 1/3 innings pitched as the Dodgers dropped the series opener to the Nationals, 6-4, on Monday night. L.A. is two games up on San Francisco in the NL West after the loss.

Upvote Share Tweet

Rumor Roundup: Would a Boychuk-Yakupov trade solve two problems?

thehockeynews.com

Sep 1 (yesterday)

The Boston Bruins need to shed salary and address their logjam on defense remains a hot topic in this summer's NHL rumor mill. Much of the speculation centers on Johnny Boychuk, who will be eligible next summer for unrestricted free agency. The 30-year-…

Upvote Share Tweet

Bob Melvin calls Athletics 'pathetic' after Angels sweep four-game set

yahoo.com

Sep 1 (yesterday)

Your browser does not support iframes. Manager Bob Melvin verbally unloaded on his team Sunday — at least for Bob Melvin, it was unloading — after the Oakland Athletics were swept in a four-game series against the Los Angeles Angels. The Athletics fell …

Upvote Share Tweet

ESPN.com MLB.com nytimes.com

Aug 31 (yesterday)

Hyun-Jin Ryu came off the disabled list to pitch four-hit ball over seven innings, and Matt Kemp singled in the go-ahead run to help the Dodgers beat the Padres 7-1.

Upvote Share Tweet

Angels rout A's to complete 4-game sweep

ESPN.com

Aug 31 (2 days ago)

Mike Trout homered and drove in three runs, Matt Shoemaker pitched seven shutout innings, and the Angels completed a four-game sweep of the A's with an 8-1 win.

Upvote Share Tweet

Getting to Know: Ian Turnbull

thehockeynews.com

Aug 31 (2 days ago)

Status: NHL defenseman from 1973-83 with Toronto, Pittsburgh and Los Angeles. DOB: Dec. 22, 1953 In: Montreal Residence: Los Angeles First Hockey Memory: "Getting my first hockey stick at age five, started skating at three." Hockey Inspirations: "Bobby …

Upvote Share Tweet

After being shut out in consecutive games by the arch-rival Los Angeles Angels, the Oakland A's are adding some offensive thump ahead of the postseason eligibility deadline. On Sunday morning, the team announced they've acquired designated hitter Adam D…

Upvote Share Tweet

Mix and match: Eight-man effort shuts out A's

MLB.com

Aug 31 (3 days ago)

The Angels used eight pitchers on Saturday night as they beat Oakland, 2-0, to build a season-high four-game lead in the American League West and win their fifth game in a row.

Upvote Share Tweet

ESPN.com nytimes.com

Aug 31 (3 days ago)

The Los Angeles Angels used eight pitchers -- a franchise record for a nine-inning game -- in a 2-0 victory over Oakland that increased their AL West lead to four games.

Upvote Share Tweet

Clayton Kershaw SportsCenter Conversation

Sep 1

Clayton Kershaw sits down with Buster Olney to discuss his comments about this season being World Series or bust for the Dodgers and his relationship with Sandy Koufax.

Span's Big Bat Propels Nationals

Sep 1

Denard Span hit two home runs to lead the Nationals past the Dodgers 6-4.

Dodgers Avoid Sweep

Aug 31

Hyun-Jin Ryu struck out seven batters over seven innings to lead the Dodgers past the Padres 7-1.

Angels Sweep Athletics

Aug 31

The Angels tagged Scott Kazmir for six earned runs over 1 1/3 innings en route to defeating the Athletics 8-1.