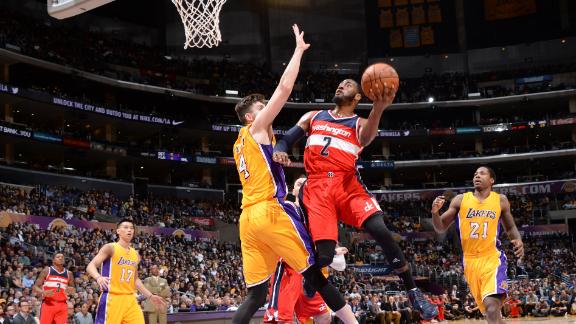 ESPN.com

3 hours ago

Frederik Andersen had to make only 17 saves in his third career shutout as the Anaheim Ducks defeated the Vancouver Canucks 4-0 on Tuesday night.

Upvote Share Tweet

Where will Moncada land among Major suitors?

MLB.com

4 hours ago

Cuban teenage prospect Yoan Moncada has worked out privately for the Yankees, Red Sox, Dodgers, Padres, Giants, Rangers and Brewers, according to sources. The Rays, Cubs, Phillies and Cardinals have also shown interest. The question remains: When will M…

Upvote Share Tweet

Old Man Paul Pierce blames 'computers' for less NBA trash talk

yahoo.com

7 hours ago

At 37 years old, Washington Wizards wing Paul Pierce is one of the oldest and most experienced players in the NBA. He has seen several eras of the league over his career, from the end of Michael Jordan's dominance to the peak of the Kobe-Shaq Lakers to …

Upvote Share Tweet

Angels to keep Baldoquin in Minor League camp

MLB.com

9 hours ago

The Angels have opted against inviting Roberto Baldoquin to Major League Spring Training, mostly because they'll have a lot of infielders competing for jobs, but also because they want to give Baldoquin a chance to develop on his own time without added …

Upvote Share Tweet

thehockeynews.com

9 hours ago

Veteran right winger Radek Dvorak, who played 1,260 career regular-season NHL games with seven teams over 18 years, retired Tuesday. The 37-year-old Dvorak was drafted by the Florida Panthers 10th overall in 1995, and developed into a solid, if unspecta…

Upvote Share Tweet

Remember Mike Richards? Not the fourth-liner that cleared waivers for the Los Angeles Kings and was demoted to AHL Manchester on Tuesday. That's not the guy we're talking about here. The Mike Richards we remember was a Selke-worthy defensive center with…

Upvote Share Tweet

Was Matt Barnes' $25K fine culled from an curse-fest with Suns owner Robert Sarver?

yahoo.com

10 hours ago

Partway through the second quarter of his team's game against the Phoenix Suns on Sunday, Los Angeles Clippers swingman Matt Barnes directed some inappropriate language at a fan that was sitting courtside on the baseline. For Barnes, who had a rough 1-9…

Upvote Share Tweet

NHL.com

10 hours ago

EL SEGUNDO, Calif. - The Los Angeles Kings have assigned Mike Richards to their AHL affiliate after the high-priced centre cleared waivers. The Kings assigned Richards to the Manchester Monarchs on Tuesday after no NHL team picked him up. ...

Upvote Share Tweet

Los Angeles Clippers forward Matt Barnes has been fined $25,000 for directing inappropriate language toward a fan.

Upvote Share Tweet

dimemag.com

12 hours ago

Nick Young has a plan for the Los Angeles Lakers now that Kobe Bryant is sidelined for the season's remainder. Unfortunately for all of us, he'll have to wait a bit for the chance to execute it. Swaggy P has been ruled out for tonight's game against the…

Upvote Share Tweet

Blake Griffin Blames Glen Davis' In-Game Outburts On Sandwiches

dimemag.com

14 hours ago

We love sandwiches. You love sandwiches. Everyone loves sandwiches. Can you really blame Glen Davis for getting overly excited about the post-game prospect about a delicious Italian sub? Blake Griffin sure seems like he does. Blake Griffin on Glen Davis…

Upvote Share Tweet

yahoo.com ESPN.com deadspin.com

Jan 27 (yesterday)

Los Angeles Clippers reserve scorer Jamal Crawford came into Monday night's home game vs. the Denver Nuggets in a poor run of form. Crawford hadn't shot 50 percent or better from the field since January 10 (for seven consecutive games), an issue for a p…

Upvote Share Tweet

yahoo.com dimemag.com

Jan 27 (yesterday)

Los Angeles Clippers is known as one of the NBA's surest highlight producers, a guy who will put up at least a few big-time dunks every month. It's part of his reputation now, to the point where each individual play doesn't really come as a surprise eve…

Upvote Share Tweet

Clippers' Barnes Blames Suns Owner For Rant

Jan 27

ESPNLosAngeles.com's Arash Markazi breaks down Clippers forward Matt Barnes' claim that his use of inappropriate language was directed at Suns owner Robert Sarver.

Bryant Wanted To Be MJ's Teammate

Jan 26

Washington Post reporter Michael Lee discusses Kobe Bryant's desire to join Michael Jordan while he was playing with the Washington Wizards.

Kobe To Have Surgery On Torn Rotator Cuff

Jan 26

Ramona Shelburne reacts to the news that Lakers guard Kobe Bryant will undergo surgery to repair a torn rotator cuff in his right shoulder and is expected to miss the rest of the season.

Harden's Big Game Lifts Rockets

Jan 25

James Harden scored 37 points to lead the Rockets past the Lakers 99-87.