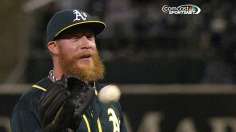 The AL West may not be decided over the next 10 days, but the seven-game heavyweight fight scheduled between the Los Angeles Angels and Oakland A's during that time frame will be the closest thing to late September and October baseball that we can exper…
Upvote
Share
Tweet
Angel Stadium sustains flooding and water damage after pipe bursts

yahoo.com

1 hour ago

While the AL West leading Los Angeles Angels were opening up a key weekend series against the second place Oakland A's at O.co Coliseum, people stationed at their home ballpark, Angel Stadium in Anaheim, were dealing with issues that have unfortunately …

Upvote Share Tweet

Dodgers 6, Mets 2: Errors Make for Comedy, but the Mets Aren't Amused

nytimes.com

10 hours ago

Wilmer Flores committed two of the Mets' three errors, including an embarrassing fall as he tried to make a throw, and the team lost for the seventh time in 10 games.

Upvote Share Tweet

A's strike first vs. division-leading Angels

ESPN.com

11 hours ago

Sonny Gray ended a monthlong losing streak, pitching into the ninth inning and leading the Oakland Athletics over the Los Angeles Angels 5-3 on Friday night in a matchup of AL West rivals.

Upvote Share Tweet

nytimes.com MLB.com

12 hours ago

Dan Haren overcame a leadoff homer by Curtis Granderson and a pair of failed sacrifice bunt attempts to help the Los Angeles Dodgers beat the error-prone New York Mets 6-2 on Friday night.

Upvote Share Tweet

ESPN.com

15 hours ago

Los Angeles Angels pitcher Garrett Richards underwent surgery Friday to repair the torn patellar tendon in his left knee.

Upvote Share Tweet

Joc Pederson's 1994 Buick Century to be given away by Albuquerque Isotopes

yahoo.com

18 hours ago

It won't be long before Joc Pederson, the 19th ranked prospect according to MLB.com's middle-season rankings, is living the major league life with the Los Angeles Dodgers. In fact, it's expected he'll get his first taste this September as a role player …

Upvote Share Tweet

What Baseball's Most Famous Brawl Photo Didn't Show You

deadspin.com

22 hours ago

It's been 49 years since Giants ace Juan Marichal clocked Dodgers catcher John Roseboro with his bat. The moment was captured in Neil Leifer's iconic photograph, which in turn shaped the collective memory of the incident. Today, Marichal is remembered a…

Upvote Share Tweet

The White Sox recalled infielder Carlos Sanchez from Triple-A Charlotte on Friday to replace Gordon Beckham, who on Thursday was traded to the Angels.

Upvote Share Tweet

We Reminisce: The Time A Young Michael Jordan Tried To Dunk On Kareem

dimemag.com

Aug 22 (yesterday)

It's hard for a certain generation of basketball fans to remember how regal and dominating Kareem Abdul-Jabbar was during his 20-year Hall-of-Fame career. The stalwart Bucks and Lakers center won six MVP awards and was named Finals MVP 14 years apart (1…

Upvote Share Tweet

deadspin.com yahoo.com MLB.com

Aug 22 (yesterday)

A day after losing Cy Young candidate Garrett Richards for the year to a freak knee injury, the Angels got an unexpected lift: rookie starter Matt Shoemaker stepped up with the game of his life. He had a no hitter going until two outs in the seventh, wh…

Upvote Share Tweet

ESPN.com nytimes.com MLB.com

Aug 22 (yesterday)

Clayton Kershaw scattered three hits over eight innings while outdueling Tyson Ross, Justin Turner hit a two-run homer and the first-place Los Angeles Dodgers rallied to beat the San Diego Padres 2-1 Thursday night.

Upvote Share Tweet

Haren Helps Dodgers Beat Mets

Aug 22

Dan Haren struck out six and had one RBI in the Dodgers' 6-2 win over the Mets.

A's Hold Off Angels

Aug 22

Oakland beat Los Angeles 5-3 to pull within one game of the division-leading Angels.

Angels Sweep Red Sox

Aug 21

Matt Shoemaker and the Angels held the Red Sox to one hit in Los Angeles' 2-0 win over Boston.

Jeremy Lin Pies His Mom

Aug 21

Lakers guard Jeremy Lin stuck a pie in his mom's face for her birthday.