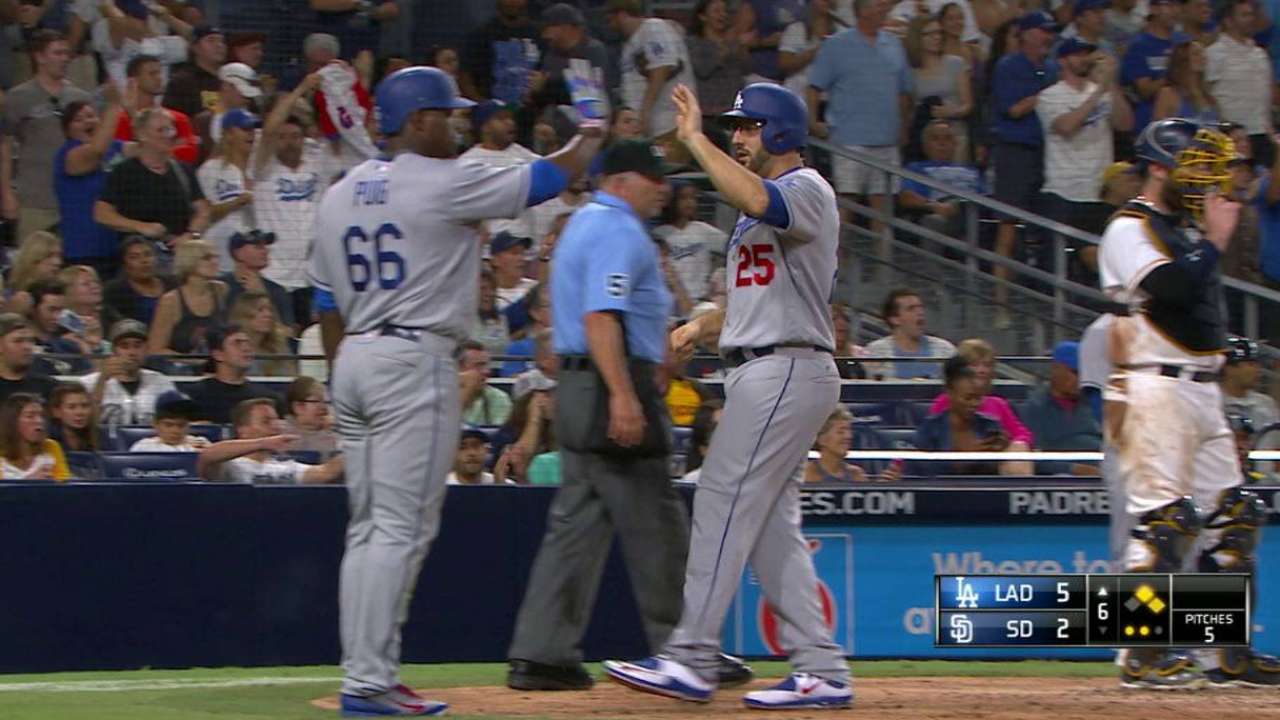 nytimes.com
MLB.com
Updated 7 hours ago
Rookie left-hander Julio Urias got a final tuneup for what he hopes will be a spot on the Los Angeles Dodgers' postseason roster.
Share
Tweet
Rookies Infuse Life Into Rebuilding Padres on Last Homestand

nytimes.com

6 hours ago

The rebuilding San Diego Padres went 6-4 on their final homestand, including splitting a four-game series with the San Francisco Giants and taking two of three from the NL West champion Los Angeles Dodgers.

Share Tweet

Roberts adds Toles to LA's NLDS roster

MLB.com

7 hours ago

Dodgers manager Dave Roberts confirmed on Thursday that rookie outfielder Andrew Toles would be on the postseason roster.

Share Tweet

MLB.com

8 hours ago

The season-long retirement party for Dodgers broadcaster and baseball legend Vin Scully is in full swing and nearing its close. With each inning and each pitch called in Scully's unforgettable voice, we realize that the 67-year reign of the king of the …

Share Tweet

ESPN.com dimemag.com

10 hours ago

Class in session: Kevin Garnett delivers hoop lessons to Clippers

Share Tweet

Ross Throws 90 Pitches in 4 Innings; Nats Top Arizona 5-3

nytimes.com

16 hours ago

Sure, the Washington Nationals would love to lock up home-field advantage in the NL Division Series against the Los Angeles Dodgers. What Dusty Baker is more concerned about is getting ready for the playoffs, and that includes having pitcher Joe Ross re…

Share Tweet

deadspin.com MLB.com nytimes.com ESPN.com

18 hours ago

Padres outfielder Hunter Renfroe absolutely hammered a two-run homer in Wednesday's home game against the Dodgers. Send that baseball's family a wreath.Read more...

Share Tweet

yahoo.com

22 hours ago

The Los Angeles Dodgers have been yanking their rookie pitcher Julio Urias around a bit this month. At the beginning of September, Urias was starting for the Dodgers. Then, on September 13, manager Dave Roberts said that they'd move Urias to the bullpen…

Share Tweet

Trout leaves game after hit by pitch

MLB.com

Sep 29 (yesterday)

Angels outfielder Mike Trout left Wednesday's game against the A's in the eighth inning after he was hit behind the left shoulder by a pitch from Oakland reliever John Axford.

Share Tweet

nytimes.com MLB.com

Sep 29 (yesterday)

The Los Angeles Angels saw one of their future stars make strides but may have lost their biggest star for the last days of the season, as Mike Trout exited the game after taking a fastball to the shoulder.

Share Tweet

yahoo.com

Sep 28 (yesterday)

Can the team with baseball's highest payroll actually turn themselves into an underdog? That was the case with the Los Angeles Dodgers, who somehow overcame a record number of injuries to push themselves into the postseason. At multiple times during the…

Share Tweet

yahoo.com

Sep 28 (yesterday)

Mitch Kupchak, Luke Walton and Jim Buss stand uneasily. (Getty Images) If you want to get technical with things – and there are a whole lot of Los Angeles Lakers fans that would love to get harshly pedantic with this sort of "thing" – Lakers president o…

Share Tweet

MLB.com

Sep 28 (2 days ago)

Jefry Marte broke open Tuesday's victory over the A's with his first career grand slam, as the Angels rolled to a lopsided win.

Share Tweet

Marte, Nolasco Lead Angels Over A's 8-1

nytimes.com

Sep 28 (2 days ago)

Rookie Jefry Marte hit his first career grand slam in a seven-run fourth inning Tuesday night and the Los Angeles Angels beat the Oakland Athletics 8-1.

Share Tweet

Steve Nash Announces Retirement

Mar 21

Stephen A. Smith discusses Steve Nash's retirement and his place among the greatest point guards in history.

Steve Nash On Decision To Retire

Mar 21

Two-time NBA MVP Steve Nash discusses his time with the Lakers, legacy questions, and his decision to retire.

Kershaw Struck By Liner, Loses Part Of Tooth

Mar 20

Clayton Kershaw was hit by Andy Parrino's broken-bat liner in the bottom of the third inning in the Dodgers' 3-2 loss to the A's. Kershaw remained in the game.

Ducks Edge Avs In Overtime

Mar 20

Corey Perry's overtime goal lifted the Ducks past the Avs 3-2.