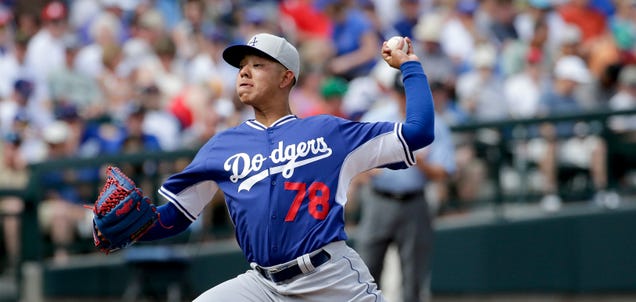 nytimes.com
ESPN.com
deadspin.com
MLB.com
yahoo.com
Updated 6 hours ago
A look at what's happening all around the majors today:
Share
Tweet
yahoo.com

15 hours ago

Your browser does not support iframes. Major League Baseball used two iconic symbols of America's pastime Thursday to introduce an unprecedented effort with the National Baseball Hall of Fame to share the game's rich history with its fans. Legendary Los…

Share Tweet

Dodgers' Utley expects hostile fans at Citi Field

ESPN.com

15 hours ago

Dodgers' Utley expects hostile fans at Citi Field

Share Tweet

dimemag.com

20 hours ago

Getty Image Troubling times have befallen the Golden State Warriors. Down 3-1 in the Western Conference Finals, Golden State's fairytale season teeters on a cliff. The superhuman shotmaking between Steph Curry and Klay Thompson has vanished into thin ai…

Share Tweet

yahoo.com

24 hours ago

Daylen Hopkins is a hockey fan on Twitter, and a bold one at that. Back in February, Hopkins couldn't believe that the Chicago Blackhawks and the Los Angeles Kings were mortal. So he made a bold prediction for the Stanley Cup Playoffs, tweeting the foll…

Share Tweet

nytimes.com MLB.com

May 26 (yesterday)

The Los Angeles Dodgers finished a three-game sweep of the last-place Cincinnati Reds and extended their winning streak to a season-high four games.

Share Tweet

Steve Nash Announces Retirement

Mar 21

Stephen A. Smith discusses Steve Nash's retirement and his place among the greatest point guards in history.

Steve Nash On Decision To Retire

Mar 21

Two-time NBA MVP Steve Nash discusses his time with the Lakers, legacy questions, and his decision to retire.

Kershaw Struck By Liner, Loses Part Of Tooth

Mar 20

Clayton Kershaw was hit by Andy Parrino's broken-bat liner in the bottom of the third inning in the Dodgers' 3-2 loss to the A's. Kershaw remained in the game.

Ducks Edge Avs In Overtime

Mar 20

Corey Perry's overtime goal lifted the Ducks past the Avs 3-2.