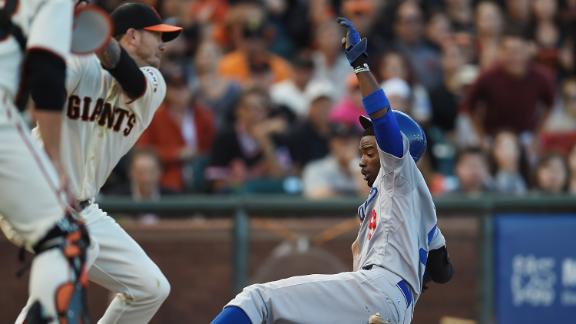 ESPN.com
Updated 4 hours ago
Carl Crawford hit an RBI triple to back Hyun-Jin Ryu's third straight victory, and the division-leading Los Angeles Dodgers completed a sweep of the San Francisco Giants with a 4-3 victory Sunday night.
Upvote
Share
Tweet
First-Place Dodgers Complete Sweep of Giants

nytimes.com

4 hours ago

Manager Don Mattingly hardly considers a late-July sweep in San Francisco a turning point to put his Dodgers in the driver's seat atop the NL West.

Upvote Share Tweet

nytimes.com

6 hours ago

Manny Machado hit a bases-loaded sacrifice fly in the 10th inning, and the visiting Baltimore Orioles beat the Seattle Mariners, 3-2.

Upvote Share Tweet

Dodgers hopeful U.S. reps can help TV deal

ESPN.com

9 hours ago

The Dodgers were hopeful Sunday that a new effort by a group of Southern California lawmakers could break the stalemate that has deprived about 70 percent of the Los Angeles market of the team's local broadcasts.

Upvote Share Tweet

nba.com

13 hours ago

The Los Angeles Lakers have waited nearly three months to hire a new coach, and they're apparently making Byron Scott wait a few more days.

Upvote Share Tweet

Derek Jeter and the Angels have almost perfected the 'silent treatment'

yahoo.com

15 hours ago

Lost in the craziness that has been Major League Baseball this weekend was a monumental occurrence for New York Yankees outfielder Ichiro Suzuki. Well, monumental relative to his recent production anyway. The 40-year-old veteran actually entered play on…

Upvote Share Tweet

Dodgers And Diamondbacks AAA Teams In Sprawling, Benches-Clearing Brawl

deadspin.com

17 hours ago

Tempers flared in the second inning with the first pitch of the at bat between Reno Aces (AZ) pitcher Mike Bolsinger and Albuquerque Isotopes (LA) shortstop Erisbel Arruebarrena. Bolsinger threw up and in and Arruebarrena had to duck out of the way, as …

Upvote Share Tweet

The Los Angeles Dodgers and Arizona Diamondbacks were involved in baseball's biggest bench-clearing altercation during the 2013 season. On Saturday, their Triple-A teams took things to a whole new level of crazy, engaging in a wild brawl that at one poi…

Upvote Share Tweet

Dodgers', D-backs' Triple-A clubs involved in fracas

MLB.com

Jul 27 (yesterday)

Two bench-clearing incidents occurred in Saturday's Pacific League matchup between the Triple-A clubs of the Dodgers and D-backs when Arizona affiliate, the Reno Aces, hosted Los Angeles affiliate, the Albuquerque Isotopes.

Upvote Share Tweet

yahoo.com

Jul 27 (yesterday)

The Stew's Trade Talk Tracker follows the juiciest rumors in MLB until the non-waiver trade deadline on July 31. We'll give you the day's most important links about who may (or may not) be changing teams soon. MATT KEMP UPDATE: The Dodgers aren't close …

Upvote Share Tweet

MLB.com ESPN.com nytimes.com

Jul 27 (yesterday)

Clayton Kershaw's campaign for a third National League Cy Young Award continued with a two-hit shutout as the Dodgers beat the Giants, 5-0, on Saturday night, reclaiming the top spot in the NL West for the first time since the All-Star break.

Upvote Share Tweet

nytimes.com ESPN.com

Jul 27 (yesterday)

After a weekend filled with mostly miserable swings, David Freese surprised his teammates, the Angel Stadium fireworks crew and even himself when he hit a tiebreaking homer.

Upvote Share Tweet

Sandoval's Diving Grab

Jul 27

Giants third baseman Pablo Sandoval extended his reach to snag a potential hit and throw to first base for the out in the fifth inning.

Pence Puts Giants On The Board

Jul 27

Hunter Pence hit an infield dribbler that Hanley Ramirez couldn't grab and put the Giants up 1-0 in the third inning.

Freese's Late Home Run Lifts Angels

Jul 27

Baseball Tonight Spotlight: David Freese's sixth home run of the season gave the Angels a 2-1 win over the Tigers.

Scott Bringing Accountability, Pride Back To L.A.

Jul 27

ESPNLosAngeles.com's Dave McMenamin explains why Byron Scott was a great choice as the Lakers' new coach.