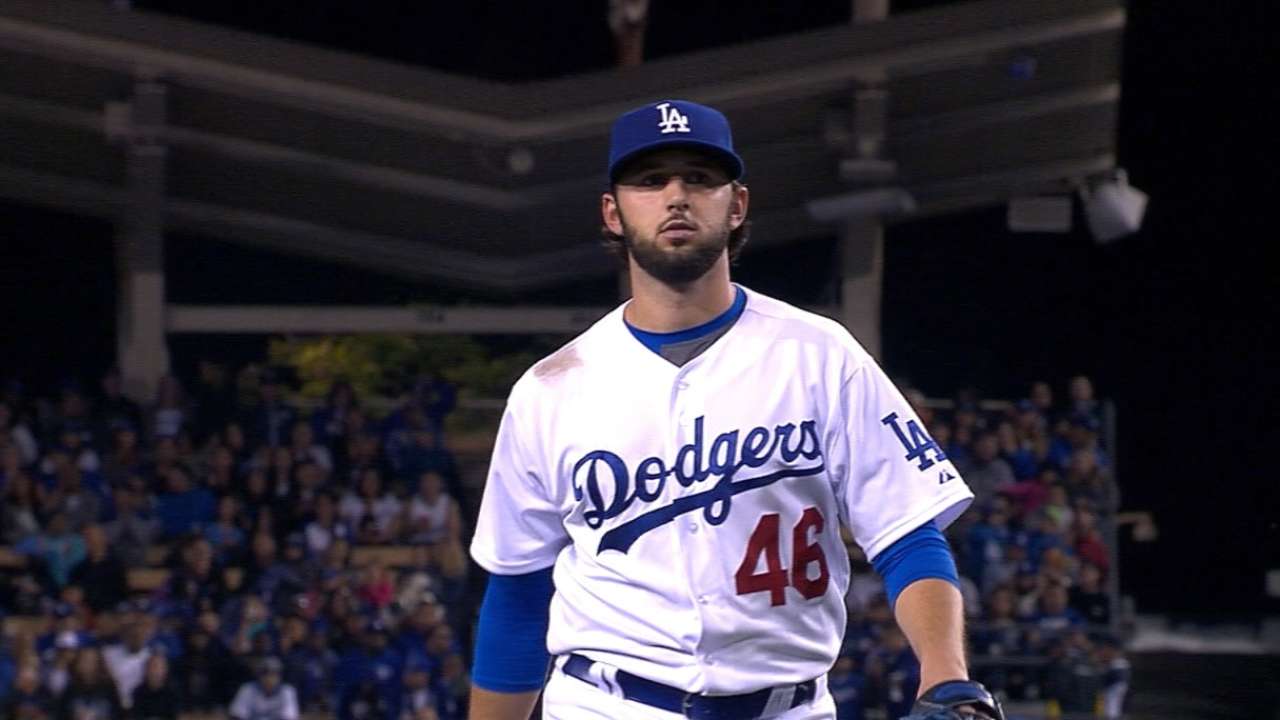 yahoo.com
MLB.com
nytimes.com
Updated 1 hour ago
Take a look around the league with Big League Stew's daily wrap up. We'll hit on all of the biggest moments from the day that you may have missed, while providing highlights, photos and interesting stats. How's this for a pitching performance? Los Angel…
Share
Tweet
yahoo.com thehockeynews.com

1 hour ago

No. 1 Star: Antoine Vermette, Chicago Blackhawks Vermette was displeased after being healthy-scratched in Game 3. In Game 4, he made sure Joel Quenneville would not make the same mistake again. Vermette was 14-6 on the face-off dot. Oh, and scored the g…

Share Tweet

Victorino exits game due to calf tightness

MLB.com

4 hours ago

The struggling Red Sox offense was expecting to rely on Shane Victorino as its No. 2 hitter against the Angels on Saturday, but the oft-injured outfielder had to be removed from the game after tweaking his left calf during the third inning.

Share Tweet

NHL.com

5 hours ago

CHICAGO -- The top line of the Chicago Blackhawks dominated the early part of the third period Saturday and scored twice to give them a two-goal lead at 7:38. But by the time Jonathan Toews, Brandon Saad and Marian Hossa returned to the ice for...

Share Tweet

Napoli blasts 2 HRs as Red Sox top Angels

MLB.com

5 hours ago

Coming off perhaps their ugliest loss of the season, the Red Sox responded with their most well-rounded game in weeks en route to an 8-3 victory over the Angels on Saturday at Fenway Park.

Share Tweet

thehockeynews.com

6 hours ago

The Chicago Blackhawks were all over the Anaheim Ducks in the first period of Game 4, but it wasn't until the Hawks went down shorthanded that they managed to break the game open with a thrilling shorthanded tally from Brandon Saad. The 22-year-old forc…

Share Tweet

yahoo.com

12 hours ago

Before Anaheim's Western Conference Final series with the Blackhawks, the Ducks were seen as a pretty good team and an even match for Chicago. Now, after three games in the Western Conference Final and a 2-1 series lead, one has to wonder if the Ducks w…

Share Tweet

yahoo.com

13 hours ago

On Wednesday, we learned that Los Angeles Dodgers left-hander Hyun-jin Ryu — the team's No. 3 starter the past two seasons behind Clayton Kershaw and Zack Greinke — would be facing surgery on his ailing left shoulder and would likely miss the remainder …

Share Tweet

yahoo.com

15 hours ago

One of the more unusual and admittedly entertaining moments during the 2013 postseason occurred when Scott Van Slyke of the Los Angeles Dodgers and Joe Kelly, then of the St. Louis Cardinals, engaged in a standoff immediately following the national anth…

Share Tweet

Zack Greinke walks the highwire for a slumping Los Angeles Dodgers team

ESPN.com

May 23 (yesterday)

Zack Greinke walks the highwire for a slumping Los Angeles Dodgers team

Share Tweet

ESPN.com

May 23 (yesterday)

Red Sox hit reset button with Rusney Castillo, but Angels bowl them over

Share Tweet

Steve Nash Announces Retirement

Mar 21

Stephen A. Smith discusses Steve Nash's retirement and his place among the greatest point guards in history.

Steve Nash On Decision To Retire

Mar 21

Two-time NBA MVP Steve Nash discusses his time with the Lakers, legacy questions, and his decision to retire.

Kershaw Struck By Liner, Loses Part Of Tooth

Mar 20

Clayton Kershaw was hit by Andy Parrino's broken-bat liner in the bottom of the third inning in the Dodgers' 3-2 loss to the A's. Kershaw remained in the game.

Ducks Edge Avs In Overtime

Mar 20

Corey Perry's overtime goal lifted the Ducks past the Avs 3-2.

Sports Columnists

2015 NBA playoffs - Golden State Warriors learning what it takes to be cha…

May 21

Steve Kerr is trying to impress upon his inexperienced Warriors just how hard the playoffs can be, without them actually proving it by adding to the degree of difficulty.

NBA Playoffs 2015 - Golden State Warriors and Houston Rockets going small …

May 21

The Western Conference finals are downsizing. And while Houston has no problem going small, it might be playing right into Golden State's hand.