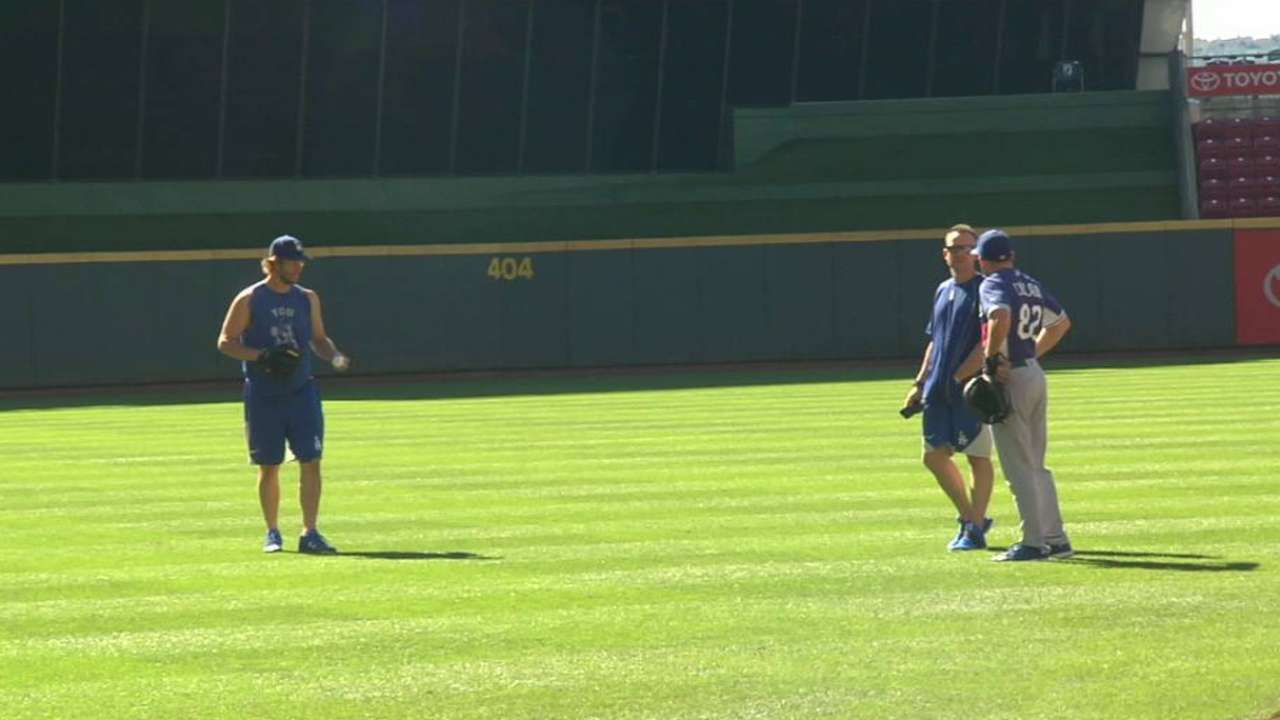 Dodgers ace Clayton Kershaw will take the next step in his recovery from a herniated disk in his lower back on Tuesday, facing hitters in a simulated game setting.
Share
Tweet
Ejection Night: 4 Tigers Tossed vs Angels, Win Streak Ends

nytimes.com

13 hours ago

Unhappy because they felt the calls weren't being made evenly, the Detroit Tigers expressed their displeasure — several times.

Share Tweet

ESPN.com nytimes.com

15 hours ago

Dodgers confident after striking back against Cubs

Share Tweet

MLB.com

16 hours ago

Starter Julio Urias recovered from a shaky beginning and fellow rookie Corey Seager slugged a record-breaking home run Saturday as the Dodgers held on to edge the Cubs, 3-2, in a battle of first-place teams.

Share Tweet

nytimes.com yahoo.com

21 hours ago

As players pass through Dodger Stadium, they visit Scully, 88, the Dodgers' announcer who is retiring this year, ending a career that began in 1950.

Share Tweet

Jonathan Quick pays tribute to Special Forces with World Cup mask

thehockeynews.com

23 hours ago

Jonathan Quick's mask design has been pretty standard over the past several seasons. When he's played for the Los Angeles Kings, Quick's mask has been painted to look like a knight's helmet. And when he's gone off to play for Team USA, the helmet has be…

Share Tweet

yahoo.com

Aug 27 (yesterday)

Under no circumstances do we endorse a baseball player laying down on the job. Well, unless that player is Los Angeles Dodgers second baseman Chase Utley. He's the exception, because apparently laying flat on his back in no way hinders his ability to pl…

Share Tweet

Playoff previews on tap for full MLB.TV slate

MLB.com

Aug 27 (yesterday)

For fans eager for the postseason, today's Major League schedule offers a potential preview of what's to come in October. Four division-leaders -- Cubs at Dodgers and Indians at Rangers -- and two Wild Card contenders -- Royals at Red Sox -- are among t…

Share Tweet

Playoff preview? Joe Maddon downplays Cubs-Dodgers series

ESPN.com

Aug 27 (yesterday)

Playoff preview? Joe Maddon downplays Cubs-Dodgers series

Share Tweet

Steve Nash Announces Retirement

Mar 21

Stephen A. Smith discusses Steve Nash's retirement and his place among the greatest point guards in history.

Steve Nash On Decision To Retire

Mar 21

Two-time NBA MVP Steve Nash discusses his time with the Lakers, legacy questions, and his decision to retire.

Kershaw Struck By Liner, Loses Part Of Tooth

Mar 20

Clayton Kershaw was hit by Andy Parrino's broken-bat liner in the bottom of the third inning in the Dodgers' 3-2 loss to the A's. Kershaw remained in the game.

Ducks Edge Avs In Overtime

Mar 20

Corey Perry's overtime goal lifted the Ducks past the Avs 3-2.