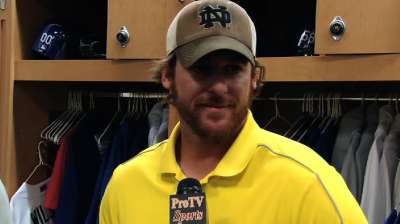 Angels put OF Calhoun on DL, call up Boesch

ESPN.com

1 hour ago

The Los Angeles Angels have placed outfielder Kole Calhoun on the 15-day disabled list Wednesday because of a sprained ligament in his right ankle and selected outfielder Brennan Boesch to the major league roster.

Upvote Share Tweet

Johnson finding form since 'break' from closing

MLB.com

3 hours ago

A's right-hander Jim Johnson is still on "a break" from closing, but the man who saved 101 games the past two seasons for the Orioles seems headed in the right direction again after picking up victories over the Angels in the first two games o…

Upvote Share Tweet

LIVE: Ducks open playoffs against Stars

CNNSI.com

3 hours ago

The Ducks are cruising against the upstart Stars and currently hold a 4-0 lead over Dallas in Game 1 in Anaheim.

Upvote Share Tweet

MLB.com

3 hours ago

Dodgers ace Clayton Kershaw, currently on the disabled list, came out of his bullpen session Tuesday well enough to play catch from 100 feet Wednesday and flip breaking balls on flat ground.

Upvote Share Tweet

Thompson likens Griffin to 'bull in china shop'

ESPN.com

3 hours ago

A first round match-up between the Los Angeles Clippers and Golden State Warriors isn't even official yet and already the trash talking between the two teams has started.

Upvote Share Tweet

Kobe Bryant went to France before the Lakers finale, refers to season as 's---'

yahoo.com

4 hours ago

This Los Angeles Lakers season was always going to be a trying one full of challenges, but the reality has been something akin to a worst-case scenario. L.A.'s most popular squad enters Wednesday night's season finale at the San Antonio Spurs with a 26-…

Upvote Share Tweet

Sources: Kobe to begin workouts after trip

ESPN.com

6 hours ago

Los Angeles Lakers guard Kobe Bryant has been cleared to resume running and shooting and will begin an intense, six-month training program next week upon his return from a short family trip to Europe, sources with knowledge of the situation told ESPN.

Upvote Share Tweet

Gregg Popovich 'really impressed' with Spurs putting aside Finals flameout, soaring to No. 1 seed

yahoo.com

7 hours ago

If the San Antonio Spurs beat the Los Angeles Lakers in their regular-season finale on Wednesday, they will finish the year at 63-19, tying a franchise record for wins. Even if they don't, they will enter the postseason this weekend as the No. 1 overall…

Upvote Share Tweet

NHL.com thehockeynews.com

7 hours ago

SAN JOSE, Calif. - For more than a decade there have been no questions about who will start in goal for the San Jose Sharks come playoff time. Whether it was Evgeni Nabokov or Antti Niemi, the Sharks have had a clear-cut No. 1 goalie and stuc...

Upvote Share Tweet

Kobe Bryant Says Fuck It, I'm Starting My Vacation Now

deadspin.com

8 hours ago

The L.A. Times reports that Kobe Bryant has already jetted off to France for a family vacation, even as the Lakers prepare to play the final game of the regular season tonight in San Antonio. That was news to a team spokesperson.Read more...

Upvote Share Tweet

Lakers coach D'Antoni uncertain about future

ESPN.com

8 hours ago

The Los Angeles Lakers play their final game of the worst season in franchise history on Wednesday against the San Antonio Spurs. Will it also be the final game of Mike D'Antoni's tenure with the team? The coach says his future is still undetermined.

Upvote Share Tweet

The Los Angeles Clippers' Blake Griffin has received a one-game suspension without pay for receiving his 16th technical foul of the 2013-14 season, it was announced today by Rod Thorn, President, Basketball Operations.

Upvote Share Tweet

Same Old Spurs

Apr 16

Bruce Bowen discusses how the Spurs keep on winning season after season.

Championship Contenders

Apr 16

The NBA Countdown crew breaks down their championship contenders.

Knicks Sign Lamar Odom

Apr 16

ESPNNewYork.com's Ian Begley breaks down the Knicks' signing of forward Lamar Odom.

Puig Gets Threats Over Defection

Apr 16

ESPN The Magazine contributing writer Scott Eden breaks down the story of Yasiel Puig getting threatened over his 2012 defection from Cuba.