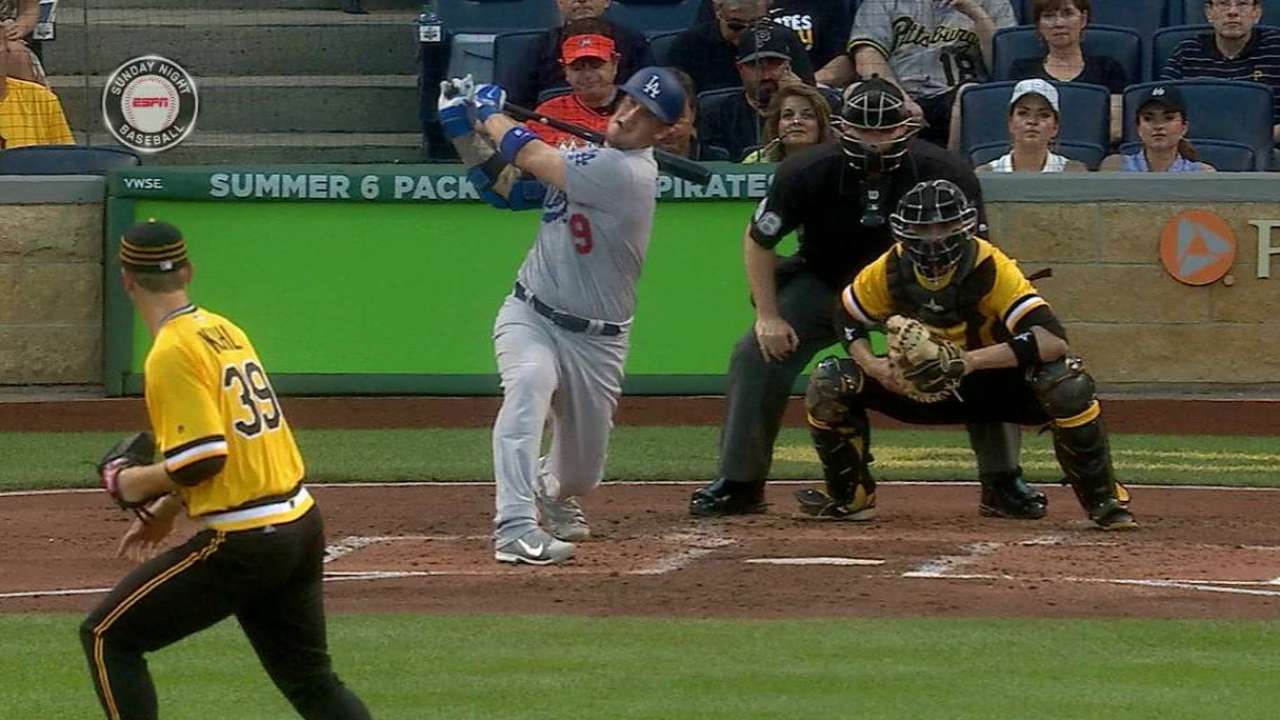 MLB.com
nytimes.com
Updated 12 hours ago
Sparked by one rookie on the mound and another in right field, the Pirates beat the seemingly unbeatable Clayton Kershaw on Sunday night at PNC Park, riding a four-run second inning to a 4-3 victory over the Dodgers.
Share
Tweet
Dodgers rookie Corey Seager posting All-Star credentials

ESPN.com

1 hour ago

Dodgers rookie Corey Seager posting All-Star credentials

Share Tweet

This Lakers Lowlight Reel Takes Dead Aim At Former Head Coach Byron Scott

dimemag.com

2 hours ago

Lakers fans can be forgiven for trying to forget the Byron Scott head coaching era. For an organization with such a championship pedigree, his 38-126 record is not something they'd like to dwell on. But YouTube user ByronScottGoat apparently couldn't le…

Share Tweet

Marte's sac fly caps Halos' comeback vs. A's

MLB.com

14 hours ago

Jefry Marte scored Mike Trout on a sac fly with one out in the ninth inning as the Angels enjoyed a walk-off win over the A's, 7-6, to snap a six-game losing streak. It was the fourth walk-off win for the Halos this season.

Share Tweet

dimemag.com

16 hours ago

USA TODAY Sports Aside from Kevin Durant, Miami Heat center Hassan Whitside is arguably the most intriguing (and somewhat befuddling) free agent of 2016. Any number of teams are set to make a run at him, with the Los Angeles Lakers being the most recent…

Share Tweet

ESPN.com

21 hours ago

The Dodgers' one-man show: Clayton Kershaw's best season yet

Share Tweet

Ramirez claimed off waivers by Angels

MLB.com

21 hours ago

Reliever JC Ramirez was claimed off of waivers from the Reds by the Angels, it was announced on Sunday afternoon.

Share Tweet

DeMar DeRozan Will Allegedly Refuse Other Teams And Work To Re-Sign In Toronto

dimemag.com

23 hours ago

USA TODAY Sports It's sounded like DeMar DeRozan has wanted to return to the Toronto Raptors for some time. Sure, he is a free agent this offseason and teams like the Lakers seem interested in acquiring the 26-year-old guard, but it's seemed like it wou…

Share Tweet

MLB.com

Jun 26 (yesterday)

Angels designated hitter Albert Pujols officially passed Hall of Fame slugger Harmon Killebrew for 11th on the all-time home run list Saturday night at Angel Stadium, knocking career home run No. 574 off of Oakland left-hander Dillon Overton in the bott…

Share Tweet

Angels Rally for 7-6 Win Over Athletics

nytimes.com

Jun 26 (yesterday)

Mike Trout got the Los Angeles Angels in position for an unlikely win, and Jeffry Marte finished the job.

Share Tweet

Overton gets win in big league debut vs. Halos

MLB.com

Jun 26 (yesterday)

Danny Valencia's two-run, first-inning home run boosted Dillon Overton in his Major League debut as the Athletics beat the Angels, 7-3, to claim their third straight in the four-game set.

Share Tweet

Steve Nash Announces Retirement

Mar 21

Stephen A. Smith discusses Steve Nash's retirement and his place among the greatest point guards in history.

Steve Nash On Decision To Retire

Mar 21

Two-time NBA MVP Steve Nash discusses his time with the Lakers, legacy questions, and his decision to retire.

Kershaw Struck By Liner, Loses Part Of Tooth

Mar 20

Clayton Kershaw was hit by Andy Parrino's broken-bat liner in the bottom of the third inning in the Dodgers' 3-2 loss to the A's. Kershaw remained in the game.

Ducks Edge Avs In Overtime

Mar 20

Corey Perry's overtime goal lifted the Ducks past the Avs 3-2.