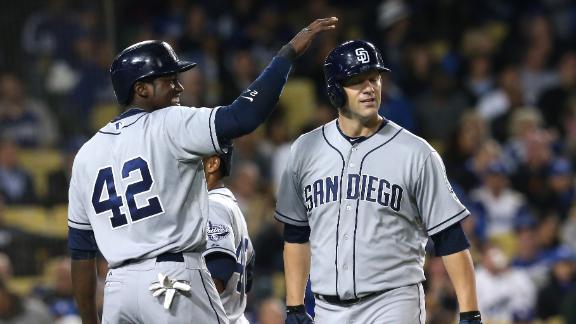 The Dodgers, aware of the spotlight on them for Jackie Robinson Day, said before Monday night's game with the Padres that there would be no retaliation for last week's brawl that led to pitcher Zack Greinke breaking his left collarbone.
Share
Tweet
A Brooklyn Dodgers ballboy during Jackie Robinson's rookie season helped honor the baseball pioneer Monday by throwing out the ceremonial first pitch at the Miami Marlins-Washington Nationals game.

Share Tweet

ESPN.com

Apr 15, 2013

Los Angeles Clippers guard Chauncey Billups practiced Monday and is expected to start Tuesday against the Portland Trail Blazers.

Share Tweet

nba.com

Apr 15, 2013

The New York Knicks' Carmelo Anthony and the Los Angeles Lakers' Kobe Bryant today were named Eastern and Western Conference Players of the Week, respectively, for games played Monday, April 8 through Sunday, April 14.

Share Tweet

Dodgers Fan Who Was Forced To Change Shirt: D-Backs Owner "Is A Bully"

deadspin.com

Apr 15, 2013

A Dodgers fan whose friends and family faced the wrath of Diamondbacks owner Ken Kendrick for wearing blue shirts says the episode was the worst experience she's ever had at a sporting event and that it left her 7-year-old daughter "scared and conf…

Share Tweet

After undergoing surgery to repair his ruptured left Achilles tendon on Sunday, Los Angeles Lakers star Kobe Bryant shared with his more than 2 million Twitter followers his plans for taking in his team's critical matchup with the San Antonio Spurs: Can…

Share Tweet

Tim Duncan Throws Down 2 Nasty Poster Dunks On The Lakers

dimemag.com

Apr 15, 2013

Tim Duncan was an animal last night in a close loss to the Lakers, finishing with 23 points, 10 rebounds, four assists and three blocks. But what we'll probably remember from this one were his two nasty poster dunks he put on L.A.'s frontline in the l

Share Tweet

Dwight Howard & The Lakers Are 1 Win Away From The Playoffs; The Knicks Dominate A Potential Playoff Preview

dimemag.com

Apr 15, 2013

Can we speak on how Steve Blake dominated Tony Parker last night? Yes? That surprising turn of events was just a small part of a truly wacky game in Los Angeles. The Lakers beat the Spurs, 91-88, and are now just one win away (or one Jazz loss away) fro…

Share Tweet

Small Sample Size Alert: The Junkballing Genius of Michael Roth

grantland.com

Apr 15, 2013

The Los Angeles Angels of Anaheim made a move Saturday that was much more interesting than it was significant. They put reliever Kevin Jepsen on the d...

Share Tweet

Be Like Kobe

Apr 15

Kobe Bryant's presence of mind following his season-ending injury is worthy of emulation, says Henry Abbott.

D'Antoni To Blame For Kobe Injury?

Apr 15

Stephen A. Smith and Skip Bayless discuss who is to blame for Kobe Bryant's injury.