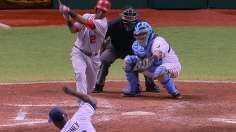 LOS ANGELES (AP) Matt Kemp ran the bases on Tuesday for the first time since spraining his left ankle a month ago, and the Los Angeles Dodgers slugger says he's getting closer to returning.

Share Tweet

deadspin.com ESPN.com MLB.com

Aug 27, 2013

The Dodgers have been on an absolute tear for more than two months. And Clayton Kershaw, who possesses an impossible 1.72 ERA as the calendar nears September, looks all but certain to win the National League Cy Young Award for the second time in three y…

Share Tweet

Madrid's 2020 Olympic bid committee says it has appointed Los Angeles Lakers star Pau Gasol to act as one of its spokesmen.

Share Tweet

Jon Lester's break shows potential benefit of pitcher vacations

CNNSI.com

Aug 27, 2013

Jon Lester has been a new pitcher since the All-Star break. An extended vacation may be the cause.

Share Tweet

Grading the Clippers' offseason

CNNSI.com

Aug 27, 2013

Yes, their issues at center still linger. But the Clippers couldn't have asked for much more in a boffo summer that included a coaching upgrade.

Share Tweet

grantland.com

Aug 27, 2013

Antawn Jamison has never been to the conference finals. He's been open about his desire to get there. In the last two offseasons, Jamison has signed a...

Share Tweet

SweetSpot TV: Historically Good

Aug 27

Eric Karabell and David Schoenfield give proper historical context to the stellar seasons by Miguel Cabrera and Clayton Kershaw.

Aybar, Angels Rally Past Rays

Aug 27

Erick Aybar drove in four runs to fuel the Angels to a 6-5 win over the Rays.