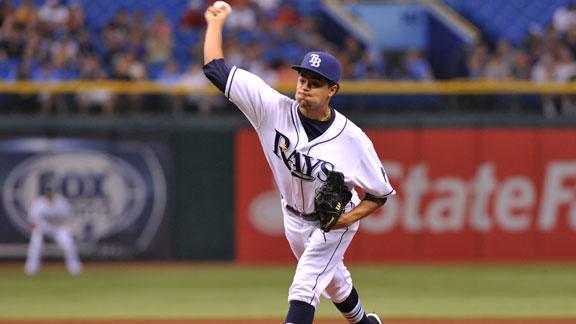 Updated Aug 28
Share
Tweet
Chris Archer pitched seven strong innings, David DeJesus scored twice and the Tampa Bay Rays beat the Angels 4-1 Wednesday night, ending Los Angeles' four-game winning streak.
Updated Aug 28

Share Tweet

Pitcher Edinson Volquez has agreed to a major league deal with the Los Angeles Dodgers pending a physical, Fox Sports reported Wednesday night.

Updated Aug 28

Share Tweet

Don Mattingly pulled the Puig again — and the Los Angeles Dodgers won anyway. Again. Yasiel Puig was benched by his manager Wednesday afternoon, replaced in right field by Skip Schumaker in the fifth inning for reasons unspecified by Mattingly. With Pui…

Dodgers take to air as Nolasco grounds Cubs

Updated Aug 28

Share Tweet

Ricky Nolasco fired eight scoreless innings, Hanley Ramirez and Andre Ethier each homered and the Dodgers beat the Cubs, 4-0, on Wednesday afternoon at Dodger Stadium to tie a Los Angeles franchise record with 21 wins in a calendar month.

Updated Aug 28

Share Tweet

Free agent Antawn Jamison has signed with the Los Angeles Clippers.

Updated Aug 28

Share Tweet

New Timberwolves president of basketball operations Flip Saunders believes that Ricky Rubio needs to be a bigger scoring threat in order to take the "next step in the evolution of the point guard position." At least, that's what he told Fox Sports North…

Source:

dimemag.com

Sveum finds himself ejected on leadoff batter

Updated Aug 28

Share Tweet

Cubs manager Dale Sveum was ejected in the first inning Wednesday for arguing a checked-swing call during Dodgers leadoff batter Yasiel Puig's at-bat.

Updated Aug 28

Share Tweet

Dodgers center fielder Matt Kemp could begin a Minor League rehab assignment as early as Thursday if his sprained left ankle responds well to Wednesday's workout, during which he ran sprints and made curves in the outfield at Dodger Stadium.

Prime opportunity arises to give Adrian breather

Updated Aug 28

Share Tweet

Adrian Gonzalez leads the Dodgers in games played and started, so it was a rare sight to see the first baseman out of Wednesday's lineup against the Cubs. But manager Don Mattingly felt it was the right time to rest Gonzalez.

Updated Aug 28

Share Tweet

The Dodgers still have a comfortable lead in the National League West, but they lost to the Cubs on Tuesday night, 3-2, with Clayton Kershaw on the mound. That's five Dodgers losses in the last 10 games, with a total of nine runs scored in the losses.

Dodgers Blank Cubs

Aug 28

Ricky Nolasco struck out 11 and held the Cubs to three hits in the Dodgers' 4-0 win.

Puig Pulled From Game

Aug 28

Baseball Tonight breaks down Don Mattingly decision to pull Yasiel Puig from the Dodgers' 4-0 win for disciplinary reasons.

Sports Columnists

Sources -- Milwaukee Bucks near deal to acquire Caron Butler from Phoenix …

Aug 29

The Milwaukee Bucks and Phoenix Suns are in advanced discussions on a trade that would send Wisconsin native Caron Butler to his home-state team, according to sources with knowledge of the talks.