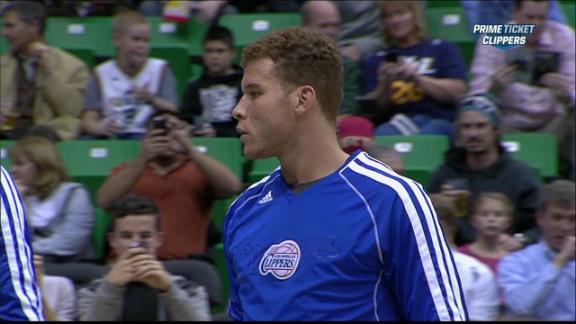 Blake Griffin scored 30 points, Jamal Crawford added 20 off the bench and the Clippers defeated Utah 105-104 on Monday night to hand the Jazz their first loss at home this season.
Share
Tweet
After Day 1 of the winter meetings, what did we learn? The cost of an outfielder varies greatly, the Yankees' plans have been altered and there's a starter stalemate, says Joe Lemire.

Share Tweet

(AP) -- Triple Crown winner Miguel Cabrera is going to play for Venezuela in the upcoming World Baseball Classic.

Share Tweet

NASHVILLE, Tenn. (AP) -- A person familiar with the negotiations says catcher Mike Napoli and the Boston Red Sox have agreed to a $39 million, three-year contract.

Share Tweet

Colletti calm, but knows he has work to do

The Dodgers have the highest payroll in the Major Leagues at $198.3 million, having pushed the Yankees down from their perennial perch, and Los Angeles doesn't appear to be finished spending.

Share Tweet

nba.com dimemag.com ESPN.com

Dec 3, 2012

Lakers guard Steve Blake will undergo laparoscopic surgery on Wednesday to repair a torn abdominal muscle and will miss at least six to eight weeks.

Share Tweet

Angels' list of targets doesn't end with Greinke

The Angels are staying open-minded about their ongoing efforts to improve their pitching, but Zack Greinke tops their wish list as the Winter Meetings get under way in Nashville, Tenn.

Share Tweet

The Dodgers have talked to the Mets about a trade for National League Cy Young Award winner R.A. Dickey, according to a baseball source.

Share Tweet

yahoo.com dimemag.com

Dec 3, 2012

After dropping a 113-103 contest on their home floor to the Orlando Magic on Sunday night, the Los Angeles Lakers now sit at 8-9, in third place in a Pacific Division they've topped for five straight seasons, and in the uncomfortable position of not kno…

Share Tweet

NASHVILLE -- An idea has germinated in the minds of some clubs that Josh Hamilton can be had for as little as four years. I don't blame teams such as the Red Sox, Orioles, Brewers and Mariners for thinking Hamilton comes with enough concerns (injuries, …

Share Tweet

Kobe Bryant, after Lakers lose to Magic: 'I'll kick everybody's ass in this locker room' if we don't fix things

yahoo.com

Dec 3, 2012

The Los Angeles Lakers' Jekyll and Hyde act continued apace this weekend, with a Friday night blitzing (17 3-pointers, 54 percent shooting, a 28-and-20 performance by Dwight Howard and 122 points) of the Denver Nuggets giving way to a Sunday night stumb…

Share Tweet

ESPN.com

Dec 3, 2012

For the second time in five games, Los Angeles Lakers forward Pau Gasol watched the final minutes of the fourth quarter from the sidelines. Kobe Bryant says Gasol has to take it into his own hands to change that.

Share Tweet

dimemag.com CNNSI.com ESPN.com

Dec 3, 2012

All of a sudden, visions of an otherwise forgettable Orlando-Golden State game last season jumped out to us during the Magic's stunning win over the Lakers in Los Angeles on Sunday night. When it became clear Dwight Howard was going to be fouled by his

Share Tweet

Mattingly, Dodgers Excited For Fresh Start

Dec 3

Dodgers manager Don Mattingly talks about the importance of spring training, his plans for Hanley Ramirez, and free agent Zack Greinke.

TrueHoop TV: Active Duty

Dec 3

Of all the ways to kick off a professional basketball career, serving in the Air Force in Afghanistan is one of the toughest. But that's exactly what Daniel Nwaelele did.

The Greinke Sweepstakes

Dec 3

Baseball Tonight on the teams perusing free agent pitcher Zack Greinke and possible trade partners for the Mets and pitcher R.A. Dickey.

Kobe Tells Gasol To "Put Your Big-Boy Pants On"

Dec 3

Dave McMenamin discusses Kobe Bryant's comments about Pau Gasol following the Lakers' loss to the Magic.