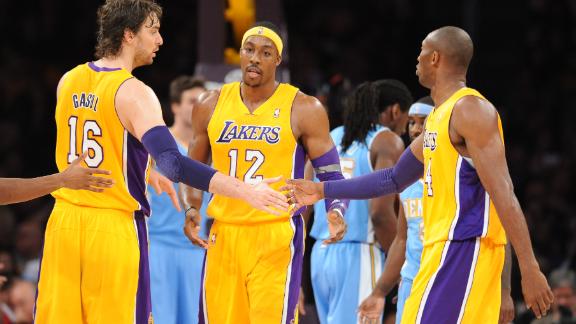 ESPN.com
Updated Dec 5, 2012
The Los Angeles Lakers, largely at the behest of general manager Mitch Kupchak, have rebuffed trade inquiries from at least two teams for Pau Gasol, according to sources with knowledge of the Lakers' thinking.
Share
Tweet
Scioscia looks to fill void left by Torii

MLB.com

Dec 5, 2012

Mike Scioscia is comfortable with the Angels' outfield alignment despite Torii Hunter's free-agent departure, but replacing the veteran in the No. 2 spot in the lineup is a tall task.

Share Tweet

The Los Angeles Angels agreed to a two-year, $15 million deal with starter Joe Blanton and a multiyear deal with reliever Sean Burnett on Wednesday.

Share Tweet

ESPN.com dimemag.com

Dec 5, 2012

J.A. Adande examines the Clippers' win over the Mavericks

Share Tweet

Los Angeles Lakers mega-star Kobe Bryant now has another NBA record to his name. With 1:17 left in the first half of Wednesday night's game against the New Orleans Hornets, Kobe cut through the lane and scored over center Robin Lopez to score the 30,000…

Share Tweet

A tight-lipped Dodgers general manager Ned Colletti said he spoke Wednesday to Casey Close, agent for top free-agent target Zack Greinke, but wouldn't say if he made an offer, adding that he didn't have "any idea" when a Greinke deal might occ…

Share Tweet

Done Deals: Ben Revere trade to Philly caps winter meetings activity

yahoo.com

Dec 3, 2012

We kept a running list of trades and signings that went down during the winter meetings. Thanks for reading and come back for more signings and trades as the offseason continues! Thursday Twins send Ben Revere to Phillies for Vance Worley, Trevor May Fo…

Share Tweet

Lakers guard Steve Blake underwent successful surgery to repair a torn abdominal muscle on Wednesday.

Share Tweet

Lamar Odom on the lockout year spent in Dallas: 'Basketball just wasn't there for me at that time'

Lamar Odom won't have to visit Dallas on Wednesday night, he won't be faced with the indignity of playing his former team in Texas until late March, but he and his Clippers will face the Mavericks in Los Angeles on Wednesday and the press has already st…

Share Tweet

5-on-5: Nuggets-Hawks, Mavs-Clippers

ESPN.com

Dec 5, 2012

5-on-5: Breaking down the four teams heading into ESPN's doubleheader

Share Tweet

Rockets Announcer Rubs It In After Houston Win: "The Lakers Have Just Pooped Their Big-Boy Pants!"

deadspin.com

Dec 5, 2012

Pau Gasol is rapidly falling out of favor in L.A. On Sunday, for the second time in a week, Gasol was benched for the last few minutes of the game, and he's growing frustrated. Kobe Bryant had a message for him: More »

Share Tweet

Dwight Howard deflects blame from his free-throw shooting after Lakers loss (VIDEO)

The Los Angeles Lakers have lost five of their last seven games, which means they're currently in the midst of their 47th crisis of the still-young season. Their latest defeat, a 107-105 road loss to the Houston Rockets, stung quite sharply. Leading by …

Share Tweet

CNNSI.com

Dec 5, 2012

ASHVILLE, Tenn. (AP) -- Free agent pitcher Dan Haren and the Washington Nationals are close to completing a one-year deal for $13 million, a person familiar with the talks told The Associated Press.

Share Tweet

Highlight Of The Night

Dec 5

Kobe Bryant scored 29 points, making him the fifth player in NBA history to score 30,000 points, in the Lakers' 103-87 victory.

Kobe Bryant Youngest To 30,000 Points

Dec 5

Kobe Bryant becomes fifth player in NBA history with 30,000 points.

Winter Meetings: Free Agent Update

Dec 5

ESPN's Keith Law on where big name free agents such as Zack Greinke, Josh Hamilton and Nick Swisher may land.

Winter Meetings Afternoon Report

Dec 5

Jon Sciambi, Jim Bowden and Jayson Stark take a look at some of the remaining free agents such as John Hamilton and Zach Greinke and discuss where they may land.