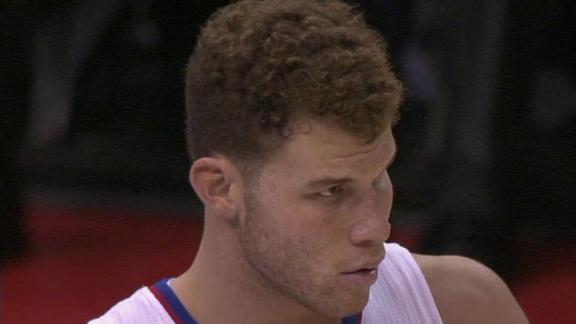 Griffin, Paul propel Clippers over struggling Suns
Share
Tweet
MLB.com

Dec 8, 2012

Despite reaching a contract agreement with Zack Greinke on Saturday, the Dodgers still want to sign Korean left-hander Ryu Hyun-jin, according to a baseball source.

Share Tweet

Dodgers president Stan Kasten is proud of his vision of Dodger Stadium and how the new management team is spending millions to improve it from top to bottom and make it the best place on earth to watch a baseball game. Still, it all begins here, with ta…

Share Tweet

Cavs' Irving, Waiters may return vs. Lakers

nba.com

Dec 8, 2012

Cavaliers coach Byron Scott is hopeful Kyrie Irving and Dion Waiters can play in Cleveland's next game against the Los Angeles Lakers on Tuesday, but said neither has been cleared by doctors to return.

Share Tweet

CNNSI.com

Dec 8, 2012

PHILADELPHIA (AP) -- A person familiar with the trade says the Philadelphia Phillies have acquired seven-time All-Star infielder Michael Young from the Texas Rangers for two relief pitchers.

Share Tweet

While Calling Game Involving Sub-.500 Team, Jeff Van Gundy Says Sub-.500 NBA Teams Shouldn't Be On TV

deadspin.com

Dec 8, 2012

Midway through last night's snoozer of a Lakers-Thunder matchup-one OKC walked away with to the tune of 114-108-ESPN analyst Jeff Van Gundy poked fun at competitor NBA TV's sub-par national broadcast lineup. He has a point; NBA TV's national games hav

Share Tweet

Russell Westbrook And Kevin Durant Take Turns Torching L.A.; Andre Miller Is Mr. Clutch

dimemag.com

Dec 8, 2012

Russell Westbrook and Kevin Durant - when they're both at their best as they were Friday night against the Lakers - don't resemble so much a one-two punch combo as much as they do two flamethrowers. In the first half Westbrook's 27 points and fi

Share Tweet

Thanks to hot-shooting Russell Westbrook, the Thunder handled the Lakers 114-108. Once again, Oklahoma City proved to be a matchup nightmare for Los Angeles, says Ben Golliver.

Share Tweet

Sources: Dodgers Closing In On Greinke

Dec 8

Jayson Stark on the Dodgers close to signing Zack Greinke.

Clippers Win 5th Straight

Dec 8

Blake Griffin scored 24 points and recorded eight rebounds to lead the Clippers over the Suns 117-99.

Frustration In Los Angeles

Dec 8

Stephen A. Smith explains why he's not worried about the Lakers' slow start.