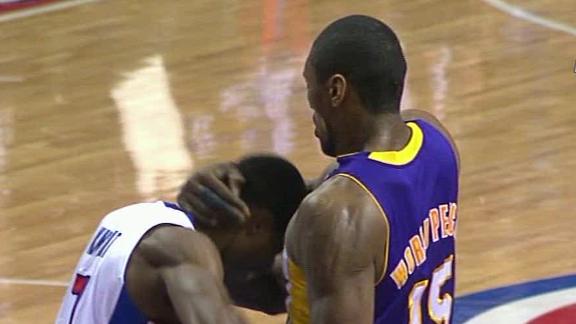 dimemag.com
ESPN.com
purpleandgoldblog.com
Updated Feb 5, 2013
As much as we want to give credit to Kobe Bryant for icing the Lakers win in Brooklyn last night, L.A. should throw the Nets a bone. Brooklyn did everything they could outside of express mailing the W to Hollywood. Down the stretch, the Nets endured a c…
Share
Tweet
ESPN.com yahoo.com dimemag.com

Feb 5, 2013

Los Angeles Lakers forward Pau Gasol left Tuesday's win over the Brooklyn Nets after straining the plantar fascia in his right foot late in the fourth quarter.

Share Tweet

Kobe Bryant Posterizes Two Defenders

dimemag.com

Feb 5, 2013

Age is just a number and it doesn't stop Kobe Bryant from attacking the rim with a monster slam over both Gerald Wallace and Kris Humphries. Bryant led the Lakers to a 92-83 victory in Brooklyn without Dwight Howard and Metta World Peace.The post Kobe B

Share Tweet

Preview: Lakers vs. Nets

purpleandgoldblog.com

Feb 5, 2013

This season has been a year of tribulation for the Lakers (22-26) and it doesn't look like it's stopping anytime soon. Dwight Howard and Metta World Peace will miss tonight's season series finale against the Brooklyn Nets (28-19), the team's 4th stop in…

Share Tweet

MLB.com

Feb 5, 2013

Alberto Callaspo passed his physical exam, and the Angels finalized their two-year, $8.975 million pact with the veteran third baseman on Tuesday.

Share Tweet

Forward Metta World Peace has been suspended for one game because he hit Detroit's Brandon Knight in the face, and the Los Angeles Lakers also will be without Dwight Howard again when they face the Brooklyn Nets on Tuesday.

Share Tweet

Honeycutt excited by pitchers at Dodgers minicamp

MLB.com

Feb 5, 2013

The Dodgers kept last week's Young Guns pitching minicamp under wraps. So, nobody outside the organization saw Clayton Kershaw throw a bullpen session with no pain in his right hip, or Javy Guerra throw pain-free coming off collarbone surgery, or Ronald…

Share Tweet

CNNSI.com

Feb 5, 2013

Much of the focus this trade season has been given to the players possibly on the block (Pau Gasol, Paul Pierce, Josh Smith). But which teams are positioned to be buyers at the deadline? Could the Clippers deal some depth to strengthen their title hopes…

Share Tweet

Twenty players will make more individually in 2013 than the entire Astros team combined

yahoo.com

Feb 5, 2013

Four Philadelphia Phillies will make more money in 2013 than the entire Houston Astros team. So will three New York Yankees, three Los Angeles Dodgers, three Detroit Tigers and three San Francisco Giants. All total, 20 deep-pocketed players are set to e…

Share Tweet

yahoo.com

Feb 5, 2013

On Jan. 24, the Phoenix Suns came through with an expertly timed nationally televised win over the Los Angeles Clippers. The team played sound all-around basketball and moved to 2-0 under interim head coach Lindsey Hunter. Even though the team roared ou…

Share Tweet

LeBron James Sets A Personal Record; Indiana Beats Chicago In Possible Playoff Preview

dimemag.com

Feb 5, 2013

"How about LeBron James? Twenty-seven points, eight rebounds, eight assists. Another average game for LeBron James." That was an actual statement made on Miami's broadcast. James would go on to finish with 31 points in the Heat's five-point win ov

Share Tweet

Kobe, Short-Handed Lakers Top Nets

Feb 5

Kobe Bryant had 21 points and Earl Clark had a double-double in place of Dwight Howard as the Lakers beat the Nets.

Kobe Posterizes The Nets

Feb 5

Dunk Of The Night: Kobe Bryant drives through the lane and dunks in the face of Gerald Wallace and Kris Humphries.

Lakers Short-Handed In Brooklyn

Feb 5

ESPNLA.com's Dave McMenamin discusses Metta World Peace's one-game suspension and the latest on Dwight Howard's shoulder injury.

Point Guard Woes

Feb 5

Tim Legler discusses how Derrick Rose's recovery from a torn ACL could affect Rajon Rondo and addresses the level of concern about Chris Paul's knee injury.