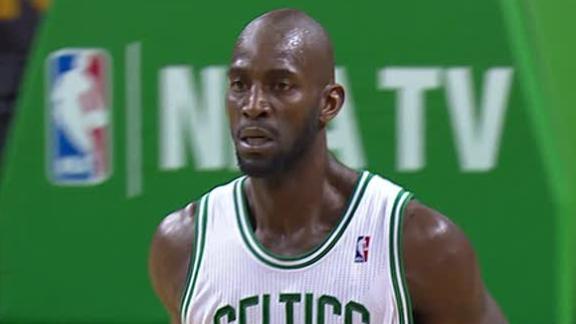 ESPN.com
nba.com
dimemag.com
purpleandgoldblog.com
Updated Feb 7, 2013
Paul Pierce scored 24 points and led a third-quarter surge as the Boston Celtics routed the Lakers 116-95 on Thursday night in Dwight Howard's return for Los Angeles.
Share
Tweet
Kershaw not focused on talk of contract extension

MLB.com

Feb 7, 2013

Of all the Dodgers storylines this spring, the one that impacts the season the least, but seems to already preoccupy the media, is the likely contract extension of ace Clayton Kershaw.

Share Tweet

ESPN.com dimemag.com

Feb 7, 2013

Celtics forward Kevin Garnett became only the 16th player in NBA history to reach 25,000 points during Thursday's game against the Los Angeles Lakers.

Share Tweet

ESPN.com

Feb 7, 2013

Los Angeles Lakers forward Pau Gasol is expected to be out a minimum of six to eight weeks with a tear in the plantar fascia of his right foot, the team announced.

Share Tweet

purpleandgoldblog.com

Feb 7, 2013

The only true rivalry in the NBA will have its first showcase of the season in Beantown tonight. The Lakers (23-26) and Boston Celtics (25-23) are dealing with key injuries, but the purple and gold will most likely be without their 2 star big men. The C…

Share Tweet

CNNSI.com

Feb 7, 2013

Felix Hernandez has reportedly reached a deal with the Mariners that would make him the highest-paid pitcher in baseball, and he's well worth the honor, writes Joe Lemire.

Share Tweet

deadspin.com

Feb 7, 2013

The video above is from several weeks ago, when the Clippers played the Rockets in Houston, but it only now came to our attention because Chandler Parsons just tweeted it in our direction so we would see it: More »

Share Tweet

Watch the Creation of a Massive Blake Griffin Mural in Downtown L.A.

Over the course of a few days in January, a massive Blake Griffin Red Bull mural was raised in downtown L.A. just a short distance from the Staples Center. The mural is located at the corner of Olympic & Figueroa, and was hand-painted by a group of …

Share Tweet

dimemag.com ESPN.com CNNSI.com

Feb 7, 2013

This won't come as a surprise but the Clippers without Chris Paul are a fine, if unspectacular Western Conference team. They'd make the playoffs but likely be bounced early without him - an exit befitting the team that lost to Toronto by 25, not the

Share Tweet

Dwight Howard Fires Back at Kobe Bryant: "He's Not a Doctor"

ESPN got in front of Dwight Howard today after Lakers shootaround to ask him about Kobe Bryant's comments implying that Dwight needs to suck it up and play through his shoulder pain. Not surprisingly, Dwight's not amused: The comments from Steve Nash

Share Tweet

Million Dollar Ballers "Goggles" Collection

After hitting gold with their last couple of collections, Million Dollar Ballers might've outdone themselves again. Their latest collection honors the greatest frontcourt ever to strap on goggles: the Lakers' Kareem Abdul-Jabbar, James Worthy and Kurt

Share Tweet

Top 10 defenses: Top-notch Angels second to none

MLB.com

Feb 7, 2013

The Angels will look dramatically different defensively with Torii Hunter no longer in right field. The rest of their outfield, however, will be electric with Peter Bourjos in center field and Mike Trout in left, and they remain strong in the infield.

Share Tweet

Garnett Reaches 25,000 Points In Celtics' Win

Feb 7

Celtics win sixth straight.

Rapid Fire with Dwane Casey

Feb 7

Raptors head coach Dwane Casey on who will win the NBA title, who the league's best point guard is, and whether the Celtics and Lakers can contend with their current rosters.

The New Bad Boys?

Feb 7

Are the Pacers the new Bad Boys? And why they may be uniquely suited for beating the Heat in the playoffs. David Thorpe and Henry Abbott discuss.

Howard: Kobe's Not A Doctor

Feb 7

Dwight Howard and Steve Nash discuss Kobe Bryant's comments urging Howard to play through pain.